Wearing a kilt to a formal occasion is more than only a style choice; it's an effective way to embrace your Scottish background and leave an enduring impact. However, to virtually shine on such activities, one should draw close to the vital protocol and etiquette regulations associated with kilt-sporting. In this comprehensive guide, we are able to navigate the intricacies of the kilt, making sure you exude self-assurance and celebrate your Scottish and Celtic roots with grace.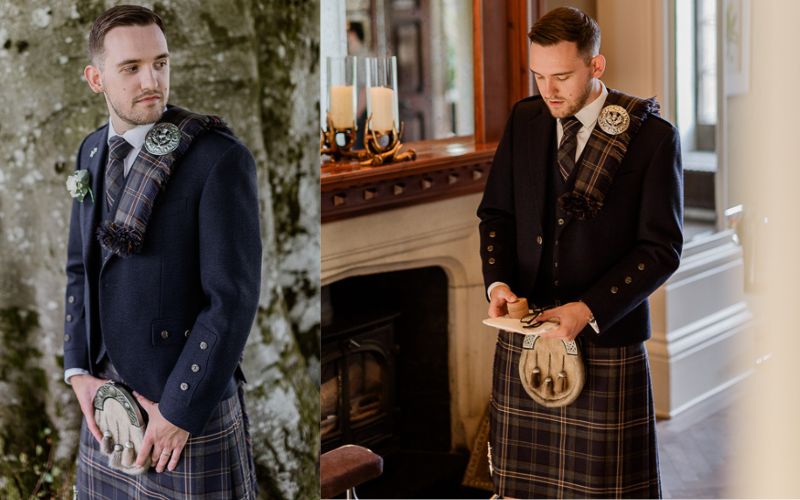 Choosing the Perfect Kilt and Accessories
Selecting the right kilt and add-ons is the foundation of a striking formal outfit. Opt for a remarkable kilt with a tartan sample that either reflects your historical past or enhances the occasion's subject matter. Match it with a waistcoat, formal shirt, tie, and a traditional Prince Charlie or Argyll jacket.
To entire your ensemble, recollect vital add-ons which include a leather-based sporran, kilt hose, flashes, ghillie brogues, and a sgian-dubh. For formal activities, a get-dressed sporran, adorned with difficult information, is an extraordinary preference.
Behaving with Elegance and Dignity
Wearing a kilt demands a certain level of elegance and dignity. Stand tall, radiating confidence and pride in your distinctive attire. Moreover, mindful manners are paramount; ensure you adhere to the event's specific etiquette guidelines, showing respect to hosts and fellow attendees.
Mastering the Art of Seating and Moving
When seated, take care to smooth the pleats gently to avoid ugly wrinkles and uphold your modesty. Be aware of your movements to keep the kilt's look and save you any inadvertent exposures.
Upholding Tradition and Customs
Embrace the rich tapestry of Scottish and Celtic customs related to kilt-carrying. Familiarize yourself with the occasion's traditions and participate in them with genuine enthusiasm and reverence.
Etiquette on the Dance Floor
For occasions that involve dancing, consisting of a ceilidh, acquaint yourself with the steps and cling to the dance's unique etiquette. Dance with grace and courtesy, honoring your fellow dancers, while celebrating the beauty of the Scottish background.
The Power of Politeness and Courtesy
When donning a kilt at a proper event, have interaction in well-mannered communication and display an honest interest in others. Offer compliments generously, expressing genuine appreciation for the opportunity to be a part of the party.
By following those recommendations, you'll no longer handiest enhance your enjoy at formal events but additionally demonstrate a profound respect for the customs and traditions that accompany sporting a kilt. With your confident and gracious demeanor, you may surely make a memorable declaration, celebrating the essence of the Scottish historical past in all its splendor.