Have you ever wondered about the fascinating world of fashion where garments like kilts and skirts bear both cultural significance and timeless elegance? At first glance, kilts and skirts may appear similar, leading to the common misconception of their interchangeability. However, as we venture deeper into their origins, we will uncover the rich heritage behind these garments. From the rugged terrains of Scotland and Ireland to the ancient sands of Egypt, kilts and skirts have played pivotal roles in the lives of people across different cultures and time periods.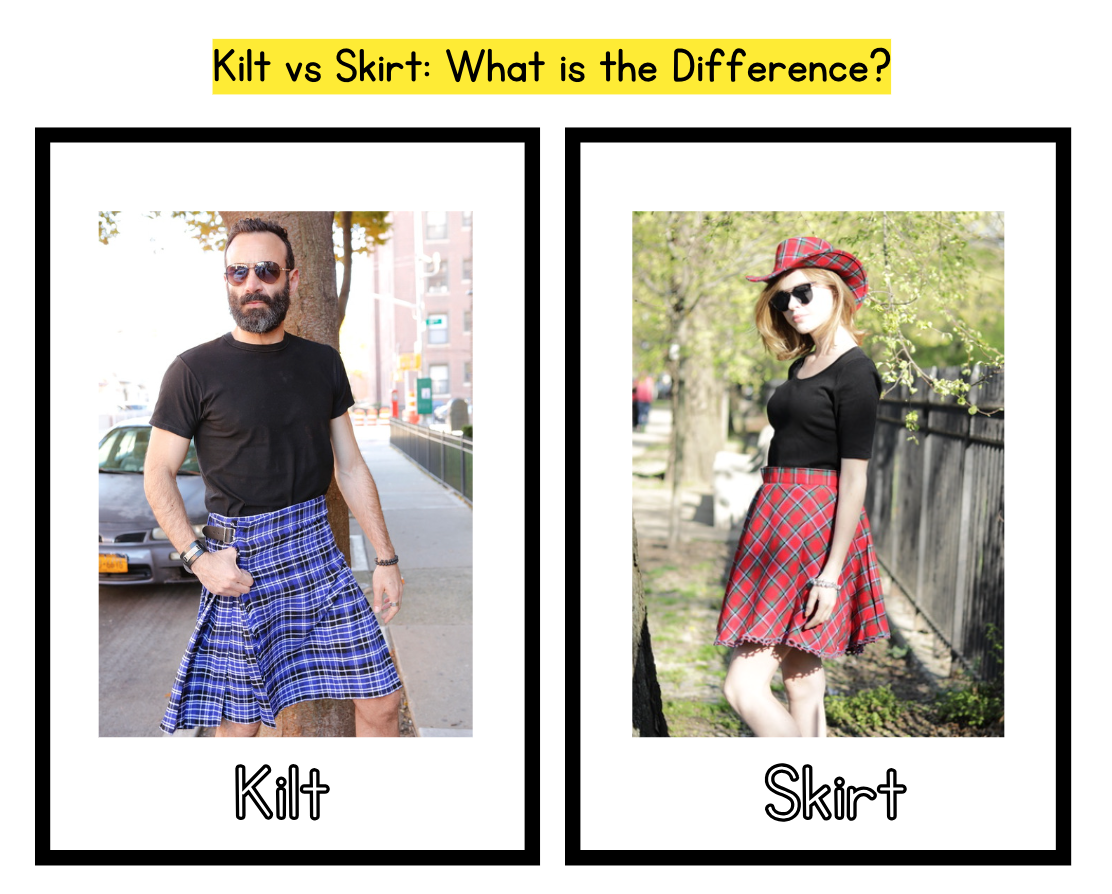 Well here are the main points about the differences between kilts & skirts:
Kilts & skirts have distinct characteristics:
Kilts are knee-length, non-bifurcated pleated tartan skirts, traditionally worn by men in regions like Ireland and Scotland. Skirts, on the other hand, are more commonly associated with women's clothing and come in a diverse range of styles, lengths and materials found worldwide.
Cultural & historical significance:
Kilts hold significant cultural and traditional value in Scotland and are associated with Gaelic and Scottish culture. They were originally used as protective armor by the Scottish Army. Skirts, on the other hand, have a history dating back to ancient Egypt and were initially worn by both men and women for protection and warmth.
Kilted skirts are made from various materials like denim, leather, silk, tweed, rayon, etc... allowing for individual expression and preferences. They symbolize elegance and grace in the world of fashion. Kilts, on the other hand, are woven exclusively with wool and often feature timeless clan tartans, representing their traditional roots.
Kilts are traditionally reserved for men, especially those with Scottish or Celtic roots. However, both kilts and skirts have found their place in modern fashion, and designers have incorporated their unique features into contemporary designs.
Acceptance & empowerment:
Despite bearing a resemblance to regular skirts, kilts challenge stereotypes and are considered acceptable for any man to embrace as traditional Scottish attire in any circumstance. Both kilts and skirts can empower wearers with their distinctive styles and cultural associations.
While kilts and skirts may seem similar at first glance, they have unique histories, materials, and cultural associations that set them apart. Both garments have evolved and found their place in modern fashion, representing elegance and empowerment for those who wear them.