The County Cork Tartan stands as a quintessential plaid arrangement that embodies the essence of County Cork, an integral part of Ireland's Munster Province. Its inception is credited to the artistic prowess of Polly Kitteridge. This design showcases interwoven stripes in shades of verdant green, deep maroon, and naval blue, highlighted by dashes of vibrant yellow.

Counted among the illustrious collection of 32 distinctive tartans, each dedicated to an individual county in Ireland, the County Cork Tartan bears a particular association with the moniker "rebel county," a tribute to the tempestuous political chronicles that define County Cork's storied history. Crafted from 100% pure acrylic wool of impeccable quality, the County Cork Tartan proudly boasts a symphony of horizontal and vertical bands, resplendent in shades of green and yellow.
Do Irish counties have tartans?
Certainly, Irish countries possess their own unique tartans. These tartans are symbolic of the distinct counties and regions within Ireland. Many individuals with Irish heritage opt to don the tartan pattern associated with their family's ancestral county or province. As an illustration, those with roots in Cork often choose to wear the Cork County Tartan. Each of Ireland's four provinces—Connacht, Leinster, Munster, and Ulster—boasts its own designated tartan, alongside numerous others linked to smaller counties.
What is the history behind the County Cork Tartan?
Crafted in 1997 by Polly Kitteridge for the House of Edgar, the County Cork Tartan emerges as a contemporary creation, blending tradition and novelty. This tartan pays homage to specific elements: green signifies County Cork's sprawling countryside, maroon embodies the valor of those who contended for Cork's liberation, navy blue reflects the meandering River Lee that graces Cork, and yellow evokes the radiant sun casting its light upon the land. Though bereft of official recognition by any clan or lineage, the County Cork Tartan finds favor among individuals who proudly embrace their Cork lineage, frequently adorning themselves with it at sports events, cultural galas, and communal assemblies.
This design draws inspiration from the classical tartans of Scotland and Ireland, yet carves its own identity, eschewing mimicry. Deliberately selected hues and patterns seamlessly amalgamate to encapsulate County Cork's distinct essence. Functioning as a symbol of pride and affiliation, the County Cork Tartan encapsulates the denizens' profound history and heritage, fostering a connection not only amongst themselves but also with their hallowed homeland.
What is the Celtic name for Cork?
Cork, named 'Corcaigh' in Celtic, weaves history and nature. Its poetic essence, 'Corcaigh,' links to Irish for marshland, mirroring the city's soul—a dance of earth and water. A name not spoken but conjured, bridging language and land in harmonious symbiosis.
From Where Can I Find County Cork Tartan Fabric?
If you're on the hunt for County Cork Tartan Fabric, your search need not extend beyond the esteemed supplier known as Scottish Kilt. Renowned as the ultimate source, Scottish Kilt takes immense pride in presenting a splendid array of premium tartan textiles, including the distinguished County Cork Tartan. With their extensive expertise in traditional Scottish weaving techniques and a steadfast commitment to upholding authenticity and craftsmanship, you will undoubtedly encounter the finest materials tailored impeccably to meet your specific needs. The County Cork Tartan Fabric not only holds historical significance but also radiates a captivating allure, often intricately woven with a deep essence of heritage and timeless legacy. These qualities establish it as the preferred choice for a wide range of projects and endeavors.
How can County Cork tartan be used in Clothing and Accessories?
When envisioning the incorporation of County Cork Tartan into various clothing and accessory choices, an artfully curated assortment is prepared for your consideration. These meticulously designed embellishments seamlessly complement the enduring tartan patterns, enriching their timeless grace. Your options extend from classic tartan trews and kilts to modern jackets, presenting a diverse array of avenues to explore.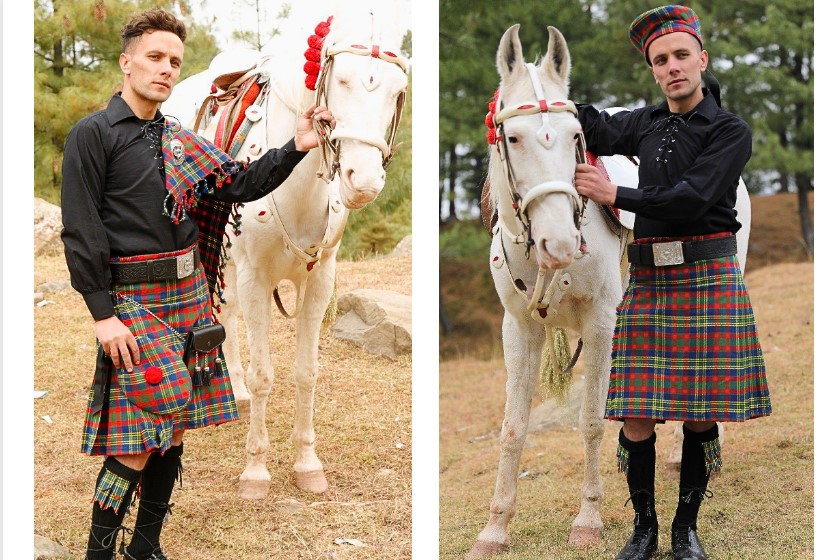 Subtle accents like tasteful tartan masks and ties effortlessly imbue the design into everyday attire. For those noteworthy moments, contemplate additional selections such as sporrans and formal fly plaids, or opt for lively tartan shorts to infuse vibrancy. Elegant handfasting ribbons can symbolize significant milestones with grace. Embrace the allure and heritage of County Cork Tartan through an array of considerately crafted pieces, each contributing to a stylish and harmonious ensemble.