The MacDonald Tartan, an emblem of the illustrious MacDonald clan, stands as a vivid testament to the clan's Highland heritage. A mesmerizing blend of deep greens and blues, interwoven with delicate crimson and ebony threads, graces this distinctive tartan. The clan's primary tartan, known as the MacDonald Modern, proudly represents their legacy.

Embodied within the MacDonald clan crest is an armored hand, cradling a coronet crown and clutching a cross, symbolizing their enduring resilience. Their resounding motto, "Per mare per terras" (By sea and by land), echoes the adventurous spirit that defines this esteemed clan.
What is the History of the MacDonald Clan?
The MacDonald Clan, also known as Clan Donald, stands as Scotland's oldest and largest clan, tracing its lineage to Dòmhnall Mac Raghnuill, whose father was the "King of the Isles." For nearly a millennium, they ruled Scotland's western seaboards, challenging even the Scottish kings with their formidable empire. Victorious in the battle for Scottish independence, they expanded through royal grants and marriages, but internal divisions over religion and geography weakened them. Accepting Crown charters further divided the clan, and the fear of Catholicism exacerbated these splits. In the aftermath of Culloden, many MacDonalds emigrated, spreading their name worldwide. Today, the MacDonalds remain one of the most widespread clans, with a substantial presence in the USA. With Norse origins and six distinct branches, they were once acknowledged as separate entities under the "Lord of the Isles" and played significant roles in supporting Robert the Bruce and competing for the title of Earl of Ross.
What is the Significance of the MacDonald Clan's Motto, "Per mare per terras"?
The MacDonald Clan's motto, "Per mare per terras," holds profound significance as it symbolizes their remarkable heritage. It signifies the MacDonalds' extraordinary influence, spanning Scotland's western coast from the Butt of Lewis to the Mull of Kintyre, and extending to Ireland and the Isle of Man. This motto also pays homage to their seafaring prowess, as many clan members ventured across the oceans, enriching the family's global legacy. "Per mare per terras" epitomizes the MacDonald Clan's enduring strength and adaptability, encapsulating their enduring spirit that has withstood the test of time.
Is the McDonald Clan Irish or Scottish?
The McDonald clan possesses a rich dual heritage, encompassing both Scottish and Irish origins. This esteemed patronymic surname, appearing as MacDonald, Macdonald, or McDonald, harks back to forebears named Donald. Renowned as one of Scotland's largest clans, the Clan Donald, or Clan MacDonald, originates from the western Highlands and Islands of Scotland. While the majority of McDonalds today are found in Ulster, Ireland, their roots trace back to Scottish settlers who established themselves in the Province of Ulster during the 17th century, or possibly to the MacDomhnall sept, often Anglicized as McDonnell. Notably, the MacDonnells of Antrim, a branch of the MacDonalds of Dunnyveg, are recognized as a distinct Irish entity, complete with an officially recognized chief. Given this intricate history, the confluence with MacDonald is quite understandable, as Irish MacDonalds indeed share their ancestry with many Irish McDonnells.
What does MacDonald mean in Scottish?
MacDonald, rooted in Scottish and Irish Gaelic heritage, signifies "son of Dòmhnall," with Dòmhnall translating to "world ruler" in Gaelic. Originating before the widespread use of surnames in 1061 during the reign of Scottish King Malcolm III, MacDonald encompassed anyone whose father bore the name Donald. It embodies the legacy of Clan Donald, one of Scotland's largest clans, reflecting its patronymic nature, honoring an ancestor named Donald. While also prevalent in Ireland, most Irish MacDonalds trace their lineage back to Scottish MacDonalds who ventured across the seas in search of new horizons.
What happened to the MacDonald clan in Scotland?
The MacDonald clan, one of Scotland's largest and most ancient Highland clans, experienced a complex history marked by division and tragedy. Over time, differing alliances, religious shifts, and geographical factors weakened the clan. Branches of the Clan Donald began accepting Crown charters, further dividing their loyalties. Involvement in Jacobite Uprisings in 1715 and 1745 added to their tumultuous narrative. However, perhaps the most notorious event in their history was the Massacre of Glencoe in February 1692, when members of the MacDonald clan were ruthlessly slaughtered in their sleep by troops of the Clan Campbell. This tragic event stemmed from a delay in the MacDonalds' submission to a government offer of allegiance, resulting in a brutal military punishment, forever etching the Massacre of Glencoe into the annals of Scottish history. Many MacDonalds sought refuge overseas, contributing to their enduring legacy across the world.
How Many Different MacDonald Tartans Are There?
The world of MacDonald tartans is a rich tapestry of tradition and diversity. While precise numbers may vary among sources, the Scottish Register of Tartans acknowledges at least 27 unique setts representing the nine independent branches of the Clan Donald. However, the High Council of Clan Macdonald asserts nearly 100 recognized Clan Donald tartans, some closely tied to specific branches, while others are accessible to all.
What are the Colors that MacDonald Tartan includes and What do they Symbolize?
The MacDonald Tartan encompasses a rich palette of colors, varying slightly between its different versions. In the classic MacDonald Tartan, you'll find a harmonious blend of dark green, navy blue, striking red, and bold black. Meanwhile, the MacDonald Modern Tartan offers a twist with darker shades of green and blue, accentuated by fine red and black lines. While tartan colors often carry symbolic significance, unfortunately, specific symbolism for the MacDonald Tartan's colors remains elusive in available sources, leaving room for individual interpretation and appreciation of its timeless design.
From Where Can I Find MacDonald Tartan Fabric?
For those in search of the exquisite MacDonald Tartan Fabric, your quest finds its culmination at Scottish Kilt. As the unrivaled authority in premium tartan textiles, Scottish Kilt not only offers the coveted MacDonald Tartan but also proudly presents a distinguished selection of revered tartan fabrics, including the cherished Sinclair, Douglas, and Campbell Tartans. Committed to the preservation of Scotland's age-old weaving techniques and heritage craftsmanship, each fabric in our collection weaves a timeless legacy. At Scottish Kilt, discerning enthusiasts gather to procure impeccable materials, meticulously tailored to meet their exacting specifications. Your pursuit of authentic MacDonald Tartan Fabric reaches its zenith here, where tradition seamlessly merges with excellence.
How can MacDonald Tartan be used in Clothing and Accessories?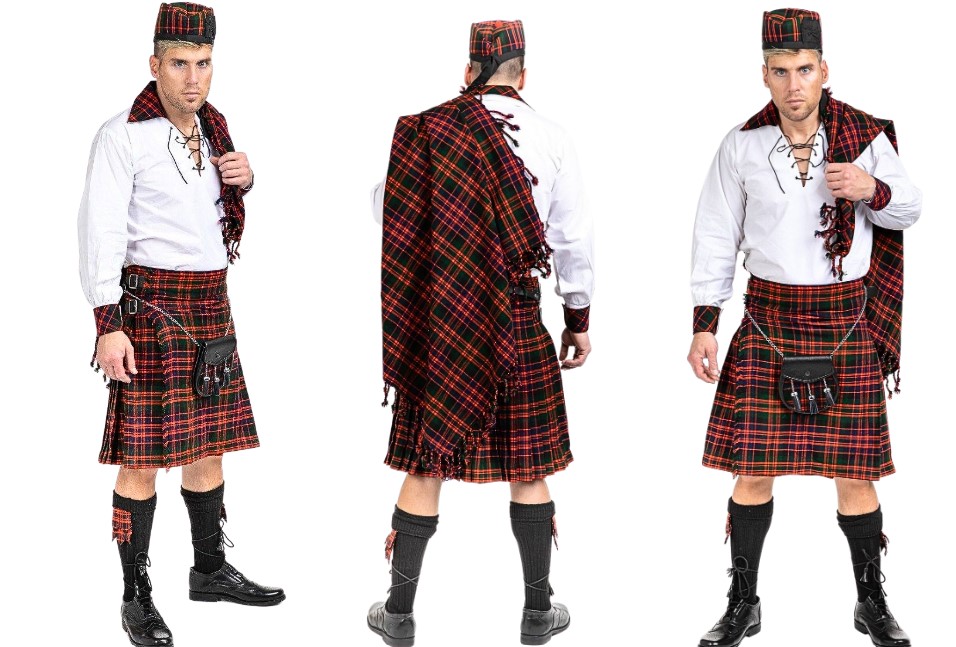 The MacDonald Tartan offers a rich tapestry of possibilities in clothing and accessories. This iconic pattern can be skillfully woven into kilts, the embodiment of Scottish tradition, both for men and women, ensuring a distinctive and timeless appearance. It can also grace sporrans, elegantly blending tartan into leather craftsmanship. Beyond kilts, MacDonald Tartan can be fashioned into jackets, vests, and skirts, whether for a complete Scottish ensemble or as a standalone fashion statement. Accessories like ties, scarves, hats, and bags can acquire a touch of Scottish heritage, adding a unique flourish to any outfit. In essence, MacDonald Tartan is a versatile emblem of Scottish legacy, ready to adorn a wide array of attire and accessories, bridging tradition and contemporary style seamlessly.