Yes, there is a Gordon tartan. It is one of the most popular tartans in Scotland and is worn by members of Clan Gordon. There are 9 variants of the Gordon tartan, each with its unique colors and patterns. The most common variant is the gordon dress tartan, which is a bright green and blue tartan with a red stripe running through the middle.

Is Gordon a Celtic clan?
The Gordon clan is not a Celtic clan. The name Gordon is of Norman origin, and the clan's founder, Sir Adam Gordon, came to Scotland from Normandy in the 12th century. However, the Gordon clan has adopted many Celtic traditions, such as the use of tartan and the wearing of kilts. The clan's motto, "Bydand", is also a Gaelic word meaning "steadfast".
What Colour is the Gordon tartan?
The Gordon tartan kilt is a dark green with navy blue, black and yellow stripes. The colors represent the clan's history and heritage, with dark green for the forests of Aberdeenshire, navy blue for the sea, black for loyalty, and yellow for wealth.
How old is Gordon Tartan?
It was first recorded in 1793, but it is believed to be much older. The Gordon tartan was made famous by the Gordon Highlanders, and it is now one of the most popular tartans in Scotland.
Who can wear the Gordon tartan?
The Gordon tartan is not a restricted tartan, so anyone can wear it, regardless of their clan affiliation. It is a popular choice for people who want to show their appreciation for Scottish culture or simply want to wear a beautiful and distinctive tartan.
From Where I Can Find Gordon Tartan Fabric?
You can explore a premium assortment of high-quality Gordon tartan fabric at none other than Scottish Kilt, because we specialize in providing a diverse array of traditional Scottish textiles, including the distinguished Gordon tartan. Renowned for their dedication to preserving authenticity and craftsmanship, you'll discover the finest materials to cater to your requirements there. The Gordon tartan fabric isn't solely a stylish option, it also carries historical significance. This particular tartan is often linked with a feeling of tradition and heritage, making it a favored selection for a variety of projects.
What Clothing & Accessories should we get in the Gordon Tartan?
When you're aiming to elevate the elegance of the Gordon Tartan, you'll find a wide and varied selection of plaid clothing to choose from. These accessories have been intricately crafted to seamlessly complement the timeless patterns of the Gordon Tartan, ensuring a coherent and stylish ensemble. From classic tartan trews and trew outfits to modern Tartan jackets and vests, the choices are abundant.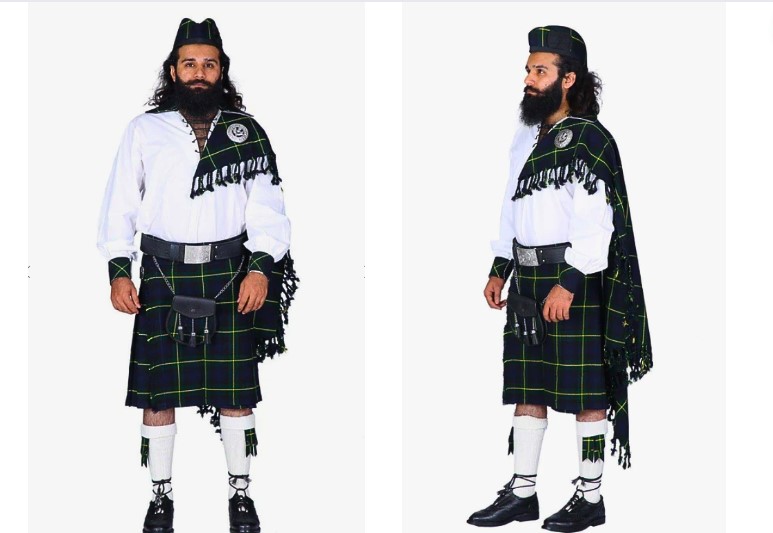 Additionally, incorporating tartan masks and ties presents a subtle yet tasteful method of infusing this iconic pattern into your daily attire. For those desiring to infuse special moments with a touch of tartan allure, a variety of supplementary options are at your disposal. Sporrans and fly plaids are ideal for infusing formal attire with a hint of tradition. Tartan shorts offer a playful and distinct appearance while handfasting ribbons can beautifully symbolize significant life milestones.