Question: What colours are in Campbell Tartan?
Answer: The Campbell Tartan is a delicate blend of earthy colors. The softened, casual nature of this tartan makes it the perfect choice for wearing to daytime and nighttime events alike. The color design also allows it to match up with just about any top and shoes you could think of, making this a truly versatile addition to your wardrobe. It features prominent horizontal rows and columns separated by thick black stripes. The rows alternate between the flow of two light shades of blue and two shades of forest green colors that work as excellently together on this tartan pattern as they do found in nature.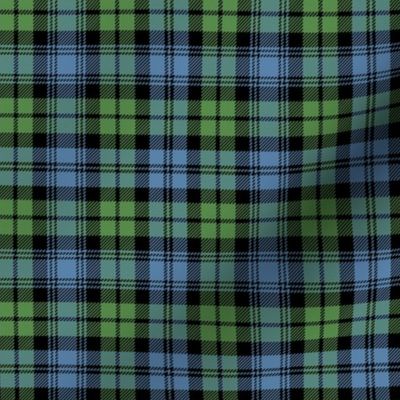 Question: Is Black Watch a Campbell tartan?
Answer: The Clan Campbell Tartan is also known as the Black Watch Tartan, named after a British army regiment that was formed largely of Campbell soldiers loyal to the Crown. After a 1746 act of proscription against the wearing of Scottish tartan, the Black Watch tartan was the only allowed exception. The Black Watch tartan is today usually made in darker shades of green and blue, while Campbell is made in lighter, brighter shades.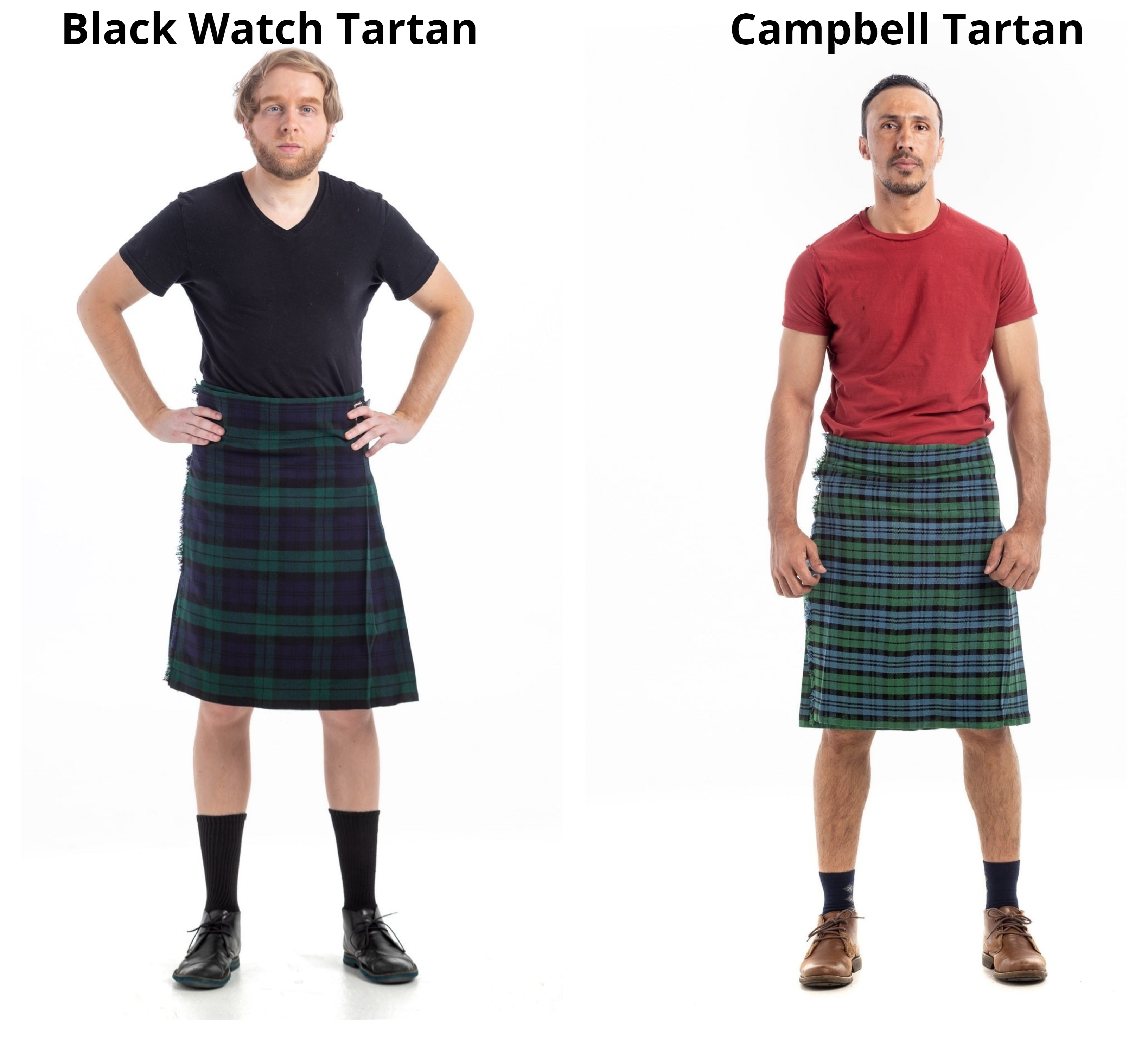 Question: What does the Campbell Tartan look like?
Answer:

Ancient Campbell Tartan is made in lighter, brighter shades. Some Campbells wear the lighter Ancient Campbell for day wear and the darker Black Watch for the evening and formal wear-the important point is that they are the same tartan.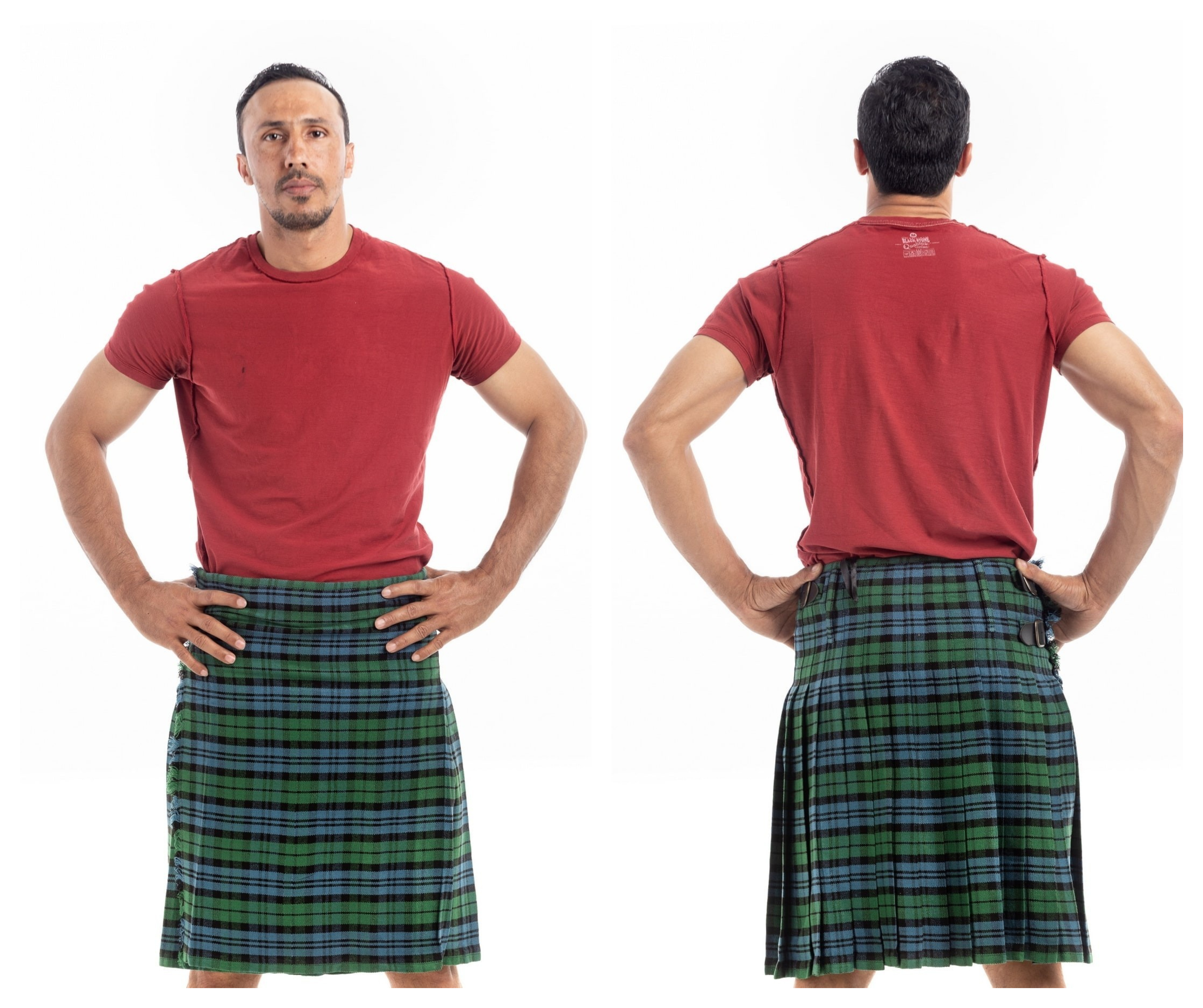 Question: From where I can find Campbell Tartan Fabric?
Answer: We offer you the Campbell Tartan Fabric by the yard at a very low price. These Tartan fabrics are made with the highest-quality acrylic wool and are about 54 inches wide. You can choose the tartan style according to your desire, various color patterns are available to choose from.
Question: What accessories should I get with Campbell Tartan Kilt?
Answer: Carrying on the Scottish legacy of bravery, adventure, and pride, we offer a wide range of Scottish kilts, skirts, and other accessories. Stitched with love and dedication, customized to your comfort and desire, Scottish Kilts gives you the freedom to be a true representative of your Clan and proud Scots man. With this mission, Scottish Kilt is striving to provide you with a huge range of accessories in all possible tartans, Now you may order/select perfect matching accessories with your desired tartan. Like you may have Clan Campbell Tartan Sporran, Clan Campbell Tartan Purse, Campbell Tartan Tie, Campbell Tartan Trouser or Trew, Campbell Fly Plaid with Fly Plaid Brooch that'll help to tie your plaid, Clan Campbell Kilt Flashes which is perfect for any size of kilt hose. Moreover, you can also order custom made Clan Campbell Skirt for your love. With a Scottish regal traditional neck-wears Campbell Tartan Scarf for every season that goes according to the weather by enhancing your prominence and social status. In short, you can order anything in any size and length.