The Campbell Tartan is an iconic and enduring symbol of an illustrious Clan, a preeminent Highland clan hailing from Scotland. Rooted in the venerable Old Campbell Tartan, which has served as a template for numerous other clan tartans, it boasts several captivating variations. This tartan, steeped in history and tradition, has achieved global acclaim as one of the most cherished and widely worn tartans worldwide, embodying the rich heritage of the Campbell Clan.

Is Campbell a Scottish name?
Indeed, Campbell is unmistakably a Scottish name with a rich and intriguing history. Rooted in the Gaelic words "cam" for "crooked" and "beul" for "mouth," it originally served as a distinctive nickname, signifying "crooked mouth" or "wry mouth." The esteemed Clan Campbell, renowned as one of the Highland's most dominant and extensive clans, can trace its heritage back to the ancient Britons of Strathclyde. The surname Campbell finds its origins in a Strathclyde-Briton family residing along the Scottish-English Borderlands, adding to its illustrious Scottish lineage.
Are Campbell's Highlanders or Lowlanders?
The Campbells are a truly unique Scottish clan, straddling the divide between the Highlands and Lowlands with remarkable influence. Historically, they emerged as one of the most formidable Highland clans, reigning supreme in Argyll and commanding authority from Edinburgh to the Hebrides and the Western Highlands. However, their versatility is striking, as they seamlessly function as both a quintessential Highland clan and a distinguished Lowland surname, embodying the rich tapestry of Scottish heritage.
What does Campbell mean?
Campbell, a multifaceted name, carries rich historical and linguistic nuances. Originating from Scotland, it serves as a surname meaning "crooked or wry mouth," reflecting its intriguing etymology. Additionally, Campbell signifies a formidable Highland Scottish clan, historically prominent in the Highlands. Beyond its heritage, Campbell has evolved into a gender-neutral given name, celebrating both Scottish and Irish heritage. Its translation, "crooked or wry mouth," adds a touch of distinctive character to this versatile name, embodying a profound sense of history and identity.
What is the Campbell family motto?
The Campbell family bears the distinguished motto "Ne Obliviscaris," a phrase imbued with profound significance as it resonates with the Latin essence of "Forget Not." This timeless motto encapsulates the essence of their heritage, inspiring a legacy of remembrance, and exemplifying their enduring commitment to honoring their past while forging an unwavering path forward.
What is the symbol of the Clan Campbell?
The Clan Campbell proudly identifies with the boar's head as its symbol, prominently featured at the center of their crest's strap and buckle. This emblem reflects their unwavering loyalty to their Chief and, by extension, their entire clan, as encapsulated by the Latin motto "Ne Obliviscaris," meaning "Do Not Forget." Additionally, the Clan Campbell finds botanical significance in the Bog Myrtle (Myrica gale) as their chosen plant emblem. These symbols, steeped in tradition, encapsulate the rich heritage and values of the Clan Campbell.
Why is Clan Campbell feared?
Clan Campbell commands a formidable reputation in Scottish history, evoking a complex blend of emotions among their peers. Their association with the Protestant Presbyterians, though a matter of choice, has marked them as outsiders in the eyes of other clans. However, it is their historical penchant for territorial aggression that has left an indelible mark. With Clan Campbell of Breadalbane in particular wielding dominance over vast swaths of Scotland, they are resolute in safeguarding their holdings, even at great cost. This combination of religious affiliation, territorial ambition, and unwavering determination has left Clan Campbell, especially the formidable Campbell of Breadalbane, as a clan both feared and, begrudgingly, respected by their rivals, creating a legacy steeped in a unique blend of reverence and trepidation.
Is the Black Watch tartan a Campbell Tartan?
The Black Watch tartan holds a distinctive place within the Campbell Tartan tradition. Its historical significance is rooted in the Black Watch, a unit formed to patrol the Highlands after the 1715 Jacobite rebellion. Comprising soldiers from various clans, including Clan Fraser of Lovat, Clan Munro, Clan Grant, and notably, three from Clan Campbell, this tartan was adopted as the official emblem of the Clan. This choice reflects the substantial Campbell presence in the Black Watch. While the Campbell Clan boasts several tartans, only four are acknowledged by the Clan Chief as official, with the Black Watch tartan proudly among them. This enduring emblem continues to be worn by military units across the Commonwealth, embodying a rich heritage and legacy.
What does the Campbell Tartan look like?
The Campbell tartan, often referred to as the "Black Watch Tartan," showcases a distinctive plaid pattern that holds a deep-rooted association with the Scottish Clan Campbell. This timeless design features a harmonious blend of light green, evoking the lush landscapes of the Scottish Highlands, complemented by serene light blue, reminiscent of the expansive skies, and the timeless elegance of black. It weaves together a tapestry of heritage and tradition, making it a symbol of pride and identity for the Clan Campbell, known for its rich history and enduring legacy.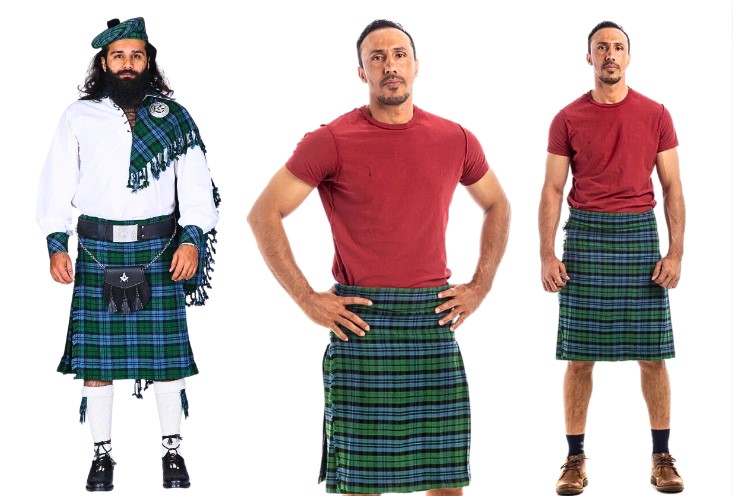 How many Campbell Tartans are there?
The world of Campbell tartans is rich and diverse, offering a tapestry of options that captivate the senses. While traditionally, four authentic Campbell tartans are celebrated: the Ancient or "plain" Campbell, Campbell of Breadalbane, Campbell of Cawdor, and Campbell; the story doesn't end there. In fact, there exists a delightful array of 15 distinct plaid variants for the Campbell Clan, ranging from the timeless elegance of Modern and Ancient designs to the enchanting allure of the Dress variant. The true count of Campbell tartans remains a matter of interpretation, ultimately reflecting the multifaceted nature of this iconic clan's heritage.
From Where Can I Find Campbell Tartan Fabric?
For those in pursuit of the illustrious Campbell Tartan Fabric, your search concludes at Scottish Kilt. Renowned as the foremost purveyor of superior tartan textiles, Scottish Kilt offers an unrivaled collection that includes not only the cherished Baxter Tartan but also the esteemed Gallagher and Cowan Tartan Fabrics. With an unwavering commitment to upholding Scotland's traditional weaving techniques and heritage craftsmanship, each fabric embodies an enduring legacy, making Scottish Kilt the ultimate destination for discerning enthusiasts seeking impeccable materials tailored to their exacting specifications.
How can Campbell Tartan be used in Clothing and Accessories?
The Campbell Tartan offers a rich tapestry of style possibilities in clothing and accessories. Elevate your wardrobe with traditional Scottish elegance by donning a Campbell Tartan kilt, a timeless symbol of heritage. For a modern twist, consider tailored trousers or a sophisticated jacket and vest ensemble crafted from this distinctive pattern. To add a subtle touch of Campbell Tartan flair, explore accessories like ties and pocket squares. Whether you're embracing tradition or infusing contemporary fashion with a hint of Scottish legacy, the Campbell Tartan seamlessly weaves its charm into every thread of your attire.