The Tartan for the esteemed Wallace Clan boasts a rich heritage, with the Wallace Modern or Wallace Red Modern Tartan taking center stage. This vibrant scarlet, black, and yellow pattern, dating back to the early 19th century, serves as the Clan's most common and widely recognized Tartan.

Inspired by the red and black checkered Rob Roy Tartan, it remains a prevalent and striking symbol today. For those seeking a deeper connection to their ancestry, the Wallace Clan also embraces an ancient Tartan, a darker rendition of the modern design. Beyond these, there are further variations such as the distinguished William Wallace Tartan, ensuring a tapestry of choices for Clan members and enthusiasts alike.
What is the History behind the Wallace Hunting Tartan?
The Wallace Hunting Tartan embodies a rich Scottish heritage, tracing its roots to the early 1820s when it was officially recorded by the Highland Society of London. While it draws inspiration from the Rob Roy Tartan's red and black checkered pattern, the most renowned version is the Wallace Red Modern Tartan, featuring vibrant scarlet, black, and yellow hues. Notably, the late Wallace Clan Chief, Ian Francis Wallace, favored the green Wallace Hunting Tartan, a nod to the village of Elderslie, known as the birthplace of William Wallace, Scotland's heroic figure. The name "Wallace" originally referred to the Britons of the Kingdom of Strathclyde, dating back to 1160, with Sir William Wallace, the Scottish national hero, further cementing its historical significance. Wearing the Wallace Hunting Tartan Kilt is a captivating way to connect with Scotland's rich history and cultural heritage.
What is the Wallace Clan Motto?
The esteemed motto of the Wallace Clan is elegantly encapsulated in the stirring words "Pro Libertate," a resonant Latin phrase that translates to "For Liberty." This timeless declaration not only reflects their unwavering commitment to the cherished ideal of freedom but also embodies the very essence of their proud and storied heritage.
Who was Sir William Wallace, and What role did he play in Scottish History?
Sir William Wallace, born around 1270, was a Scottish knight and enduring symbol of Scotland's quest for independence from English rule. His heroic leadership led the Scots to a remarkable triumph at the Battle of Stirling Bridge in 1297, establishing him as a national hero. Following his knighthood and appointment as guardian of the kingdom, Wallace organized Scotland's defense and launched daring raids into northern England. Although his military reputation suffered a setback at the Battle of Falkirk in 1298, his unwavering commitment to Scottish independence endured. Captured in 1305, he faced a brutal execution at the hands of King Edward I of England, solidifying his status as a legendary figure in Scottish history. Despite not witnessing it, Wallace's sacrifices ultimately paved the way for Scotland's eventual independence under Robert the Bruce.
Are all Wallaces related to William Wallace?
No, not all individuals with the last name Wallace are directly descended from William Wallace. William Wallace did not have any children, so he has no direct descendants. While the most renowned member of Clan Wallace was the Scottish patriot William Wallace, the Clan encompasses numerous individuals who are not directly linked to him. The origins of the Wallace surname and its connection to southwest Scotland are somewhat uncertain, except for its derivation from the Old English term "wylisc" (pronounced "wullish"), signifying "foreigner" or "Welshman." Therefore, the Wallace surname encompasses a diverse range of individuals with varied ancestral roots and is not exclusively tied to William Wallace.
What Are the Colors that Wallace Hunting Tartan includes and What do they symbolize?
The Wallace Hunting Tartan incorporates a captivating blend of forest green, deep navy blue, and profound black stripes interwoven with delicate white accents. These colors are rich in symbolism, with the green embodying the lush beauty of Scotland's landscapes, the navy blue evoking the vast surrounding waters, and the black echoing the enigmatic essence of the Scottish Highlands. Meanwhile, the white stripes signify purity and innocence. Additionally, the Tartan features vibrant yellow, symbolizing courage and exemplifying the enduring legacy of the Wallace Clan, while the black stripes pay homage to the shadows of history and the Clan's remarkable resilience. These hues, though subdued, were meticulously designed for effective camouflage during hunting expeditions, adding depth to their significance.
From Where Can I Find Wallace Hunting Tartan Fabric?
For those in search of the exquisite Wallace Hunting Tartan Fabric, your quest finds its pinnacle at Scottish Kilt. As the foremost authority in premium Tartan textiles, Scottish Kilt not only offers the coveted Wallace Hunting Tartan but also proudly presents a distinguished selection of revered Tartan fabrics, including the treasured Baxter, Gallagher, and Cowan Tartans. Our unwavering dedication to preserving Scotland's traditional weaving techniques and rich craftsmanship heritage ensures that each fabric in our collection weaves an enduring legacy of quality and authenticity. At Scottish Kilt, discerning enthusiasts gather to acquire impeccably crafted materials, tailored to their exact specifications. Your pursuit of authentic Wallace Hunting Tartan Fabric culminates here, where tradition harmoniously meets excellence.
How can Wallace Hunting Tartan be used in Clothing and Accessories?
Wallace Hunting Tartan is a traditional Tartan pattern associated with the ancient Wallace Clan of Scotland. It can be used in clothing and accessories, particularly in Scottish kilts. Here are some ways to incorporate Wallace Hunting Tartan into clothing and accessories: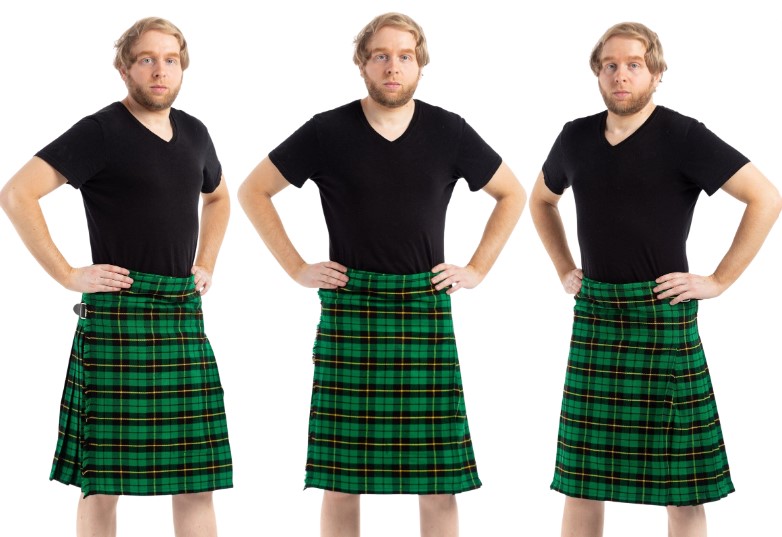 Kilt Elegance: The Wallace Hunting Tartan Kilt, crafted from acrylic wool with leather straps and buckles, exudes timeless Scottish charm.
Pair your kilt with a matching Tartan sporran, a traditional Scottish pouch, enhancing the authenticity of your ensemble.
Elevate your style with coordinated Tartan purses, wallets, and handbags, creating a harmonious and sophisticated look.
Embrace the colder seasons with a Wallace Hunting Tartan scarf, a versatile accessory that adds warmth and flair to your coat or jacket.
Incorporate the Tartan pattern into formalwear effortlessly with a Wallace Hunting Tartan tie, lending a touch of Scottish heritage and style to your suit or dress shirt.