Douglas is a common surname of Scottish origin, meaning "black stream". It is traditionally associated with Douglasses from the 15th century, composed of intersecting green, black, blue and white lines. It is closely associated with the Douglas clan, signifying their Scottish heritage. As green represents a connection to the land, black symbolizes strength, blue embodies loyalty and white stands for purity. This douglas tartan serves as an emblem of the clan's identity, encapsulating its history and values within its design.

What is the history behind Douglas Tartan?
The history of the Douglas Tartan is intertwined with the Douglas clan, an influential Scottish clan that originated in medieval times. With a strong historical presence, the clan was closely associated with the Scottish monarchy and played a significant role in the nation's history. The tartan, characterized by its distinct woven pattern of colors and lines, serves as a testament to the clan. This pattern symbolizes the clan's heritage and pride.
Is Douglas Irish or Scottish?
Douglas is a name that is traditionally associated with both Scottish and Irish heritage. The name has origins in both countries and individuals with the surname "Douglas" can be found in both Scotland and Ireland. The Douglas clan, for example, is a Scottish clan with a significant historical presence in Scotland. Similarly, there are individuals with the surname "Douglas" in Ireland due to historical migrations and connections between the two countries. So, while the name has strong associations with both Scotland and Ireland, its origins and prominence vary in each country.
What is the Scottish motto for Douglas?
The Scottish motto for the Douglas clan is "Jamais arrière" which translates to "Never behind" or "Never backward" in English. This motto reflects the clan's historical reputation for bravery and courage in battle, symbolizing their determination to always move forward and never retreat.
How many Douglas tartans are there?
There isn't a fixed number of tartans associated with the Douglas clan, as tartans can vary based on factors like design variations, historical periods and specific branches within the clan. The Douglas clan, being one of the most renowned Scottish clans, has several tartan variations that have been created over time. Some of these tartans might be associated with specific family branches or historical contexts. It's worth noting that the concept of clan tartans as we understand them today developed relatively recently, in the 19th century and many tartans have been created since then.

Who can wear Douglas Tartan?
Clan Douglas is an ancient clan or noble house from the Scottish Lowlands who took their name from Douglas in Lanarkshire, so basically it's their tartan but it can be worn by anyone who wishes to celebrate and connect with the heritage and legacy of the Douglas clan. While historically tartans were associated with specific clans and families, in modern times, tartan patterns have become more accessible and are often worn by people without direct clan affiliation.
From where I can find Douglas Tartan Fabric?
Discover authentic Douglas Tartan Fabric at Scottish Kilt. As we specialize in genuine Scottish attire and accessories, featuring the iconic Douglas Tartan. From the regal sweep of kilts to the intricate details of sporran, flashes and fly plaids, our curated collection is a testament to the meticulous artistry behind this timeless pattern.
What accessories should I get with the Douglas Tartan?
When considering accessories to complement the Douglas Tartan, our assortment is both extensive and diverse. Tailored for both gentlemen and ladies, we present an array of options, even catering to the younger generation. Expanding further, we showcase tartan trews, trew outfits, Tartan jackets and vests, all adorned with the timeless Douglas Tartan motif.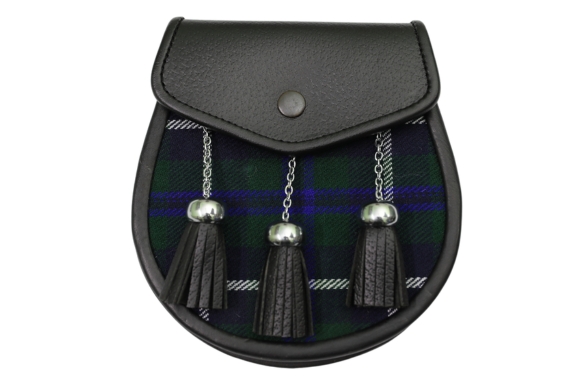 Our commitment to excellence extends beyond scottish clothing, as evidenced by our extensive accessory collection. From uncut plaid fabric to chic tartan masks, refined ties and plaid blankets. Moreover, we present sporrans, fly plaids, tartan shorts, and handfasting ribbons for those momentous occasions. To enrich your living spaces, we offer plaid pillows that lend a touch of distinction. Even your four-legged companions are not forgotten, with our selection of tartan accessories designed for them.