The name "Hunter" in general is associated with the Hunter clan, a storied Scottish clan with a rich history. By the fifteenth century, they had become hereditary keepers of the royal forests of Arran and Little Cumbrae.

The family's legacy extends to England and Normandy, where they held similar offices before settling in Scotland. Notably, they served as Royal Huntsmen to the Scottish Royal Court, responsible for supplying meat, game, and Hunting Birds for the Royal Table and Royal Mews.
What is the History behind the Ancient Hunter Tartan?
The Ancient Hunter tartan boasts a rich and storied history deeply intertwined with the illustrious Hunter Clan of Scotland. This distinguished tartan pays homage to Scotland's venerable hunting heritage, a tradition synonymous with the esteemed Hunter name. Its origins trace back to the valiant Hunters who not only safeguarded Scotland's woodlands but also served valiantly in the country's military endeavors. The Hunter Clan's unwavering loyalty during the Scottish Wars of Independence, fighting alongside Wallace and Bruce, cemented their place in Scottish history. Crafted by merging the setts of the Graham of Montrose and Hunter tartans, this unique design, known as Hunter of Hunterston, was skillfully created in 1983 by Capt. T. Stuart Davidson, the visionary founder of the Scottish Tartan Society. The Ancient Hunter tartan's name, resonating throughout Scotland, is derived from the enduring pursuit of the hunt, making it a symbol of heritage and valor.
Who Designed the Official Ancient Hunter Tartan & when was it created?
The exquisite Ancient Hunter Tartan, a timeless emblem of the Hunter Clan's enduring heritage, was meticulously crafted by the visionary Captain T. Stuart Davidson in 1983. As the esteemed founder of the Scottish Tartan Society, Captain Davidson poured his expertise and passion into this iconic design, christening it "Hunter of Hunterston" to distinguish it amidst the rich tapestry of Hunter tartans. This distinguished tartan was lovingly embraced by Hunter of Hunterston, the venerable Chief of Clan Hunter, around 1985, solidifying its place as a cherished symbol of tradition and lineage.
Can you tell me about the Hunter Clan's badge & ancestral lands?
The Hunter Clan, known as Mac a t-Sealgair in Gaelic, proudly bears a captivating badge featuring a regal greyhound sejant Proper, adorned with a resplendent antique crown Or. This emblem pays homage to their historic roots in Ayrshire, with Hunterston Castle in West Kilbride serving as an enduring symbol of their ancestral lands. Situated in the Scottish Highlands and Lowlands, their territory spans Ayrshire, the Isle of Arran, and The Cumbraes. The Hunters have an illustrious history as hereditary keepers of the royal forests of Arran and Little Cumbrae, tracing their lineage back to similar roles in England and Normandy. Their cherished plant badge is the Sea Pink, Armeria Maritima, and their noble motto, "Cursum Perficio," meaning "I have completed the course" in Latin, reflects their unwavering commitment. The clan's war cry, "Haud at Hunds o Hunterston," resonates with their deep heritage. The Hunter Clan Society fosters pride in their heritage and preserves the esteemed Hunterston Castle, inviting all loyal to the clan to wear their chief's badge as a symbol of kinship.
What symbols and colors are featured in the Ancient Hunter Tartan?
The Ancient Hunter Tartan is a striking embodiment of Scotland's natural beauty and the profound heritage of the Hunter Clan. Against a rich, deep blue backdrop reminiscent of Scotland's expansive skies and pristine waters, intricate patterns emerge. Thin, crimson, and ivory stripes gracefully intertwine with bold, verdant, and ebony bands. These elements harmoniously mirror the breathtaking Scottish landscapes, paying homage to the enduring bond between the Hunter Clan and their ancestral homeland, while the deep blue exudes an aura of timeless mystique and reverence.
From where I can find Ancient Hunter Tartan Fabric?
You can embark on a captivating journey to discover the Ancient Hunter Tartan Fabric at the illustrious Scottish Kilt emporium. Their expertise extends to curating an exquisite range of traditional Scottish fabrics, including the revered Ancient Hunter Tartan. Renowned for their unwavering commitment to preserving authenticity and elevating craftsmanship, Scottish Kilt offers you access to the most splendid materials to fulfill your discerning requirements. The Ancient Hunter Tartan Fabric not only embodies timeless elegance but also carries a rich historical legacy, steeped in tradition and heritage. It stands as the preferred choice for a myriad of distinguished projects, making Scottish Kilt your ultimate destination for this remarkable fabric.
What Clothing accessories should we get in Ancient Hunter Tartan?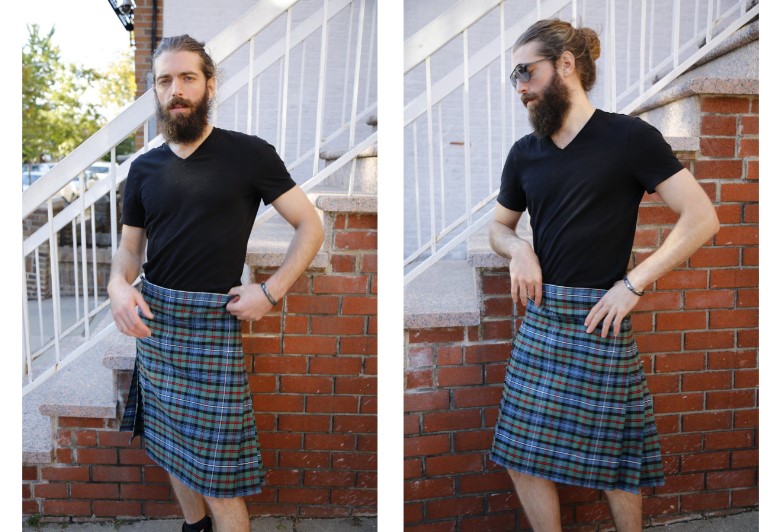 To complement your distinguished Ancient Hunter Tartan kilt, explore an array of exquisite accessories that exude both style and tradition. Elevate your look with a captivating Kilt Pin, available in a myriad of designs, such as Celtic knots and thistles, not only adding panache but also securing your apron flawlessly. Don a Sporran, a quintessential pouch, ideal for carrying essentials while seamlessly harmonizing with your attire, whether you prefer a classic leather pouch or one adorned with luxurious fur and tassels. Step with elegance in Brogues, finely crafted leather shoes with intricate perforations, ranging from formal to casual. Complete your ensemble with cozy and stylish Kilt Hose, available in various hues and patterns. Opt for a Ghillie Shirt with its lace-up front, a versatile addition that complements your kilt, and explore an array of jacket styles, from the formal Prince Charlie to the relaxed tweed, to effortlessly embody the Scottish Highland tradition. Discover these accessories at reputable Scottish kilt shops and online retailers to curate a distinctive and refined Ancient Hunter Tartan ensemble.