Question: Can Munro clan wear a black watch tartan?
Answer: Yes, Clan Munro wears Black Watch Tartan mainly because of Colonel Sir. Robt. Munro (1684-1746), the original Black Watch commander. They have their own Munro Tartan with a magnificent reddish touch.

What's the meaning behind the name?
Munro is derived of the Gaelic Rothach, Roich, or Mac an Rothaich meaning Ro Man, or Ro from Man Or Man of Ro.
Foulis Castle is located just out of Evanton located in the North of Scotland and is the ancestral residence of Clan Munro. Clan Munro have held Foulis Castle since at least the 12th Century but it is believed that they may have been in possession even earlier, as this is as old as records can go to Foulis Castle. The first structure constructed in the area dates in the early 11th Century and during this time it was referred to as the Tower of Foulis. The castle was a strong place until it was destroyed by the Jacobite Rising of 1745, after which it was destroyed, attacked and sacked by jacobites. the Chief of Clan Munro in 1745 rebuilt the castle after the incident, but it was constructed with the style of a Georgian style mansion instead of a defensive fort. The version that was built in Foulis Castle still stands today and is where the Chief of Clan Munro lives.
What clan is Munro belongs to?

Clan Munro an Rothaich is a Highland Scottish clan. The clan's origins were within Easter Ross in the Scottish Highlands. The traditional roots of the clan claim that its founder was Donald Munro who came from the north of Ireland and moved to Scotland around the 11th century, but its actual founder may be much older. There is also a long tradition that Munro chiefs backed Robert the Bruce during the Wars of Scottish Independence. The first clan chief to be confirmed can be traced to Robert de Munro who died in 1369. His father is mentioned, but not mentioned in numerous charters. The clan chiefs initially held their land mostly in Findon in the Black Isle but exchanged it in 1350 in exchange for Estirfowlys. The son of Robert Hugh who died in 1425 was the first member of the family to be called "of Foulis", despite the fact that genealogies of the clan describe the baron as being 9th.
In the 15th and 16th century, the Munros were at war with their neighbors, the Clan Mackenzie and the Clan Mackenzie. During the 17th century, many Munros participated during the Thirty Years' War to defend Protestantism. In the Scottish Civil War of the seventeenth century, various Clan members sided with those who were Royalists or Covenanters at various periods. The Munro chiefs backed their clan in the Glorious Revolution of 1688 and during the Jacobite rebellions of the eighteenth century, the clan as well as the chiefs were strongly anti-Jacobite, in support of the Hanoverian British Government.
Which is the Munro clan's slogan?
They had a war with a variety of their clans that were neighbors and clans, but it was the MacKenzies. A separate Highland Company of Munros was one of the six who made the Am Freiceadan Dubh, also known as "Black Watch". It was later renamed"the 43rd" Highland regiment in 1740. Its Munro clan's motto reads "Dread God" and the clan's crest is an Eagle.
Question: From where I can find Munro Tartan Fabric?
Answer: Red & blue tones with greenish shade make this tartan very attractive. This tartan's pattern makes your attire more decent & elegant. Now you can enjoy your kilt, jackets and other wardrobes by this beautiful tartan fabric. Because we are offering Munro Tartan Fabric at a very reasonable price. Just place your order as per the required yards and get it at your doorstep.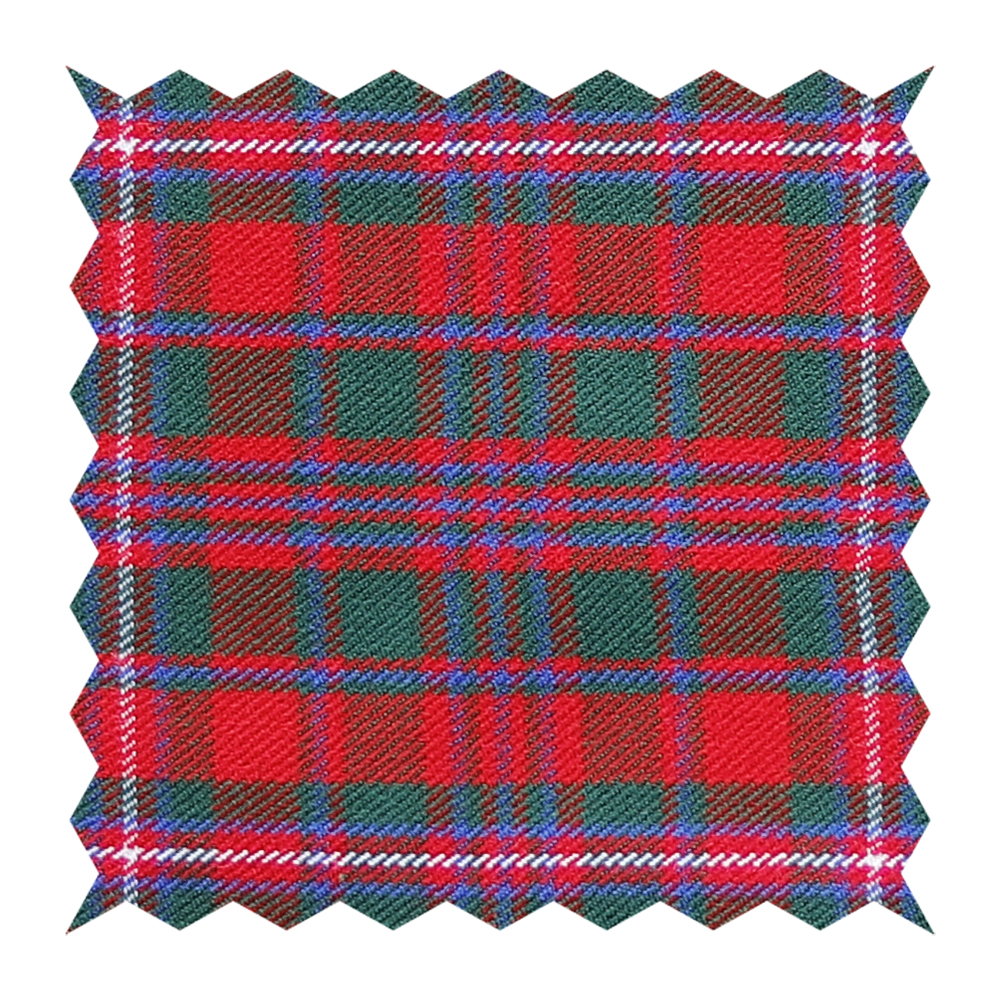 We offer a huge selection of Tartan Kilts in 1400 different Tartans that will allow you to show off your Scottish heritage. So, you can enjoy your Kilts in beautiful designs & styles.
Question: What accessories should I get with Munro Tartan Kilt?
Answer: Carrying on the Scottish legacy of bravery, adventure, and pride, we offer a wide range of Scottish kilts, skirts, and other Kilt accessories. Stitched with love and dedication, customized to your comfort and desire, Scottish Kilts gives you the freedom to be a true representative of your Clan and proud Scots man. With this mission, Scottish Kilt is striving to provide you with a huge range of accessories in all possible tartans, Now you may order/select perfect matching accessories with your desired tartan. Like you may have:
Matching Tartan Sporran
The Munro Tartan Sporran from Scottish Kilt provides you with an immense choice of style and occasion.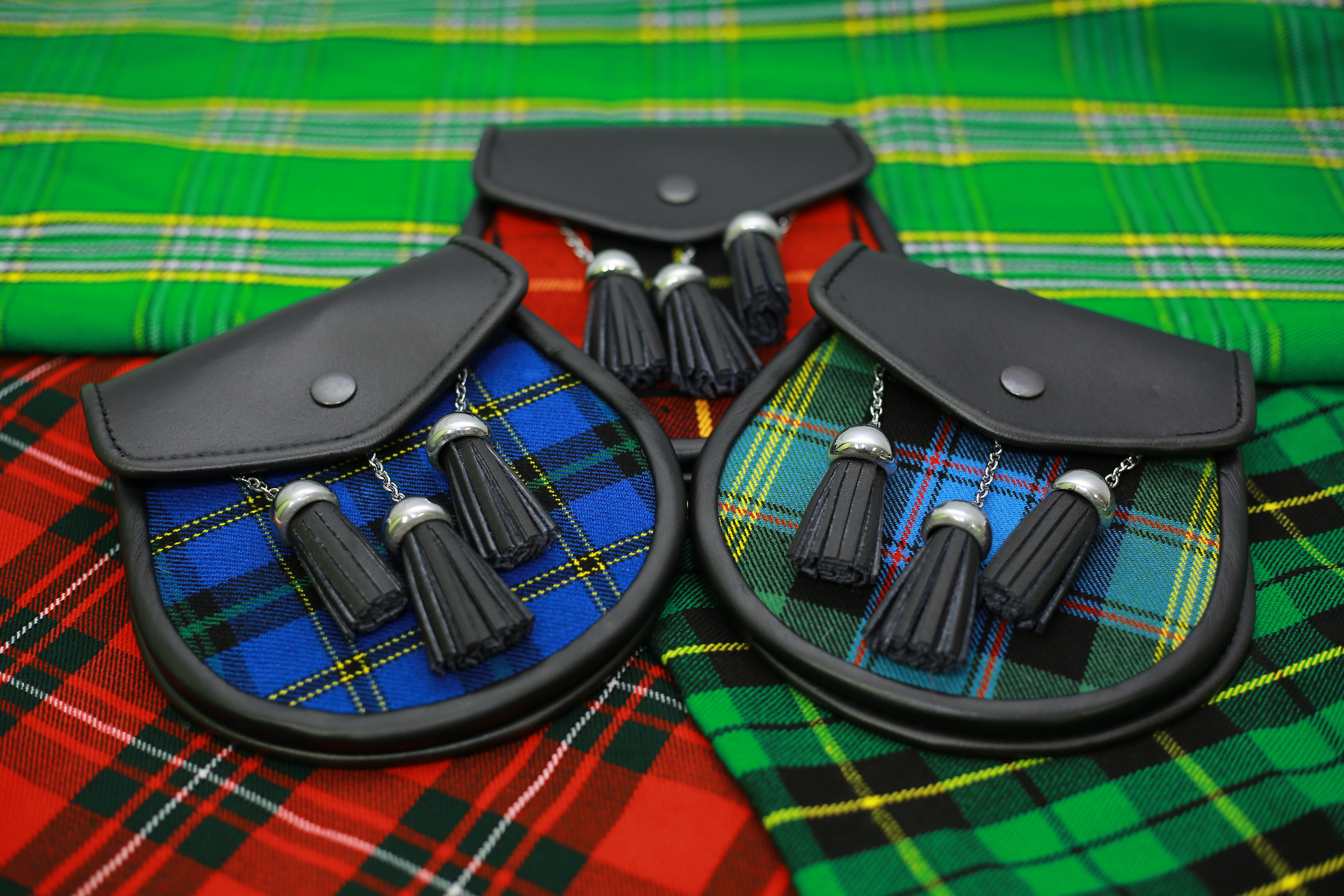 Matching Tartan Purse, Wallet & Handbags
The Munro Tartan Purse from Scottish Kilt is designed to hold all of your important financial necessities with plenty of space inside for credit cards, debit cards, identification cards, and more.
Matching Tartan Neck Tie & Bow Tie
The Munro Tartan Tie from Scottish Kilt provides a stylish addition to any outfit. Our ties are available in a variety of tartans designs, meaning you're sure to find the perfect one for you.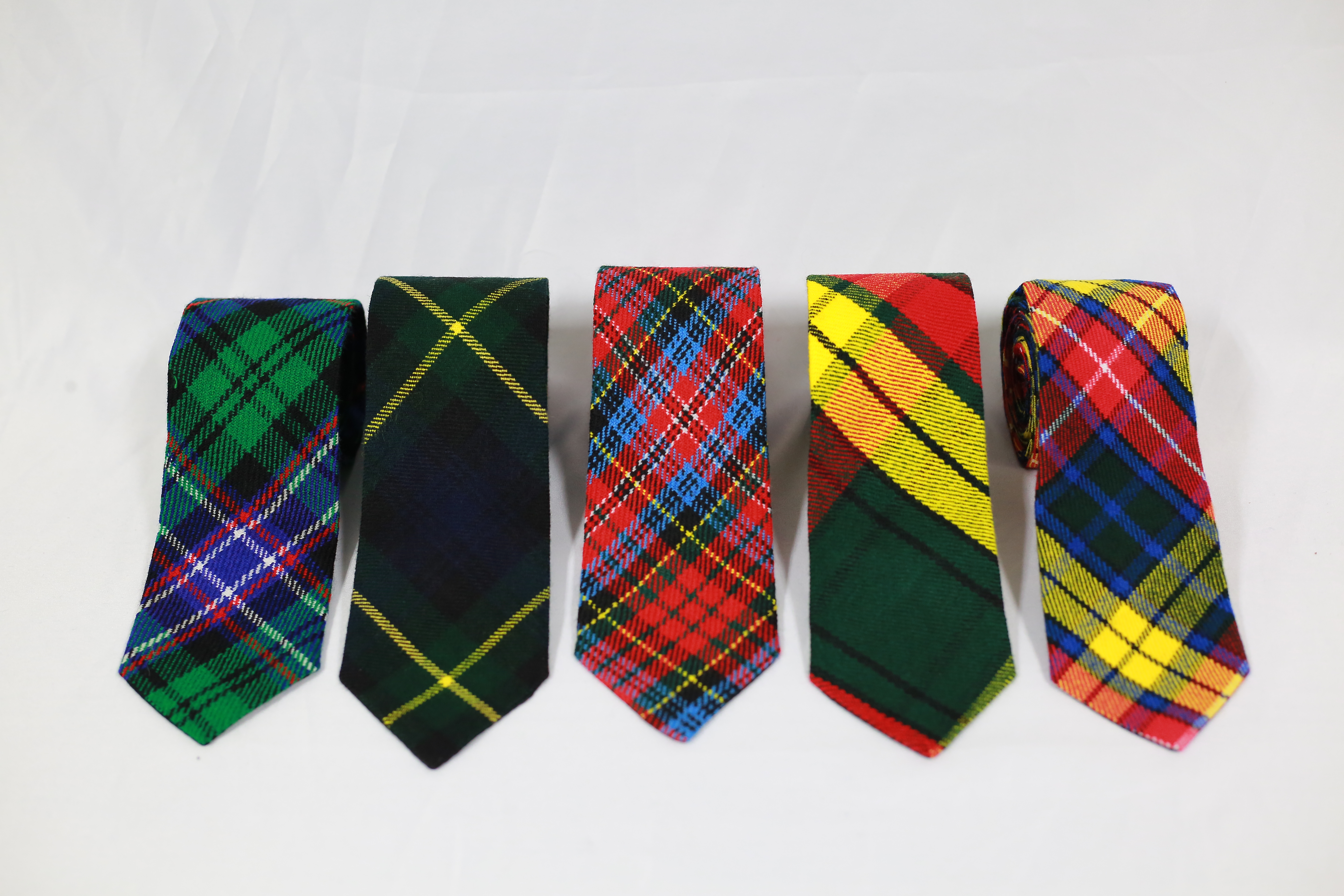 Matching Tartan Fly Plaid
The Munro Tartan Fly Plaid was a large piece of cloth that goes over the left shoulder of the wearer. It is a simple square of cloth, typically 46" X 46", with fringed edges and a box pleat sewn in one corner.
Fly Plaid Brooch
Both stylish, beautifully crafted, and totally functional, the Fly Plaid Brooch found here will make your kilt stand out with a bit of unique, personalized flair.
Munro Tartan Skirt
You can also order a custom-made Munro Tartan Skirt for your love. At Scottish Kilt, we are dedicated to providing you the opportunity to adorn your country's heritage wherever you go, letting you be specific by choosing the style of tartan that represents best your family or region.
Matching Tartan Flashes
Munro Modern Flashes is perfect for any size of kilt hose.
Munro Tartan Trouser or Trew
Take everything you love about tartan kilts and transform them into a more familiar pants style with the Munro Tartan Trouser or Trew. These tartan trews fit like a pair of pants and come in your choice of tartan colors and patterns.
Matching Tartan Scarf
Munro Tartan Scarf differs in weight and color from season to season but its prices remained in the normal range without compromising on class and quality that is the hallmark of purely Scottish traditional Tartan Scarfs.