Yes, there is a clan named Wallace. It is a Lowland Scottish clan that originated in the Welsh border region in the 11th century. The clan's most famous member is William Wallace, who led the Scottish resistance to English rule during the Wars of Scottish Independence.

The Wallace clan still exists today, and its members are scattered worldwide. The clan's motto is "Pro Libertate" (for liberty).
What are the historical values of the clan Wallace & its Tartans?
The historical values of Clan Wallace center around honor, bravery, and unwavering fortitude. These ideals, exemplified by Sir William Wallace leading the Scottish resistance against English rule, are mirrored in tartans like the Hunting Stewart tartan, believed to be worn by Wallace. The clan's motto, "Pro Libertate" (For Liberty), underscores these values. Family, community, and tradition are also cherished. From Wallace's leadership in the 13th century to their role in the religious and land-rights movements, the clan has consistently demonstrated its core values. Today, Clan Wallace remains dedicated to these principles, actively promoting Scottish heritage and culture within their communities.
What is the tartan of Clan Wallace?
The primary tartan of Clan Wallace is the Wallace tartan, a vibrant scarlet, black, and yellow pattern dating back to 1842. There's an ancient version with a more orangey red. Other tartans include the Wallace Dress Tartan, black and white for formal wear; the Wallace Hunting Tartan, navy and green for camouflage; and the Wallace Weathered Tartan, a faded rustic version. The Wallace tartan symbolizes pride and heritage and is worn at significant events. Its colors hold meaning: scarlet for courage, black for strength, and yellow for wisdom. This distinctive tartan echoes the clan's history, representing qualities dear to Clan Wallace.
Who Can Wear a Wallace Tartan?
The Wallace Tartan can be worn by anyone who wishes to celebrate and connect with Scottish heritage. It's not restricted to a specific group or affiliation. Individuals of Scottish descent, enthusiasts of Scottish culture, or anyone who appreciates the significance of the Wallace clan and its historical legacy can proudly wear the Wallace Tartan. From kilts and scarves to various clothing items, the tartan serves as a symbol of Scottish pride and is embraced by people all over the world.
From Where Can I Find Wallace Tartan Fabric?
If your pursuit involves acquiring Wallace Tartan Fabric, look no further than the esteemed Scottish Kilt, renowned as the ultimate destination. We take immense pride in presenting a splendid array of premium tartan textiles, including the distinguished Wallace Tartan. Leveraging our deep-rooted expertise in traditional Scottish weaves and our resolute dedication to upholding genuineness and artisanship, you will undoubtedly encounter the finest materials tailored impeccably to meet your needs. The Wallace Tartan Fabric not only bears historical eminence but also emanates an enchanting allure, often intricately woven with a profound essence of heritage and timeless legacy. These attributes establish it as a favored preference for a wide spectrum of endeavors.
What Clothing Accessories Should We Get in Wallace Tartan?
When delving into the realm of enhancing the allure of the Wallace Tartan, a myriad of clothing accessories emerges, each thoughtfully curated to harmonize with the enduring motifs of the tartan itself. These accessories are a testament to meticulous craftsmanship, tailored to seamlessly augment the timeless elegance of the tartan, resulting in a cohesive and stylish ensemble. Your choices encompass a rich spectrum, ranging from traditional tartan trews and complete kilt or trew ensembles to contemporary Tartan jackets and waistcoats, offering a plenitude of avenues to explore.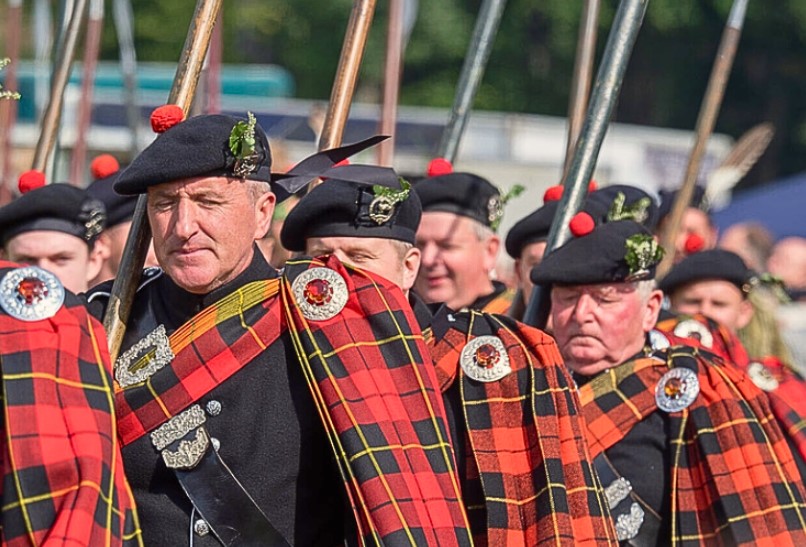 Moreover, the inclusion of tartan masks and ties presents a subtle yet dignified approach to seamlessly incorporate this legendary design into your day-to-day attire. For those with a desire to imbue special occasions with a touch of tartan allure, an array of supplementary options stands readily available. Sporrans and fly plaids stand as splendid additions, lending a hint of heritage to formal outfits. Tartan shorts inject a vivacious and distinctive demeanor while handfasting ribbons elegantly symbolize momentous milestones on one's journey.