The Ross Clan tartan is a distinctive plaid pattern associated with the Ross Clan, a Scottish Highland clan. It is traditionally worn as part of the clan's identity and heritage. The Ross tartan typically consists of a combination of colors and stripes, woven into a specific pattern that represents the clan.
Different clans have their own unique tartan designs, which can vary in terms of color combinations and stripe arrangements. The Ross tartan would be predominantly made up of the colors and patterns associated with the Ross family. It's worth noting that there can be variations in tartan patterns for different branches or affiliations within a clan.

What does the Ross clan's history and tartan symbolize?
The Ross clan's history is steeped in heritage, dating back to the 12th century. Once a powerful Scottish clan, their influence spanned Moray to Dornoch Firths. They fought alongside Robert the Bruce and featured in the Jacobite uprisings. Their tartan, flaunting green, blue and red hues, mirrors their motto "Success nourishes hope." The crest's hand clasping laurel signifies triumph. "Spem successus alit" embodies their belief: triumph fuels ambition. The Ross clan tartan, a badge of honor, signifies courage and resilience. It inspires with hope, echoing "Success nourishes hope." Crest, motto, and tartan converge, epitomizing achievement, loyalty, and courage, commemorating their legacy concisely.
What are some misconceptions about Ross tartan?
Misconceptions about the Ross tartan include the belief that it's the sole tartan for the clan, an ancient design, and exclusively for men. In reality, the Ross clan has various tartans, the pattern is from the 19th century, and women can also wear it. While associated with Scotland, the tartan isn't inherently a symbol of nationalism, but rather a tribute to the clan's history.
What is the Gaelic name for Ross?
The Gaelic name for Ross is Ros. It is a Scottish Gaelic word that means "headland" or "promontory". The name Ross is thought to have come from this Gaelic word, and it is also the name of a region in the Scottish Highlands. The name Ross is also a common surname in Scotland, and it is thought to have originated from the Gaelic word ros.
Is Ross Scottish or Irish?
Ross can be both a Scottish and an Irish name. It is used in both countries and has historical origins in both Scottish and Irish cultures. In Scotland, "Ross" often refers to the region of Ross-shire in the Scottish Highlands. It's a name that has been associated with Scottish clans and families from that area. In Ireland, "Ross" can be an anglicized version of the Irish surname "Ó Rós," which means "descendant of the wood" or "descendant of the rose." It's a relatively common name in Irish history and is found in various parts of the country.
What are some famous people who have worn Ross tartan?
The Ross tartan is a traditional tartan of the Clan Ross, one of the most ancient and powerful clans in Scotland. It is a red and green tartan with a white overcheck. Some famous people who have worn Ross tartan include Princess Diana, Sir Sean Connery, Kenneth Branagh, J.K. Rowling, and Roddy Doyle.
What is the significance of the colors in the Ross tartan?
The Ross tartan's colors hold deep significance. The red embodies ancestral bravery in battles, while the green symbolizes the Highland land's unity and growth. The Navy represents the clan's connection to the sea. The crisscrossing pattern reflects kinship bonds, showcasing strength. Worn with pride worldwide, the tartan embodies courage, nature, and loyalty, honoring the clan's heritage.
Are there any different colors or Styles in Ross tartan?
Certainly! The Ross tartan encompasses seven captivating variations, each distinguished by its unique color scheme and style. The Ancient Ross tartan, harking back to the 17th century, exhibits a subdued blend of dark green, red, and navy blue. Conversely, the Modern Ross tartan exudes vibrancy through light green, vivid red, and deep navy blue. The Weathered Ross tartan possesses a vintage allure achieved via a special dyeing process.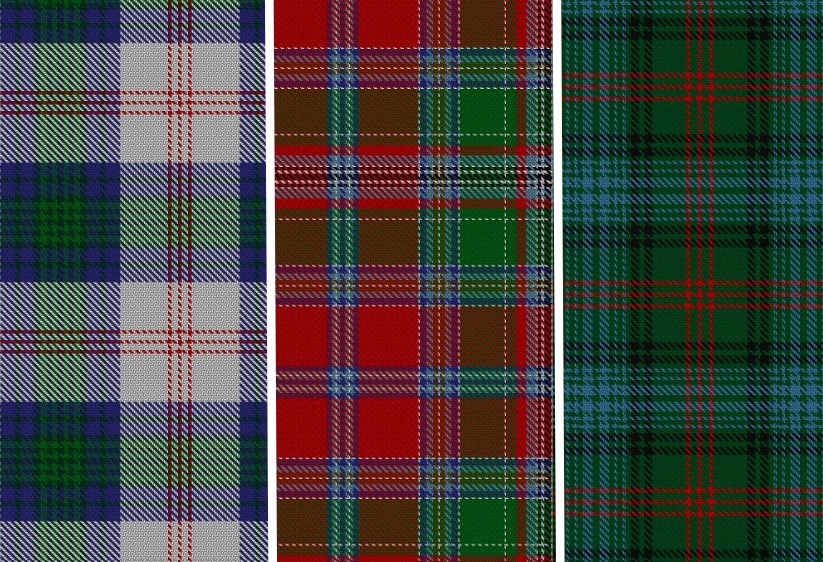 Geared for outdoor use, the Ross hunting tartan employs earthy tones for camouflage, while the Dress Ross tartan's lighter hues denote formality. The Red Ross tartan breaks tradition with its bold red palette, while the Muted Ross tartan, reminiscent of the Ancient variant, features more understated colors. Weaving styles range from the predominant "plaid" to the checkered "houndstooth." Selection hinges on occasion and preference, with each variation offering a distinct persona.
Who can wear Ross tartan?
The Ross tartan can be worn by individuals with a connection to the Ross clan through birth, marriage, or ancestral ties. Traditionally, tartans symbolize clan affiliation in Scottish heritage. While clan members have the strongest association, wearing scottish plaid has also become a fashion trend and a celebration of Scottish culture. There are no strict rules, but wearing tartans respectfully acknowledges their origins. In modern times, the Ross tartan is not limited to specific individuals and can be appreciated by anyone who values its aesthetic or cultural significance.
From Where Can I Find Ross Tartan Fabric?
If you're in search of tartan plaid fabric by the yard, there's no need to look beyond the esteemed Scottish Kilt, renowned as the ultimate source. They take immense pride in offering a splendid variety of premium tartan textiles, including the distinguished Ross Tartan. With their extensive expertise in traditional Scottish weaves and a strong commitment to preserving authenticity and craftsmanship, you will unquestionably discover the finest materials tailored impeccably to suit your requirements. The Ross Tartan Fabric not only carries historical significance but also exudes a captivating charm, often intricately woven with a deep essence of heritage and timeless legacy. These qualities establish it as a favored choice for a wide range of endeavors.
How can Ross tartan be used in Clothing and Accessories?
When it comes to integrating the Ross Tartan into clothing and accessories, a carefully curated selection awaits. These accessories, meticulously crafted, harmonize with the enduring tartan motifs, enhancing its timeless elegance. Choices span from scotland kilts to contemporary jackets, offering diverse avenues.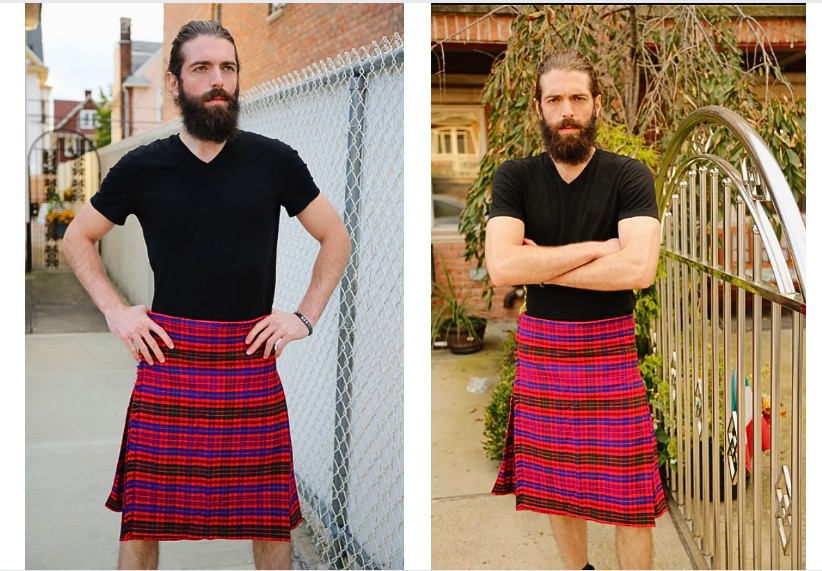 Subtle additions like tartan masks and ties seamlessly infuse the design into daily wear. For special occasions, consider supplementary options like sporrans, fly plaids for formality, or tartan shorts for vibrancy. Handfasting ribbons elegantly symbolize significant milestones. Embrace the Ross Tartan's charm and heritage through a range of thoughtfully designed pieces, each contributing to a stylish, cohesive ensemble.