Question: How to clean Tartan Cushion?
Answer: First remove any solid dust from Tartan Cushion by scooping then damp any clean cloth into cooler water. Dab strain on the cushion by this cloth. Some stains need to be directly washed so wash them directly. So repeat this procedure until it gets completely clean.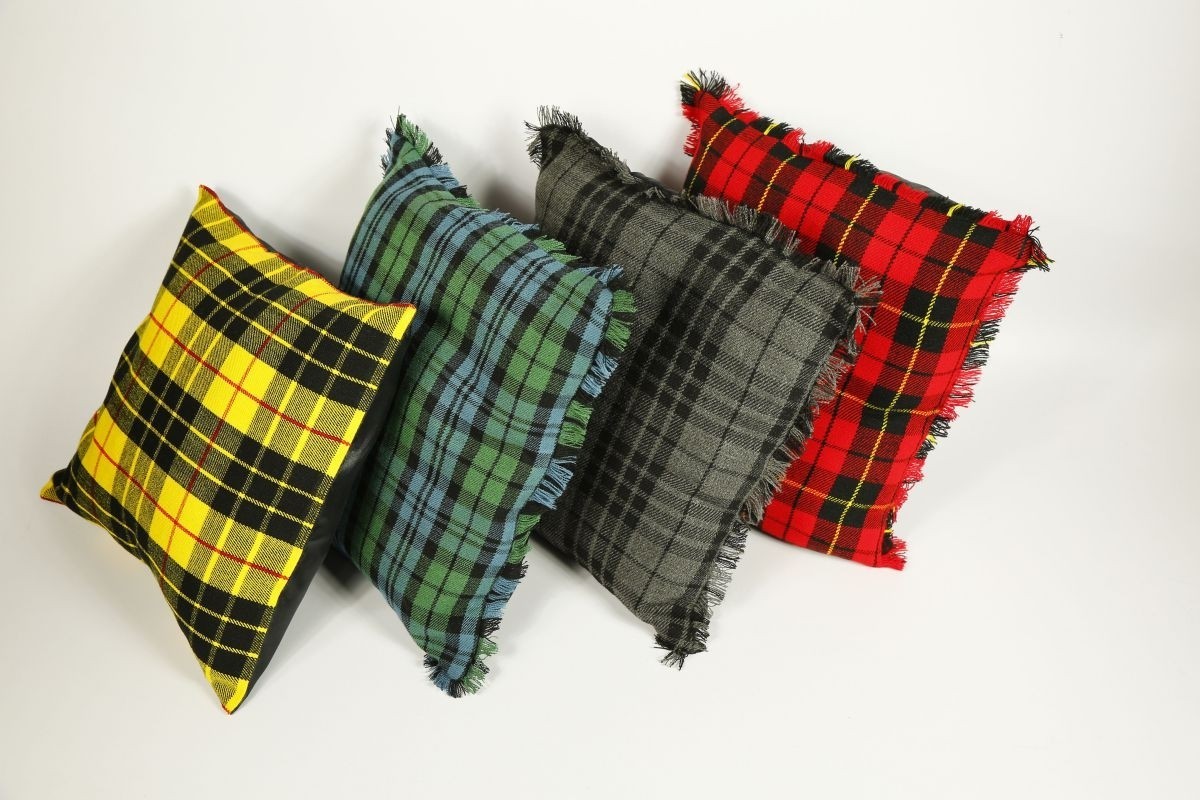 Question: How to prevent Tartan Cushions from sliding?
Answer: To avoid Tartan Cushion from Sliding. You should use non-slip rubber pads to prevent their movement. It will help to keep Tartan Cushion at fix place.
Question: How many types of Tartan Cushions can I get?
Answer: Cushions are one of the important accessories when it comes to decorating your room, Sofa & bed. Tartan plaid cushion enhances the beauty of your residence in a very elegant way. Because it demonstrates your style and devotion to your culture in your house. You can make this possible by a huge collection of tartan cushions available at Scottish kilt. We offer you beautiful collection tartan cushion-like:
Gray Hamilton Cushion
Decorate your home with a little Celtic pride with the Gray Hamilton Tartan Cushion. Made out of high-quality fabric, the pillow shows off the traditional Hamilton clan Tartan plaid pattern that can be traced back through the centuries.
Wallace Tartan Cushion
The Wallace Tartan Cushion is a timeless example of classic tartan styles, and they are famously recognized by many people on the streets.
Rourke Frew Tartan Cushion
The Rourke Frew Tartan Cushion is a beautiful option for beautifying any space in your home, while also speaking to the Scottish heritage that the tartan stands for.

Brown Watch Tartan Cushion
The Brown Watch Tartan Cushion features alternating stripes of a rich chocolate brown and a dark forest green, the two colors working easily with each other to create something homey and familiar.

Macleod Of Lewis Tartan Cushion
The MacLeod of Lewis Tartan Cushion is a vibrant display of color that can turn any boring room into something to get excited about again.
Weathered Tartan Cushion
The Weathered Tartan Cushion features a light gray hue as its dominant color, the gray running vertically throughout the fabric.
Black Watch Tartan Cushion
The Black Watch Tartan Cushion features large vertical strips of a dark, almost black midnight hue that contrasts nicely with the deep forest green that runs both vertically and horizontally.
Campbell Tartan Cushion
The Campbell Tartan Cushion features both grassy green and bright sky blue colors that run in alternating lines up and down the pillow.
The stuff inside these cushions makes it very relaxed & comfortable when you're using them. You can choose from 1400+ Tartan for your cushion. That must suit your tastes & fit for decoration.