Indeed, the Cameron Tartan is a testament to the rich heritage of the Cameron clan, one of Scotland's oldest and most formidable clans, often described as "fiercer than fierceness itself." This distinctive tartan serves as a proud symbol of their lineage, tracing its purported descent from the King of Denmark.

Enthusiasts and clan members can acquire the Cameron Tartan in various forms. However, it's important to note that the Cameron of Lochiel tartan may have exclusive rights restricted to the Clan Chief and immediate family, adding an air of exclusivity to this storied pattern.
Is Cameron Scottish or Irish?
Cameron is undeniably of Scottish origin. This surname traces its roots to Gaelic, where it signifies "crooked nose" or "bent nose," firmly associating it with Scotland. It is closely linked with the Scottish Clan Cameron, reaffirming its Scottish heritage without any ambiguity.
What is the History of Clan Cameron?
The storied history of Clan Cameron is shrouded in mystery and legend. Some believe their lineage can be traced back to a son of the Danish King Camchron, while others suggest their name originated from a chief with a distinctive crooked nose. Their valor on the battlefield was showcased at the Battle of Bannockburn in 1314, where they fought alongside King Robert the Bruce. In the late 14th century, Donald Dubh emerged as a charismatic leader, uniting the clan's branches. Through the centuries, Clan Cameron remained steadfast in Scottish conflicts, notably during the Jacobite uprisings. Today, Clan Cameron, led by "Lochiel," stands as one of Scotland's oldest clans, their ancestral lands graced by Ben Nevis, the British Isles' highest peak. Their legacy endures, with a pivotal role in Bonnie Prince Charlie's 1745 campaign etched in history.
Where does the Cameron Clan come from?
The storied origins of the Cameron clan, a distinguished West Highland Scottish lineage, remain shrouded in captivating mystery. Believed to have sprung from the enchanting expanse of Lochaber, a realm nestled near present-day Fort William, in the rugged heart of Scotland's West Highlands, their genesis is a tapestry woven with intriguing theories. Some whisper that their lineage traces back to a son of the Danish King Camchron, adding an air of regal mystique to their heritage. Others posit that the clan's inaugural chieftain earned the moniker "Cameron" due to a distinctive crooked nose, known as "cam-shròn" in Scottish Gaelic, and his descendants proudly embraced this name. As the annals of history unfold, it is around the dawn of the 15th century, or possibly even earlier, that the Camerons firmly etched their legacy as a resolute Highland clan, carving their destiny into the rugged landscapes of Lochaber, nestled in the western embrace of the Great Glen.
What does the Clan Cameron badge symbolize?
The Clan Cameron badge bears a potent emblem: a sheaf of five arrows firmly bound by a resolute crimson band. This powerful insignia embodies the clan's unwavering strength and unity, a testament to their enduring spirit and resilience throughout the ages. The quintet of arrows, shrouded in symbolic mystique, beckons individuals to unite under the banner of "Aonaibh Ri Cheile," translating to "Unite" in Gaelic. This badge transcends gender, worn proudly by both men and women, as a profound declaration of allegiance to the indomitable Clan Cameron.
How many Cameron Tartans are there?
The Cameron clan boasts a rich tapestry of tartans, reflecting their Scottish heritage. Among them, the Cameron of Erracht tartan stands as the most renowned, often regarded as the official emblem of the Cameron clan. Nevertheless, the Cameron name is adorned with several distinctive tartan variations, each carrying its unique color palette and design. These diverse tartans are a testament to the clan's vibrant history and serve different purposes, from elegant dress tartans to practical hunting tartans. So, in essence, there exist numerous Cameron tartans, with Cameron of Erracht reigning as the most illustrious among them, offering a spectrum of choices that embody the clan's enduring legacy.
Can you describe the Cameron Tartan and its significance?
The Cameron Tartan, a cherished emblem of the esteemed Clan Cameron, boasts a captivating design. Comprising a rich tapestry of dark green and navy blue, adorned with slender threads of yellow and red, this plaid pattern dates back to the 17th century. It is an embodiment of the Clan's indomitable spirit, as they trace their lineage to the King of Denmark, described as "fiercer than fierceness itself." This visually arresting tartan features a dominant red background symbolizing strength and passion, while bold red and yellow stripes pay homage to the clan's storied history. The intricately woven sett pattern serves as a testament to Scottish craftsmanship. It's a timeless symbol of heritage and pride, worn by Cameron Highlanders in historic battles, including the Battle of Waterloo, and still adorning modern products like kilts, scarves, and fabrics today.
From Where Can I Find Cameron Tartan Fabric?
For those in pursuit of the prestigious Cameron Tartan Fabric, your quest finds its ultimate destination at Scottish Kilt. As the foremost authority in exquisite tartan textiles, Scottish Kilt not only presents the sought-after Cameron Tartan but also proudly showcases an exquisite array of revered tartan fabrics, including the cherished Baxter, Gallagher, and Cowan Tartans. Committed to upholding Scotland's time-honored weaving traditions and heritage craftsmanship, each fabric within our collection weaves a lasting legacy. At Scottish Kilt, discerning connoisseurs gather to acquire flawless materials, meticulously tailored to meet their exact specifications. Your quest for authentic Cameron Tartan Fabric culminates here, where tradition seamlessly melds with excellence.
How can Cameron Tartan be used in Clothing and Accessories?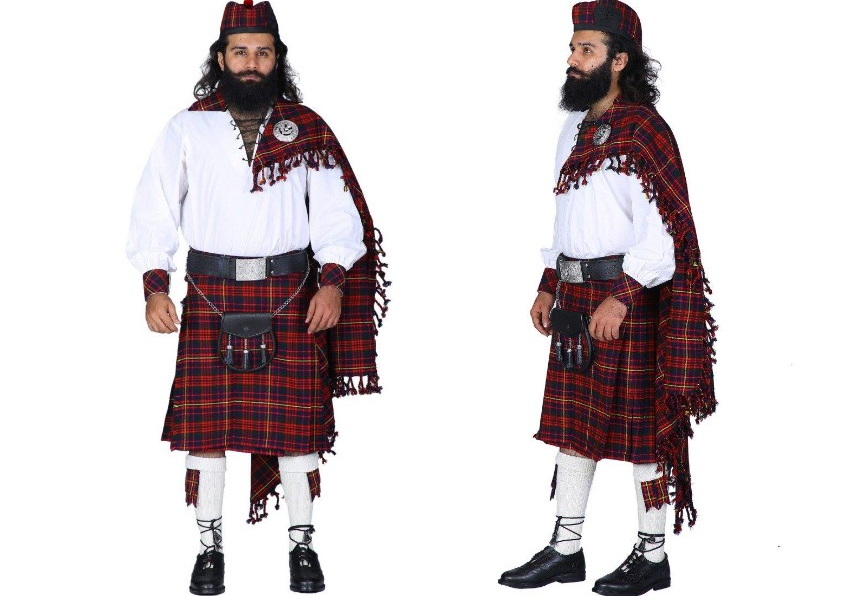 Cameron Tartan finds its elegant expression in the world of fashion and accessories, offering a rich tapestry of possibilities. Embodying Scottish heritage, this versatile textile can be skillfully fashioned into a spectrum of attire and accouterments. From meticulously tailored kilts, meticulously crafted in high-quality acrylic wool, customizable to the wearer's unique dimensions, to stylish trousers that echo the essence of tradition, Cameron Tartan offers a wardrobe with a distinctive Scottish flair. Beyond apparel, it lends itself gracefully to the creation of accessories like scarves, ties, and hats, each bearing the hallmark of authentic Scottish charm. For those with a creative vision, Cameron Tartan cloth, available by the meter, opens the door to bespoke clothing and accessories, allowing you to weave your own unique narrative into the fabric of Scottish legacy.