Question: How to make a Saint Andrew Silver Kilt pin
Answer: Saint Andrew Silver Kilt pin is made by embroidering saint medal emblem on the kilt pin. It is done by expert smith through a special machine. That crafted it into a beautiful pin and gives an elegant look to your kilt in a decent way.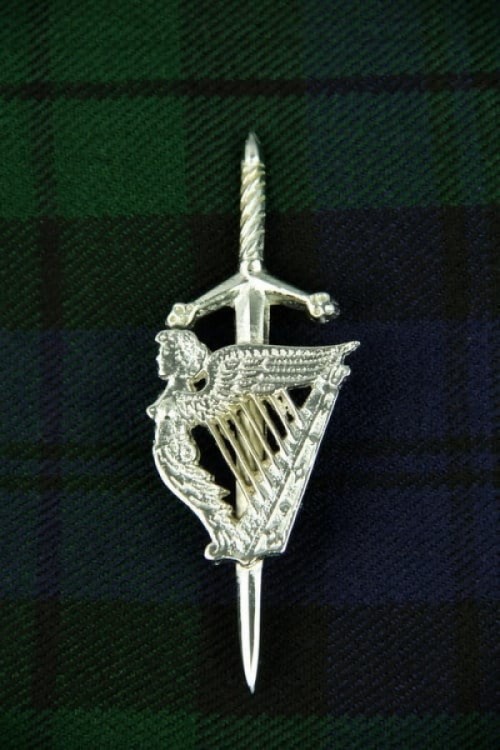 Question: How do you put charms on Kilt Pins?
Answer: You put charms on a kilt pin through its beautiful emblem. The emblem of saint Andrew creates elegant charms on your Saint Andrew Silver kilt pin. It is very important to make your look more distinguished because it has an eye-catchy impact on your kilt.
Question: How many types of Kilt Pin can I get?
Answer: Make your kilt ultra-stylish with a beautiful Kilt Pin. These kilts are certainly trendy and make you stand out with kilt wear. We offer a huge collection of kilt pin-like:
Irish Harp Kilt Pin
The Irish Harp Kilt Pin is easy to slip through the front of a kilt to keep the front panel from gaping. Made from a high quality silver chrome alloy, the kilt pin features a class sword with a swirled handle.
Scottish Lady Harp Kilt Pin
With the Scottish Lady Harp Kilt Pin, you can keep the front of your kilt pinned shut, so you don't end up with any embarrassing wardrobe malfunctions. This kilt pin has a traditional design with an Celtic harp that is shaped like a winged angel with a beautiful feminine face.
Shamrock Silver Kilt Pin
The Shamrock Silver Kilt Pin will put that traditional final detail on your kilt while helping to secure the front closed to preserve your modesty through every activity.
Silver Chrome Celtic Cross Kilt Pin
Wear a beautiful symbol of your religious faith while you show off your Celtic pride by using the Silver Chrome Celtic Cross Kilt Pin to complete your kilt.
Lion Rampant Kilt Pin
The Lion Rampant kilt pin features the lion over top of a sword in keeping with the classic tradition of crafting pins for securing the aprons on kilts. Produced out of a chrome silver alloy, the pin is sleek, shiny and highly resistant to tarnishing.
Masonic Kilt Pin
The Masonic Kilt Pin puts that classic final detail on the look of a classic Scottish kilt and proudly bears the insignia of the Freemasons.
Scottish Thistle Kilt Pin
Thistle pins have long been worn in honor of this tale, and now, you can wear one on your kilt with this Scottish Thistle Kilt Pin made from high quality chromed silver alloy.
Saint Andrew Silver Kilt Pin
The Saint Andrew Silver Kilt Pin pays tribute to the saint and is a lovely religious accessory for Catholic Scots who want to celebrate their heritage and their faith at once.