Question: Where do you put Irish Harp Kilt Pin on a Kilt?
Answer: The style of Irish Harp Kilt Pin depends on your choice where do you place it. But Traditionally you put it on the right side of the kilt, pinned in front of the apron. It gives you an amazing look by its beautiful design and makes your apron fix at its position.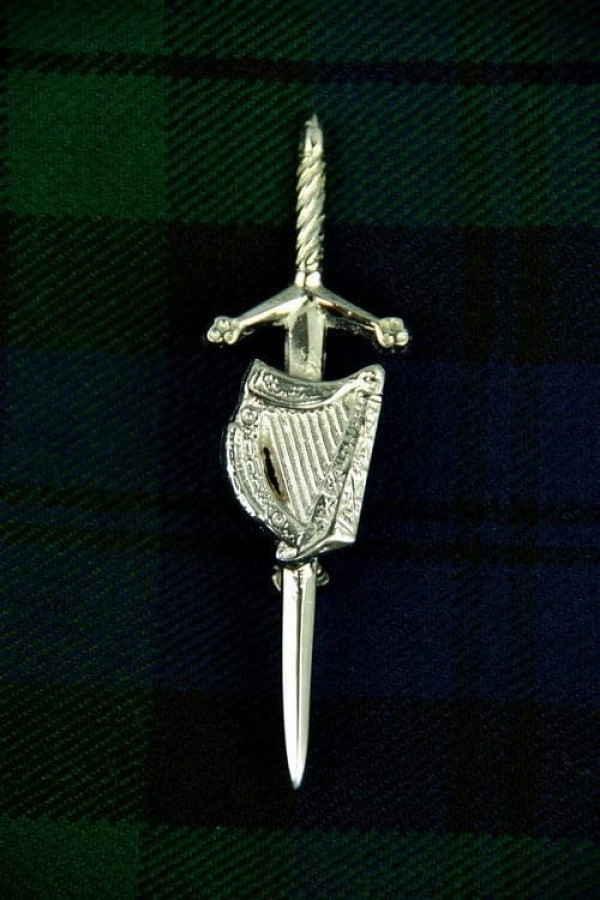 Question: What is a Kilt Pin called?
Answer: The kilt pin is a piece of jewellery that is typically worn over the lower corner of a kilt's apron. That prevents your apron from blowing open and add some more decoration to your kilt. Every kilt pin is called according to its emblem just like the Irish pin is called Irish Harp Kilt Pin.
Question: How many types of Kilt Pin can I get?
Answer: Make your kilt ultra-stylish with a beautiful Kilt Pin. These kilts are certainly trendy and make you stand out with kilt wear. We offer a huge collection of kilt pin-like Irish Harp Kilt Pin, Scottish Lady Harp Kilt Pin, Shamrock Silver Kilt Pin, Silver Chrome Celtic Cross Kilt Pin, Lion Rampant Kilt Pin, Masonic Kilt Pin, Scottish Thistle Kilt Pin, Saint Andrew Silver Kilt Pin. These pins are embroidered with a beautiful emblem of different Celtic designs that connect you with different cultures of Scotland & Ireland. Practically, It helps you avoid an apron of kilt from blowing. So, you can select any of your favourite Kilt pin from a lot of available designs.