Question: Do Chinese people wear Tartan?
Answer: Yes the Chinese Scottish Tartan is among thousands of varieties of the distinctively patterned cloth sold in Scotland. It was inspired by the former Chinese consul general Madame Guo Guifang and unveiled in April 2006 to strengthen links between the two countries.
Question: How do you define Chinese Tartan Kilt?
Answer: Chinese Scottish Tartan is one of the major tourist attractions for the Chinese who suggested the idea of creating a specific tartan for the Chinese people. The Chinese Kilt incorporates the colours of the Scottish delights, together with the red and yellow of the Chinese flag. These are interwoven with green bands to symbolize the great cooperation between Scottish and Chinese. The yellow colour crosses the red colour in five places which signifies the five stars of the Chinese Flag, the biggest and brightest being represented by the yellow cross in the middle of the red in Tartan.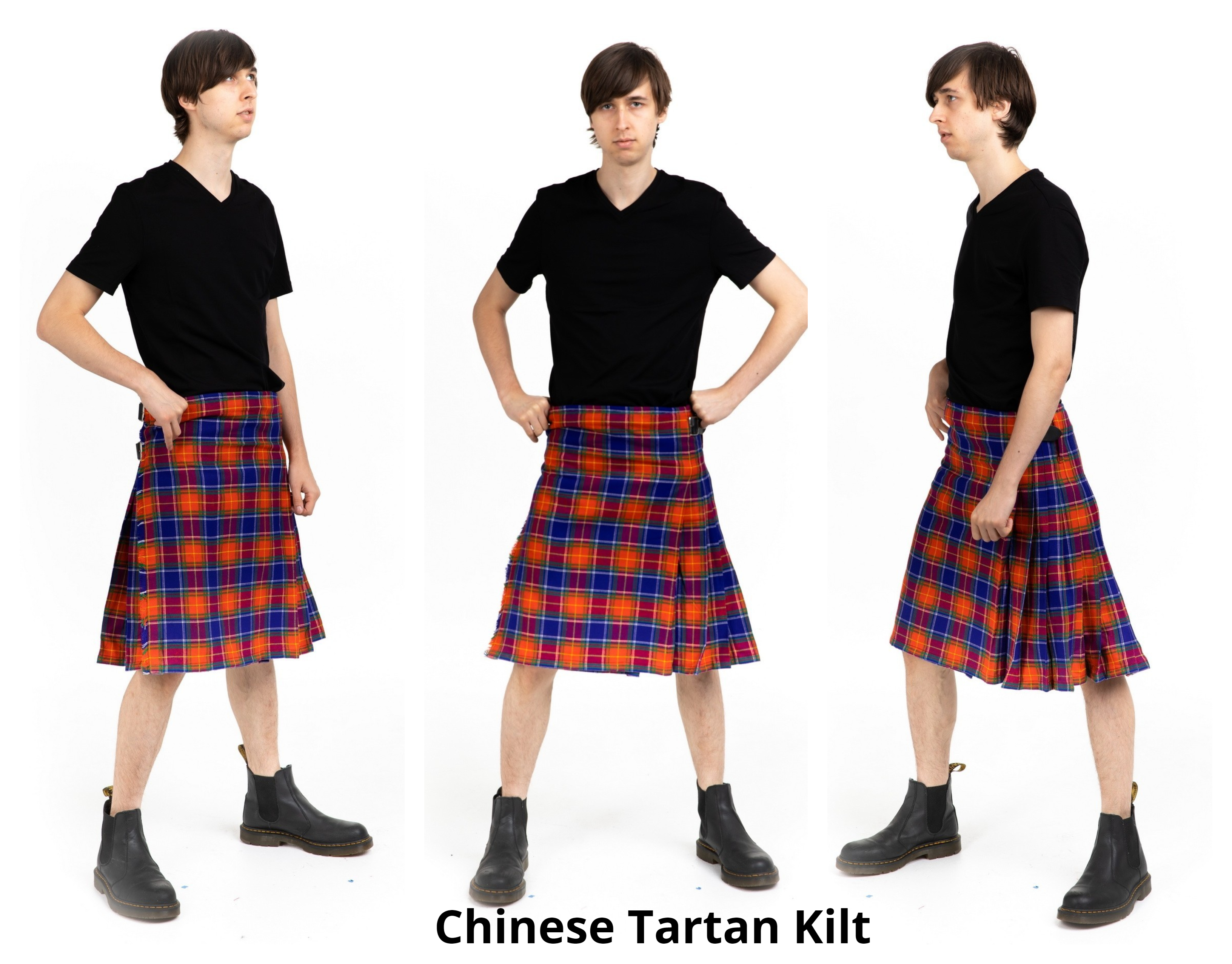 Question:
Can we wear Tartan on Chinese New Year?
Answer: You can wear any Tartan other than Black Tartan on Chinese new year. You can also wear skirts, pants, and shirts in any of your favourites tartan.
Question: From where I can find Chinese Tartan Fabric?
Answer: In the age of technology, it is easy to find your own tartan to represent not only your Scottish heritage but also give an attractive look. We offer Chinese Tartan Fabric by the yard in a very low price made with the highest-quality acrylic wool and are about 54 inches wide. It has a very astonishing colour pattern and you can create the perfect kilt and much more. These Tartan fabrics are in order to ensure that you are satisfied with the look and feel of each yard you purchase.
Question: What accessories should I get with Chinese Tartan Kilt?
Answer: Carrying on the Scottish legacy of bravery, adventure and pride, we offer a wide range of Scottish kilts, skirts and other accessories. Stitched with love and dedication, customized to your comfort and desire, Scottish Kilts gives you the freedom to be a true representative of your Clan and proud Scots man. With this mission, Scottish Kilt is striving to provide you with a huge range of accessories in all possible tartans, Now you may order/select perfect matching accessories with your desired tartan. Like you may have Chinese Scottish Tartan Sporran, Chinese Scottish Tartan Purse, Chinese Scottish Tartan Tie, Chinese Scottish Tartan Trouser or Trew, Chinese Tartan Fly Plaid with Fly Plaid Brooch that'll help to tie your plaid, Chinese Tartan Flashes which is perfect for any size of kilt hose. Moreover, you can also order custom made Chinese Scottish Tartan Skirt for your love. With a Scottish regal traditional neck-wears Chinese Scottish Scarf for every season that goes according to the weather by enhancing your prominence and social status. In short, you can order anything in any size and length.