The Grey Watch Tartan is a modern tartan that is believed to have been derived from the Grey family of Scotland. The Grey family is a well-known family in Scotland and has played a major role in Scottish history. The tartan is a blend of grey stripes, which are believed to symbolize the loyalty, courage, and determination of the Grey family. The exact origins of the Grey Watch are unknown, but it is thought to have been created in the early 20th century. The Grey watch tartan was first registered with the Scottish Tartans Society in 1989. Since then, it has become a popular choice for those who want to wear a traditional Scottish tartan that is not associated with any particular clan.

What clan does Grey watch belong to?
The Grey Watch tartan does not belong to any specific clan. It is a generic tartan that is often used for scottish dresses and other clothing items. The name "Grey Watch" is a reference to the Black Watch regiment of the British Army, which is known for its distinctive grey-and-black tartan. However, the Grey Watch tartan is not actually the same as the black watch tartan. The Grey Watch tartan has a lighter shade of grey and a different pattern of black. The Grey Watch tartan was first created in the early 20th century. It was designed to be a more feminine version of the Black Watch tartan.
Can you provide more information about the modifications to the Scottish Scouts 1920's tartan?
The Scottish Scouts '1920s tartan was modified in 1989 by changing the light grey to white. This was done to make the tartan look more modern and to make it easier to sew. The modified tartan is known as the "Grey Watch" tartan.
What colours does Grey Watch Tartan represent?
The Grey Watch Tartan is a blend of grey & blacks. The grey represents courage & the black represents determination. These colors are also associated with the Scottish Highlands, where the Grey Watch Tartan originated. The Grey Watch Tartan is not associated with any particular clan, so it is considered an open tartan, which means it is acceptable for anyone to wear, regardless of affiliation. The Grey Watch Tartan is a beautiful and versatile tartan that can be worn on any occasion. It is a great way to show your support for Scottish culture and heritage.
What is the emotional significance of wearing a family lineage badge or tartan?
Wearing a family lineage badge or scotish tartans can be a way to show pride in one's heritage, connect with one's ancestors, and honor their history and traditions. It can also be a way to feel a sense of belonging and community. For some people, it may be a powerful symbol of their identity, while for others it may simply be a way to add a touch of style to their wardrobe.
From where I can find Grey Watch Tartan Fabric?
You can discover a premium selection of top-notch quality grey watch tartan fabric at the renowned Scottish Kilt. They specialize in offering a wide range of scottish fabric, including the distinctive grey watch tartan. It is even known for its commitment to authenticity and craftsmanship, ensuring that you'll find the finest materials to suit your needs. The grey watch tartan is not only a fashionable choice but also holds historical significance. It's often associated with a sense of tradition and heritage, making it a popular choice for various projects.
What Clothing & Accessories should we get in Grey Watch Tartan?
When it comes to enhancing the elegance of the Grey Watch Tartan, the array of clothing accessories available is both diverse and extensive. These accessories have been meticulously designed to seamlessly integrate with the timeless patterns of the Grey Watch Tartan, ensuring a harmonious and stylish ensemble. From traditional tartan trews & trew outfits to contemporary tartan jackets and vests, the options are abundant.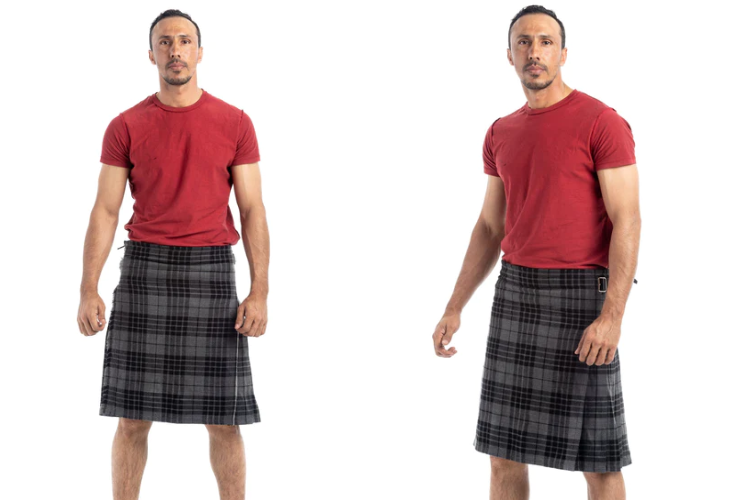 Then The inclusion of tartan masks and ties offers a subtle yet tasteful way to incorporate this classic pattern into everyday wear. For those seeking to imbue special occasions with a touch of tartan charm, a range of additional extras are at your disposal. Sporrans and fly plaids are perfect for adding a dash of tradition to formal attire. Tartan shorts provide a playful and distinctive look while handfasting ribbons can beautifully symbolize significant life moments.