Question: What do Scotsman keep in their Sporran?
Answer: Historical Scotsmen keep their important belongings inside their sporran. Just like Boys Black Cowhide Sporran With Two Tassels posses all modern & old fashion trends. Because traditional kilts don't have pockets so they need an extra pouch. They need to evolve sporran into a fashion icon.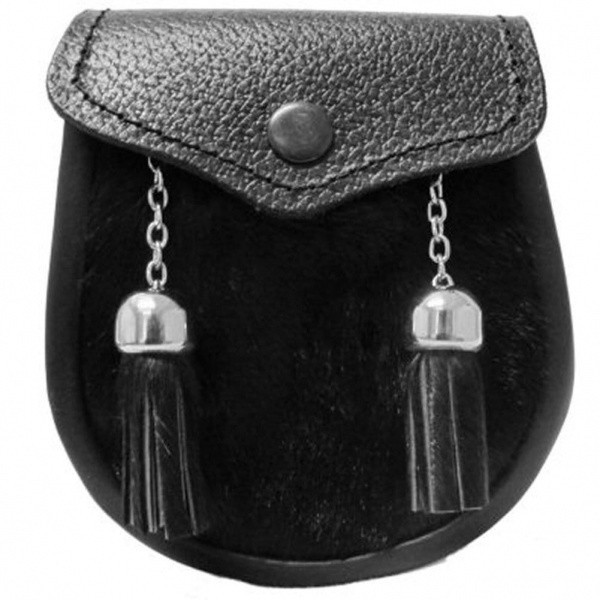 Question: Can teenagers use sporran?
Answer: Yes Historically, It has been used by scots and This sporran is specially designed for boys & teenagers to keep their important belongings safe & sound especially during any activity. But now it becomes a fashion trend. That makes every teenage more unique & attractive by its beautiful touch.
Question: What Sporran am I entitled to wear?
Answer: Traditionally Highland dresses don't have pockets and Sporran grows as a customary pouch of Kilts. With the passage of time, sporran evolves in fashion trends and becomes a complement part of different wardrobe from casual to non-casual attire. Modern styles have classified it into several categories. Day sporrans are leather made pouches used for day to day wear. Mainly these have black or brown colors & used as casual functions like day-games and gathering. Semi-Dress Sporrans are leather made pouches with fur on the front surface & embossed with different Celtic design & tassels. It suits your personality at kind of occasions. Full-Dress Sporran is an amazing combination of the antique effect of a cantle with animal fur. It is also accompanied by a beautiful sporran chain belt. That makes it the most formal type of sporran for weddings and other important events. Tartan Sporran is considered as the most historical & icon pouch. It is composed of several tartan prints with magnificent designs. Nowadays everyone wears this sporran and there is no restriction for the clan for it.