Jacobite shirts, also referred to as Ghillie shirts or Jacobean shirts, are relaxed and traditional garments often worn with kilts. Unlike Ghillie Brogues, Ghillie shoes have criss-cross lacing. With no records until 1575, these shirts predate kilts. Usually made from white linen or cotton, they feature loose-fitting designs, round necks, and lacing closures, often in leather or cotton. Ideal for dances and ceilidhs due to their airy comfort, they don't require ties. Originating from Jacobite rebellions, they represent Scottish pride, still cherished by those embracing Scottish culture and history or seeking a casual kilt companion today.
What is the Jacobite Shirt made of?
The Jacobite Ghillie Shirt is crafted from a variety of materials, such as linen, cotton/linen blends, pure linen, poly-cotton blend, and 100% cotton. These materials are chosen for their ability to provide comfort and a touch of luxury to the wearer. This traditional Scottish shirt features a wide collar and a leather drawstring closure, making it ideal for dances or ceilidhs due to its lightweight and airy design.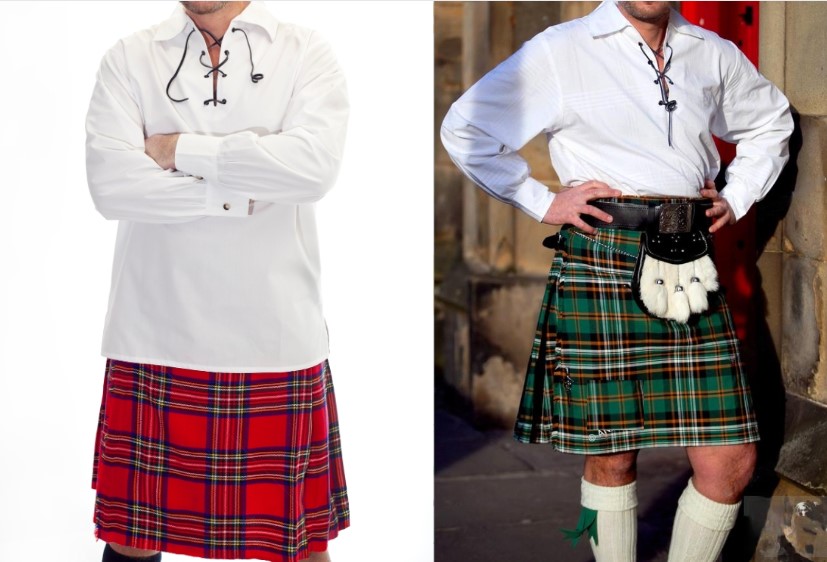 What sizes are available for the Jacobite Shirt?
The Jacobite Ghillie Shirt is offered in six chest sizes, ranging from 40 to 52 inches, guaranteeing a custom fit for every gentleman. Additionally, we provide a unique made-to-measure option, allowing you to select your preferred size for a truly personalized experience.
What are the features of the Jacobite Shirts cuffs?
The Jacobite Ghillie Shirt boasts versatile cuffs, offering both a flattering straight cuff and a classic button cuff. This dual design allows wearers to effortlessly switch between modern and traditional styles, making it a truly adaptable and unique garment.
Are the shirt's grommets color-coded for easy lacing?
The Jacobite Ghillie Shirt goes above and beyond in ensuring convenience. Its grommets are not just any metal grommets; they're thoughtfully color-coded. This ingenious design choice transforms the lacing process into a quick and simple task. With different colors for each grommet, you can effortlessly match your laces, avoiding any confusion or frustration. It's the perfect combination of style and functionality, making the shirt not only a comfortable and traditional choice but also an incredibly user-friendly one. So, yes, the grommets on this shirt are indeed color-coded to make lacing a breeze, setting it apart from the rest.
Do you tuck in a Jacobite shirt?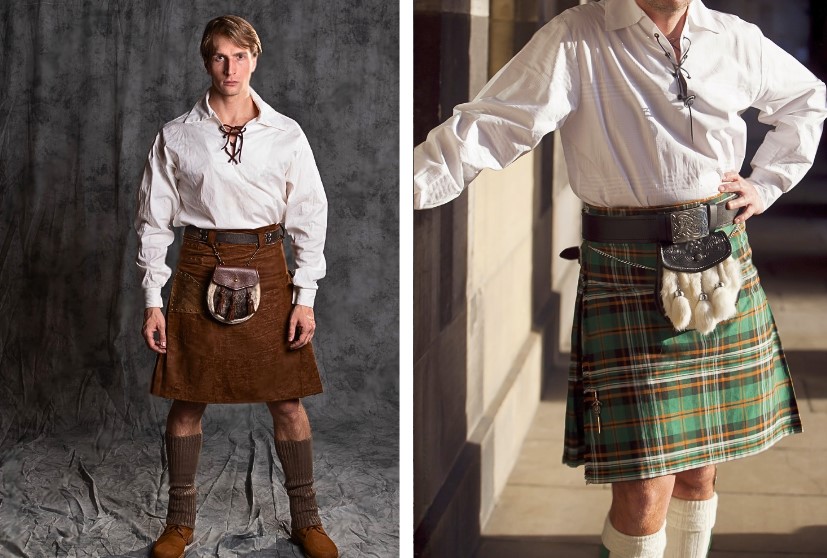 Absolutely, tucking in a Jacobite shirt is a must when pairing it with a kilt. This not only provides a neat and formal appearance but also ensures a secure fit. Simply tuck it in and fasten with a belt for a polished look. For more active pursuits like dancing, a clever trick is to tie a knot in the laces and neatly tuck them away, allowing you to move freely without compromising style.
Can you wear a Jacobite shirt to a wedding?
Wearing a Jacobite shirt to a wedding is a matter of context and your role. If you're the groom at a Scottish wedding, it's acceptable. However, generally, it's advisable to opt for semi-formal attire to align with most weddings' expected dress code. Consider the wedding's formality and your role before donning the Jacobite shirt.