Question: What is the difference between Modern Kilts and Traditional Tartan Kilts?
Answer: The major difference is that Modern Kilts can still be worn during formal occasions, as well as for casual and fancy wear. The Traditional Tartan Kilts were made of a full-length garment with the upper half being used as a cloak placed over one's shoulder. As a traditional item, it is widely used during special occasions to celebrate Scottish cultural events.
Question: What is more common with modern kilt wearers: underwear or no underwear?
Answer: It is totally up to your preference. But to be safe, you should wear underwear. You will be more relaxed and satisfied mentally. After that, it doesn't matter if you are climbing on the stairs or sitting at a high place, you will be safe from any insulting moment. Wearing underwear will also increase the life of the kilt by limiting direct contact from your oily body.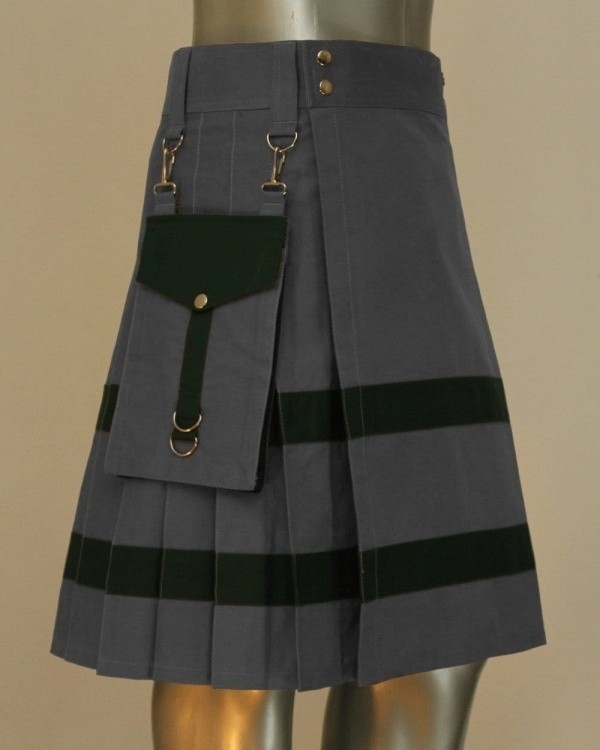 Question: How to wear a Modern Kilt For Active Men?
Answer. The Modern Kilt For Men is very easy to wear. Simply wrap the kilt around your body by keeping the pleats at the backside. The top edge of the kilt should be sitting at your naval. Cross the right-hand side first and place the strap through. Then cross the left-hand side and fasten the buckle on the other side. Use a mirror and make the kilt in the centre.
Question: How to make a modern non-traditional kilt?
Answer: You need a pure cotton cloth & sewing machine. After cutting it in proper shape just sew it down with a fine touch. For your ease, our professionals have designed Modern Kilts of various designs. High-quality material with precisely stitched kilts is available for you.
Question: Are kilts a modern invention?
Answer: Basically, the kilt belongs to Scottish culture and introduced in the 16th century. With time it started to be recognized globally as a fashion symbol. In the 18th century, English industrialists innovated in the kilts and made modern kilts.
Question: How to sew a Modern Kilt?
Answer. Take a high-quality price and cut it in proper shape and sew it with high precision. You must consider all of the requirements of Modern Kilt like pockets, pleats, and belt loops. You should it with the finest touch during manufacture. That brings a natural look to your kilt.
Question: What is the Modern Kilt called?
Answer: Modern Kilt is also known as non-traditional kilts. It is a blend of heritage and modern style. This kind of kilt is globally famous as a symbol of fashion. The modern kilts are made of cotton with a different design, hardware, and colors. They are also made with leather, denim jeans material, printable fabric, and so many other fabric designs.
Question: What to wear with a Utility Kilt?
Answer: Every Utility Kilt has a beautiful collection of different Kilt Accessories that helps you to make your wardrobe more attractive & comfortable. You may wear:
Scottish Sporran
Sporran from Scottish Kilt provides you with an immense choice of style and occasion.
Tartan Necktie & Bow tie
The Tie from Scottish Kilt provides a stylish addition to any outfit. Our ties are available in a variety of tartans designs, meaning you're sure to find the perfect one for you.
Kilt Jacket
Scottish Kilt makes custom-fit jackets as per your requirements. You can customize your Kilt jacket in your favorite color and fabric that suits you
Kilt Pins
Look ultra-stylish the next time you step out of the house in your favorite kilt ensemble with Kilt Pins from the Scottish Kilt.
Kilt Belt & Buckles
Create your look and complete your Kilt outfit with leather Belts and Buckles, Velcro adjustable belts, plain leather belts, and Celtic knot buckles, thistle buckles, and saltire buckles.
Scottish Ghillie Shirt
You can enjoy all of the comfortable styles of a Ghillie Shirt at a great price
Kilt Hose
Scottish Kilt offers high-quality Kilt Hose that promise to retain their color, even through several washes.
Scottish Ghillie Brogues
The Oxford Shoes here at Scottish Kilt Shop are made in the traditional oxford style and are crafted out of 100 percent natural leather, giving you the assurance you need to know they will last for many years to come.