A running kilt for sportsmen is a meticulously designed piece of athletic attire engineered to optimize performance during physical activities. Constructed from lightweight, moisture-wicking fabrics, this innovative garment excels in managing sweat, ensuring comfort during long-distance runs and intense workouts. With strategically placed pleats at the rear, it affords wearers unparalleled freedom of movement while preventing the discomfort of inner-thigh chafing.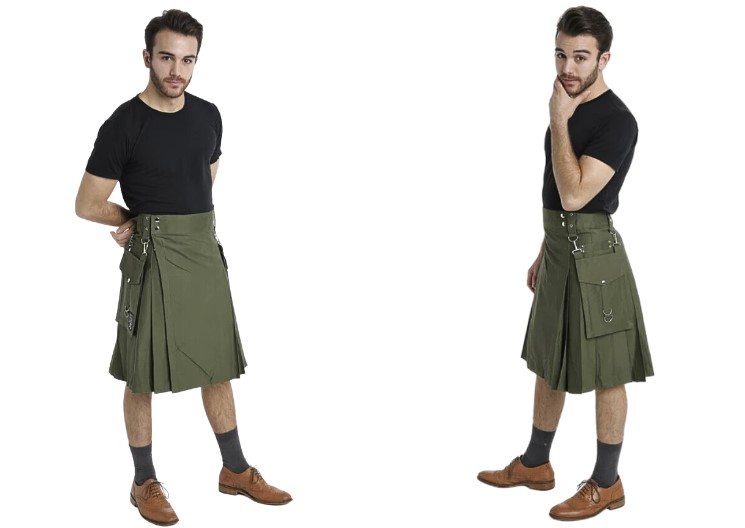 Beyond its functional benefits, the running kilt's casual yet dashing aesthetics make it a versatile choice for festivals, gatherings, and events. Crafted from materials like acrylic wool tartan, meticulously sewn pleats ensure a full range of motion. In essence, the running kilt seamlessly blends style, breathability, and liberation, establishing itself as a favored choice among discerning sportsmen.
Why do Scottish men wear kilts for running? The benefits of wearing a kilt for running?
Scottish men don kilts for running as a profound homage to their rich heritage and tradition. Kilts, thoughtfully designed for optimal comfort, are fashioned from lightweight, breathable materials, affording unparalleled ease during strenuous runs. Beyond comfort, kilts offer superior ventilation, ensuring runners remain cool and dry even in scorching conditions. They elevate style, setting runners apart with their distinctive and eye-catching appearance. Most significantly, donning a kilt for running is an emblem of cultural pride, forging a poignant connection to Scotland's illustrious legacy. In essence, Scottish men embrace kilts for running to seamlessly blend tradition, comfort, ventilation, style, and a cherished link to their heritage.
What is the Running Kilt for Sports Men made of?
The Running Kilt for Sports Men is expertly crafted from a specialized lightweight and breathable fabric meticulously designed to cater to the needs of runners. This advanced fabric is engineered to efficiently wick away sweat and moisture, ensuring you stay consistently cool and dry throughout your rigorous workouts. Additionally, this versatile kilt comes in a variety of materials, offering choices to suit different brands and styles, including the use of a 100% 16-ounce cotton drill for durability and comfort, as well as acrylic wool tartan for a touch of tradition and style.
What kind of design does the Running kilt have?
The Running Kilt for Sports Men boasts a captivating blend of tradition and modernity in its design. With a foundation in the classic tartan pattern, it celebrates Scottish heritage with vibrant, attention-grabbing colors. What truly sets it apart is the ingenious incorporation of pleats at the back, ensuring unparalleled freedom of movement, making it an exceptionally comfortable choice for sports and running enthusiasts. Crafted from eco-friendly, this kilt offers a lightweight, soft, and sustainable feel. Its fusion of traditional aesthetics with contemporary sensibilities results in a sleek and stylish appearance that truly distinguishes itself in the world of sportswear.
What are the differences between a traditional kilt and a running kilt?
A traditional kilt and a running kilt exhibit distinct characteristics that cater to different needs. Traditional kilts, fashioned from wool or wool blends, boast ample fabric, resulting in a noticeable "swish" when walking. They are fastened with adjustable leather straps and reserved for formal occasions. In contrast, running kilts are crafted from lightweight, breathable materials like polyester, featuring a shorter length and less fabric. Purpose-built for athletic pursuits such as running, hiking, and cycling, they feature an elastic waistband and drawstring for a secure fit during physical activity and often include convenient pockets. It's worth noting that casual kilts, similar in length and fabric to running kilts, lack the specialized design for athletic endeavors.
Are there pockets in the Running Kilt for Sports Men?
Absolutely, the Running Kilt for Sports Men offers the perfect blend of functionality and style. Featuring strategically designed side pockets, it not only allows you to stay comfortably active but also provides a convenient storage solution for your essential items while you're on the move. This kilt is meticulously crafted to be lightweight and breathable, ensuring optimal performance during your sporting endeavors, all while keeping your belongings easily accessible.
How to choose the right size for a running kilt?
To ensure the perfect fit for your running kilt, start by measuring your waist precisely at the navel, adhering to a snug but comfortable tension with a tape measure. Then, consult the size chart provided, taking into account the specific fabric's stretch or rigidity for a tailored selection. Additionally, delve into customer reviews to gather insights into sizing from real experiences, facilitating an informed decision-making process. By combining these steps, you'll effortlessly discover the ideal size for your running kilt, ensuring both comfort and style meet seamlessly.
What to wear with a Running Kilt For Sports Men?
When gearing up in a Running Kilt for sports, consider these essential elements for a winning ensemble. Firstly, Pair your kilt with a comfortable athletic top, be it a t-shirt, tank top, or a sleek compression shirt. Ensure your feet are well-shod in sport-appropriate footwear. Elevate your style with fashionable accessories like sporrans, sashes, flashes, and pins, giving your kilt a unique flair. Finally, cinch it all together by securing your Running Kilt around the waist with a belt or a belt-like accessory, fastening it snugly with Velcro for a sporty yet chic look.