Question: What is Deluxe Kilt For Royal Men?
Answer: Deluxe Kilt is our exclusive article. It gives you a fashionable and royal classy look. It is made with100% cotton that makes it durable. Fancy leather straps allow you to make waist adjustments. Two cargo pockets give you space to carry a smartphone or other things. You can select buttons & hardware and the color of the fabric.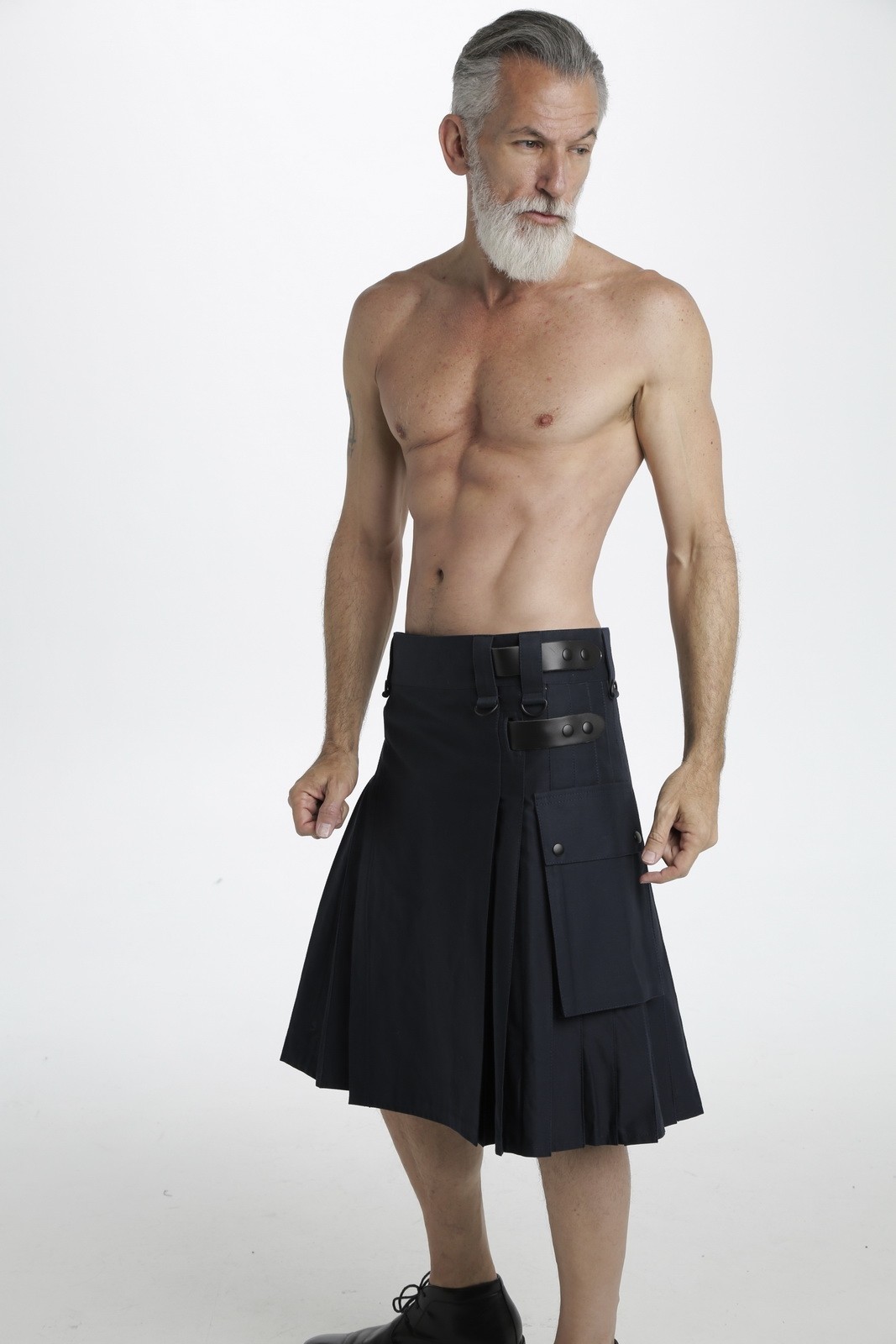 Question: How can I get a Black Utility Kilt?
Answer: Black is associated with power. For you, there's a chance for you to get Deluxe Kilt For Royal Men, in black. This Utility Kilt is highly demanding and we receive a lot of positive feedback about this product. Leather straps give you grip and side pockets allow you to carry your keys, wallet, and other items. Fully custom made at a reasonable price.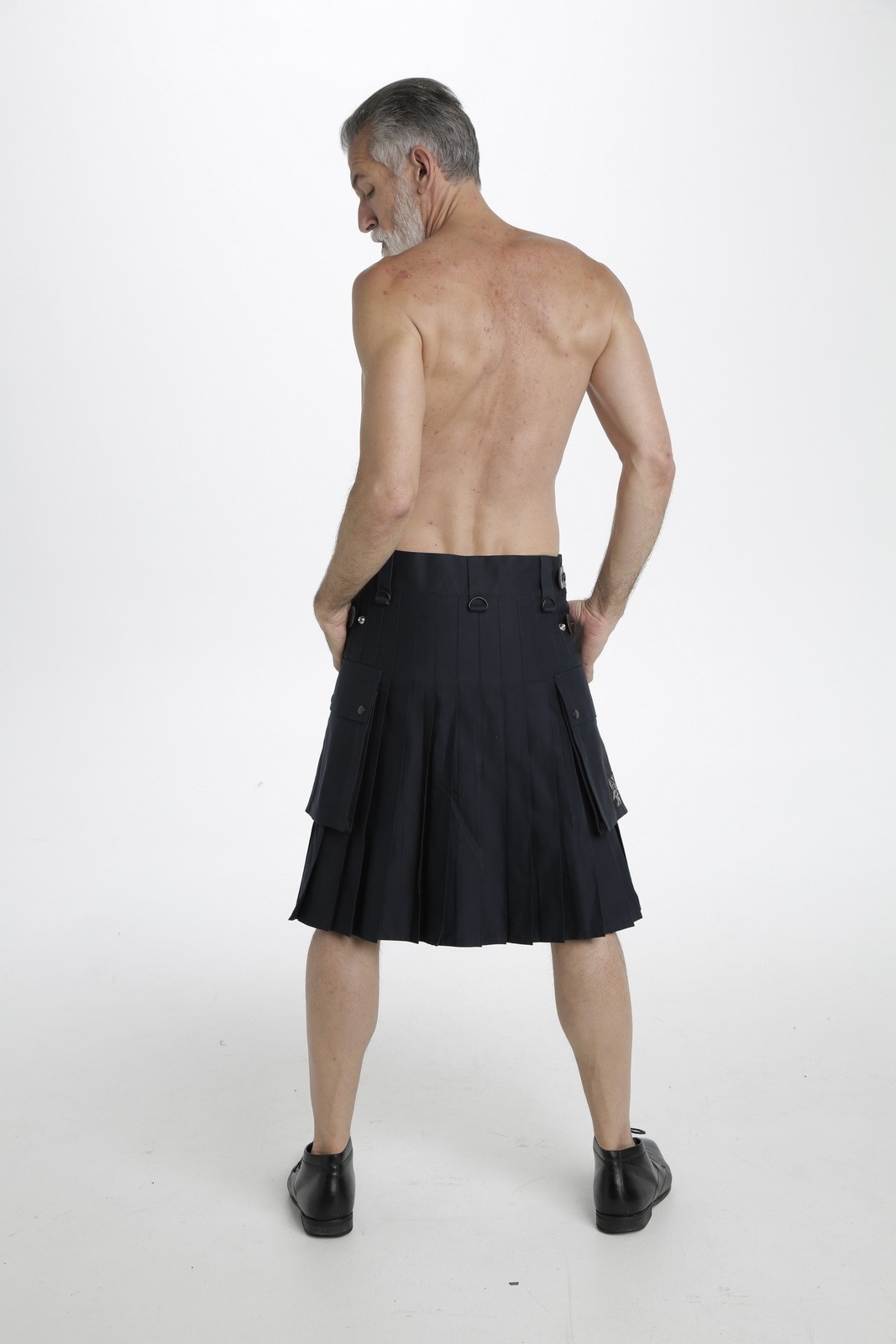 Scottish Kilt added a wide range of Utility Kilts for the active men which are available at the lowest price possible.
Question: Where do Scottish men get their kilts?
Answer: In the technology age, shopping has changed A Lot. We receive so many orders online from Scottish people as well from all over the world. You can choose from a wide variety at the Scottish Kilt. We have hundreds of different tartan styles. Trendy and non-traditional kilts are available here. Select your desired kilt and the fabric color, we deliver to you within some days. Also offering free customization for you.
Question: What do you call the bag Scottish men to wear with their kilts?
Answer: The bag that Scottish people carry with their kilts is called a Sporran. In simple words, it is used as a pouch to carry different things with you. It is a traditional part of Scottish dress.
Question: Which Boots look good with a kilt?
Answer: To match with your kilt we offer to Shop Scottish Brogues. Black and brown colour shoes are available that look awesome with a kilt. They are multi-purpose shoes worn for an event or at the gathering of friends. You can match these high-quality leather shoes with any kilt. Available in all Sizes Select your size and buy now
Question: How expensive are custom Scottish kilts?
Answer: Scottish kilt cares about your happiness. We are offering Modern Kilts For Men at a reasonable price. The good news is, you can get Free customization. Select your kilt from the wide range of variety available. Select the fabric color and measurements. Length You Prefer - Design You Like!
Question: What to wear with a Utility Kilt?
Answer: Every Utility Kilt has a beautiful collection of different Kilt Accessories that helps you to make your wardrobe more attractive & comfortable. You may wear:
Scottish Sporran
Sporran from Scottish Kilt provides you with an immense choice of style and occasion.
Tartan Necktie & Bow tie
The Tie from Scottish Kilt provides a stylish addition to any outfit. Our ties are available in a variety of tartans designs, meaning you're sure to find the perfect one for you.
Kilt Jacket
Scottish Kilt makes custom-fit jackets as per your requirements. You can customize your Kilt jacket in your favorite color and fabric that suits you
Kilt Pins
Look ultra-stylish the next time you step out of the house in your favorite kilt ensemble with Kilt Pins from the Scottish Kilt.
Kilt Belt & Buckles
Create your look and complete your Kilt outfit with leather Belts and Buckles, Velcro adjustable belts, plain leather belts, and Celtic knot buckles, thistle buckles, and saltire buckles.
Scottish Ghillie Shirt
You can enjoy all of the comfortable styles of a Ghillie Shirt at a great price
Kilt Hose
Scottish Kilt offers high-quality Kilt Hose that promise to retain their color, even through several washes.
Scottish Ghillie Brogues
The Oxford Shoes here at Scottish Kilt Shop are made in the traditional oxford style and are crafted out of 100 percent natural leather, giving you the assurance you need to know they will last for many years to come.