Question: Are multi-color kilts in fashion?
Answer: Yes, multi-color kilts are in fashion like, Fashion Kilt With Multi Color Apron & Pockets is our exclusive product that is popular globally. So many people bought this multi-color fashion kilt and gave us positive feedback. It is a fashionable kilt that makes you more appealing.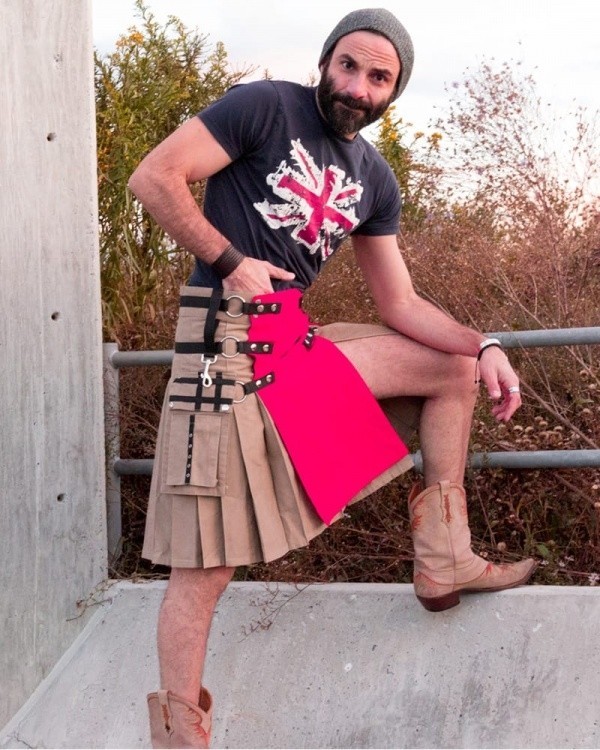 Question: How can I get multi-color kilts?
Answer: You can buy a Fashion Kilt With multi-color Apron. This is a trendy outfit and you can select the color of fabric and apron according to your taste. You will get a High-quality kilt with free customization.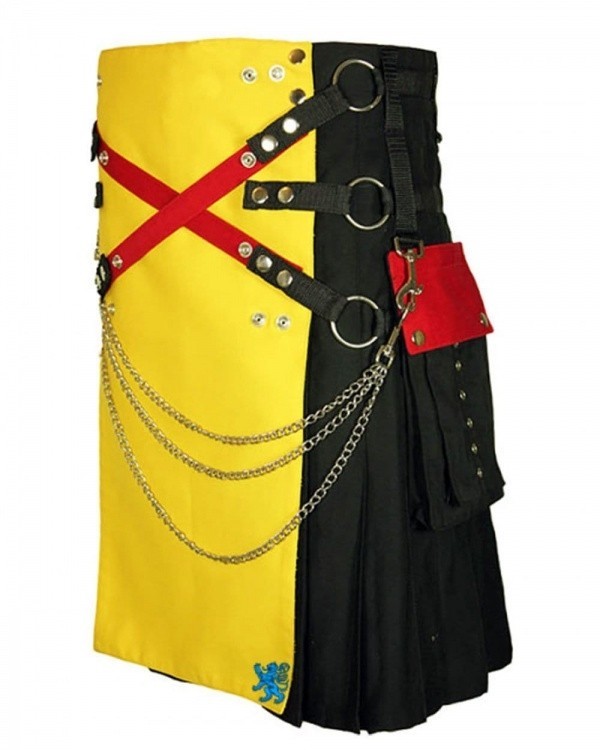 Question: How to sew slant pockets into a kilt?
Answer: Slant pockets are also called angled pockets. These pockets are sewn by professionals. To sew a slant pocket, simply draw a line to be cut from waste to side seam. It should be big enough according to the wearer's hand. Then make a pocket pouch separately and sew with the kilt fabric.
Question: How to clean a cotton Kilt?
Answer: It is easy to clean but avoids applying the fabric softener directly. Fill your tub with cold or blood-warm water and pour gentle detergent like Woolite. Then rub the kilt softly and let it soak for 15-20 minutes. Drain all water out to fill water again. When you feel no detergent is left in the kilt, simply hang it for some time. Then iron it to remove wrinkles and press the pleats and there you go.
Question: How to wear a Modern Fashion Kilt?
Answer: The Modern Kilts that we are providing are easy to wear. Simply wrap the kilt around your body by keeping the side of the pleat at the back. The top edge of the kilt should be sitting at your naval. Cross the right-hand side first and place the strap through. Then cross the left-hand side and fasten the buckle on the other side. Use a mirror and make the kilt in the centre.
Question: What to wear with a Utility Kilt?
Answer: Every Utility Kilt has a beautiful collection of different Accessories that helps you to make your wardrobe more attractive & comfortable. You may wear a Sporran and warm colour Tie with a Jacket. Kilt Pins, Belts and buckles can be worn but most utility kilts can be worn simply. Utility kilts are multi-functional and there are fancy pockets, chains, hooks are available, so you can save your money. You can wear a T-shirt, polo shirt or Jacobite Shirt with a utility kilt, you can wear footwear like Oxford Shoes with Kilt Hose. Utility kilt gives you a stylish look you can wear casually or wear at gatherings.