Scottish bagpipers wear the iconic Full Highland Dress, comprising a tartan kilt, a sporran pouch, a woolen jacket, a high-collar white shirt, a black silk tie, a leather belt with a large buckle, woolen socks with garters, and sturdy leather shoes. They choose between a Glengarry or Balmoral hat. Completing the ensemble are a dirk dagger and a sgian-dubh knife worn in the sock. This attire, blending tradition and functionality, is highly coveted for performances at prestigious events, embodying Scotland's rich cultural heritage.
What is a Scottish piper outfit?
A Scottish piper outfit is a traditional Highland dress worn by pipers of the historic Highland regiments. The outfit consists of the following items: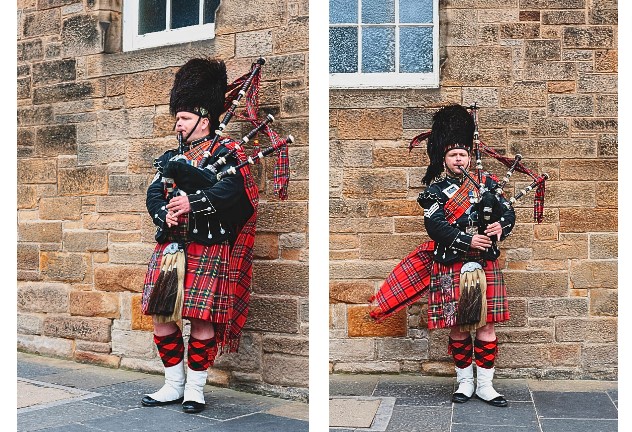 1. Tartan Kilt: Handcrafted with precision, it showcases the distinctive patterns and colors that represent your unique heritage.
2. Drummer Doublet Jacket: Exuding elegance and sophistication, the Drummer Doublet Jacket complements the kilt perfectly.
3. Sporran: Our carefully curated collection offers a range of styles, allowing you to find the perfect blend of tradition and personal taste.
4. Scottish Hat: Enhance your ensemble with the iconic Scottish hat, adding a touch of regality and authenticity to your appearance.
5. Kilt Brooch: Embrace the spirit of Scottish tradition with a kilt brooch.
6. Kilt Pin: The kilt pin not only adds a touch of distinction but also holds your kilt securely in place.
7. Tartan Flashes: Enhance your kilt hose with our stylish tartan flashes, creating a seamless connection between your kilt and footwear.
8. Tartan Hose: Made from premium materials, our tartan hose provide comfort and durability while ensuring your outfit remains authentic from top to bottom.
9. Piper's Spats: Complete your ensemble with the classic Piper's spats, adding an extra layer of sophistication to your footwear.
Can you tell me more about the historical significance of the bagpiper uniform?
The bagpiper uniform, notably the Highland Dress, holds deep historical roots within the Highland regiments. Its quality accessories rival the importance of the kilt, plaid, and feather bonnet. Bagpipes, steeped in tradition, found a unique place in American firefighting and funeral customs. Both kilt and bagpipe have ancient martial origins. The Pipes and Drums attire proudly features the Military Tartan kilt. While the precise origins of the bagpipe remain somewhat elusive, it likely emerged beyond Scotland's borders, adding to its enigmatic historical allure.
How do you wear bagpiper's kilt outfit?
To don a bagpiper's kilt ensemble in true Scottish tradition, start by adorning the kilt, shirt, jacket, sporran, belt, kilt hose, ghillie brogues and plaid. Secure the kilt at your waist, ensuring the pleats grace your rear while the apron graces the front. Tuck your shirt meticulously into the kilt and button up the jacket. Position the sporran centrally on the kilt's front, and secure the belt at the forefront. Adorn kilt hose and lace up ghillie brogues to the ankle. Lastly, drape the plaid over your left shoulder, securing it with a brooch for an authentic bagpiper's attire.
Can I get a custom-made Piper's Kilt Outfit from Scottish Kilt?
Absolutely! You can definitely acquire a tailor-made Piper's Kilt Outfit at Scottish Kilt. Their exquisite craftsmanship captures the essence of timeless elegance. The package includes a full ensemble and all necessary accessories. Besides, For a diverse selection, Scottish Kilt offers a range of kilt outfits, from traditional Prince Charlie attire to Highlander-inspired costumes, complete with all essential accessories and complimentary shirts, ensuring a polished and authentic appearance.
How many Tartans are available for customization in your bagpiper uniform collection?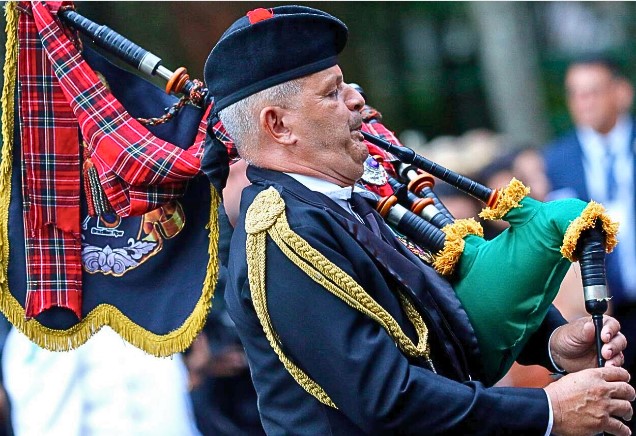 Our bagpiper uniform collection boasts an impressive array of customization options, featuring over 1400 distinctive Tartans to choose from. Each Tartan is carefully selected to ensure your uniform is as authentic and unique as your musical performance.
From where can I get a Scottish piper outfit?
You can acquire an authentic Scottish piper outfit exclusively at Scottish Kilt. They offer a comprehensive ensemble, complete with customizable options for tartan color, sporran, belt, buckle, and kilt pin designs, all tailored to your measurements. What's more, they provide free customization and offer this impeccable outfit at an exceptionally reasonable price.