Question: Can I get a Leather Kilt with Sporran?
Answer: Yes, we specially designed Leather Kilt With Sporran. This kilt is the most popular at our store. It is famous due to its extra accessories like leather straps, buttons, metallic hooks, and a leather sporran. You will enjoy modern sporran that can easily be attached to the D-rings at the front.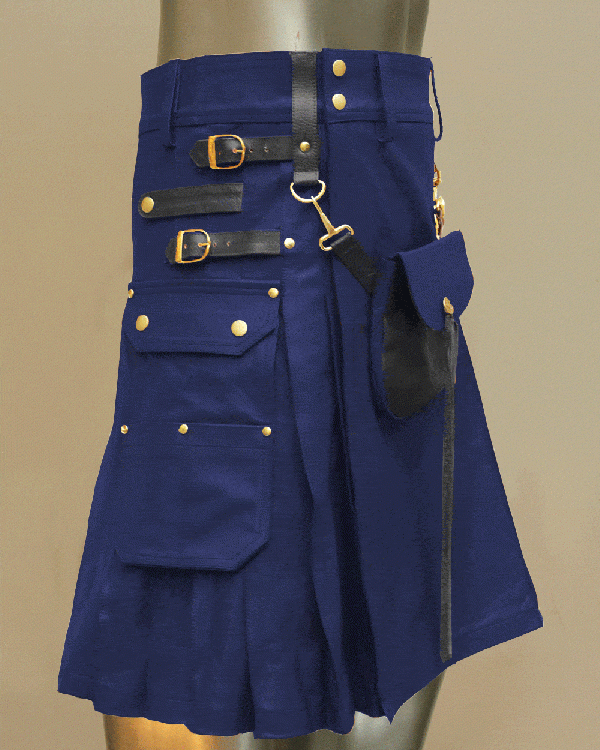 At Scottish Kilt we are providing a wide range of Leather Kilts. All our Kilts are handmade and completely custom made.
Question: Where did the word kilt come from?
Answer: The word kilt comes from the induction of old Norse word 'Kjalta' which means pleated or folded. It is a Knee-length garment to wrap it around the waist especially worn by Scottish and Irish people to celebrate their heritage.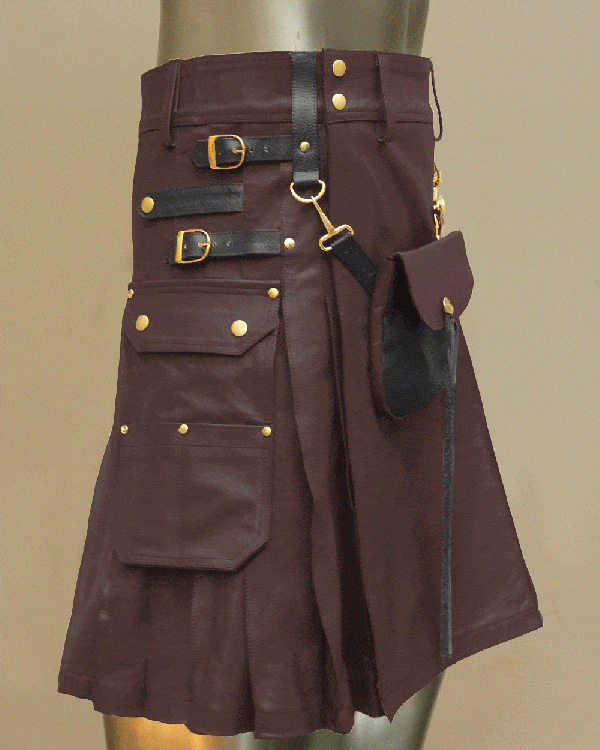 Question: How many types of accessories make my Leather Kilt more stunning?
Answer: Leather Kilt always creates a class that never fades. But it's amazing Kilt Accessories make your wardrobe more striking & glorious. That gives you a superb look with impressive body language. You can use:
Leather Sporran
The Leather Sporran has a black and white color scheme that makes it stand out but still allows it to coordinate with any hue.
Leather Purse
Even when you are not sporting your kilt, you can be sure that you are representing your Scottish heritage with the Leather Wallet.
Leather Belt
Create your look and complete your Kilt outfit with Leather Belts, Velcro adjustable belts, plain leather belts, and Celtic knot buckles, thistle buckles, and saltire buckles.
Fly Plaid
The Fly Plaid was a large piece of cloth that goes over the left shoulder of the wearer. It is a simple square of cloth, typically 46" X 46", with fringed edges and a box pleat sewn in one corner.
Fly Plaid Brooch
Both stylish, beautifully crafted and totally functional, the Brooch found here will make your kilt stand out with a bit of unique, personalized flair.
Kilt Flashes
Flashes which are perfect for any size of kilt hose.
Leather Skirt
The Leather Skirts from Scottish Kilt are diverse in style and cut and come in a variety of different colors, so that you can go with a classic, sophisticated black or choose a color that is bolder and more eye-catching to suit your tastes.
Tartan Neck Tie & Bow Tie
The Tartan Tie from Scottish Kilt provide a stylish addition to any outfit. Our ties are available in a variety of tartans designs, meaning you're sure to find the perfect one for you.
Trouser or Trew
Take everything you love about tartan kilts and transform them into a more familiar pants style with the Trouser or Trew. These tartan trews fit like a pair of pants and come in your choice of tartan colors and patterns.
Scarf
Scarf differs in weight and color from season to season but its prices remain in the normal range without compromising on class and quality that is the hallmark of purely Scottish traditional Tartan Scarfs.