Question: How to make a Box Pleated skirt?
Answer: Box Pleated Tartan Skirts are easy to make. You need tartan fabric according to your choice and cut it according to the measurements of the wearer. After that specify the backside of the kilt and make marks at about 4 inches away for pleats. Pick from the marked line and place it to another mark and pin them. Prepare all the pleats. Attach the Waist belt. Stitch it with a sewing machine and remove the pins. Attach belt loops, straps, and buckle for size adjustment.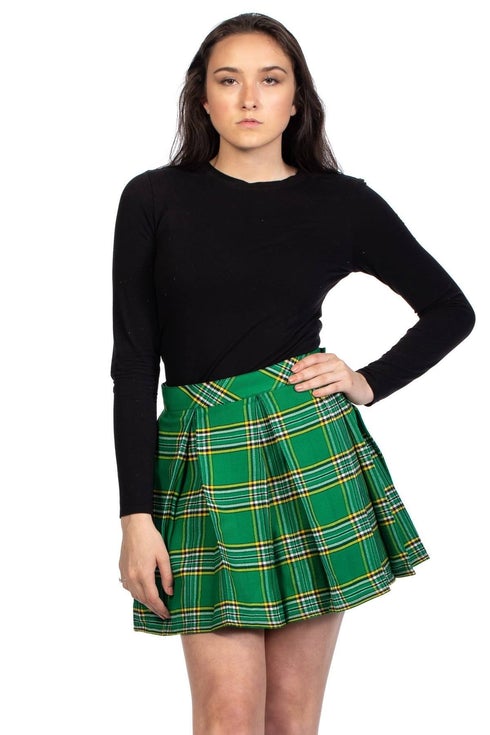 We offer a huge selection of Tartan Skirt in different Tartans that will allow you to show off your Scottish heritage. So, you can enjoy your Skirt in beautiful designs & styles.
Question: Is it appropriate to wear very short skirts?
Answer: Box Pleated Tartan Skirt has a short length above the knees. It is appropriate to wear this kilt. You feel comfortable and stylish wearing. It is not good to wear a skirt for climbing a mountain, skydiving or when your culture doesn't allow it.
Question: What fabric to use to make a Box Pleated Skirt?
Answer: Box Pleated Tartan Skirt is made with the Acrylic Wool material with a tartan style. This fabric is soft and gives a relaxed feeling to the wearer. There are various styles of tartans available that you can choose from.
Question: How to sew a box pleated school girl skirt?
Answer: It is simple to make a Box Pleated Tartan Skirt. You need to select the tartan fabric according to the uniform of the school. Measure the Skirt Length, Hip Size, Fell Measurement, and waist size. Cut the material according to the required dimensions. Make sure the distance of the pleats should be between 4 to 6 inches. Attach the Waist belt, belt loops, and straps for size adjustment. Your skirt is ready to wear.
Question: How many types of Accessories can I use with my skirt?
Answer: Women Skirt/Kilt is the evergreen fashion culture of ladies' wardrobe around the globe. It is a traditional feminine trend. Because this gives a sensation of freedom & attractive look. It also helps you to grab the attention of others in any gathering. To enhance your charm & fascination, you can use a stunning Tartan Scarf & Tartan Handbag. It adds an amazing touch to your attire that connects you with your heritage and makes your personality more distinguished & engaging. So, you can make your event more rememberable.