Question: Is there any Green color Mini Skirt for Irish people?
Answer: Yes, High Waisted Tartan Mini Skirt is made with green style tartan for Irish People. This is a modern and trendy outfit made with Acrylic wool. It gives you a relaxed and confident feeling while wearing it casually.
We offer a huge selection of Tartan Skirt in different Tartans that will allow you to show off your Scottish heritage. So, you can enjoy your Skirt in beautiful designs & styles.
Question: Who invented the Mini Skirt?
Answer: The Green Mini Skirt was introduced in the 1960s. There are names of various designers for this invention. But the most famous is Mary Quant from London and a Persian designer Andre Courreges.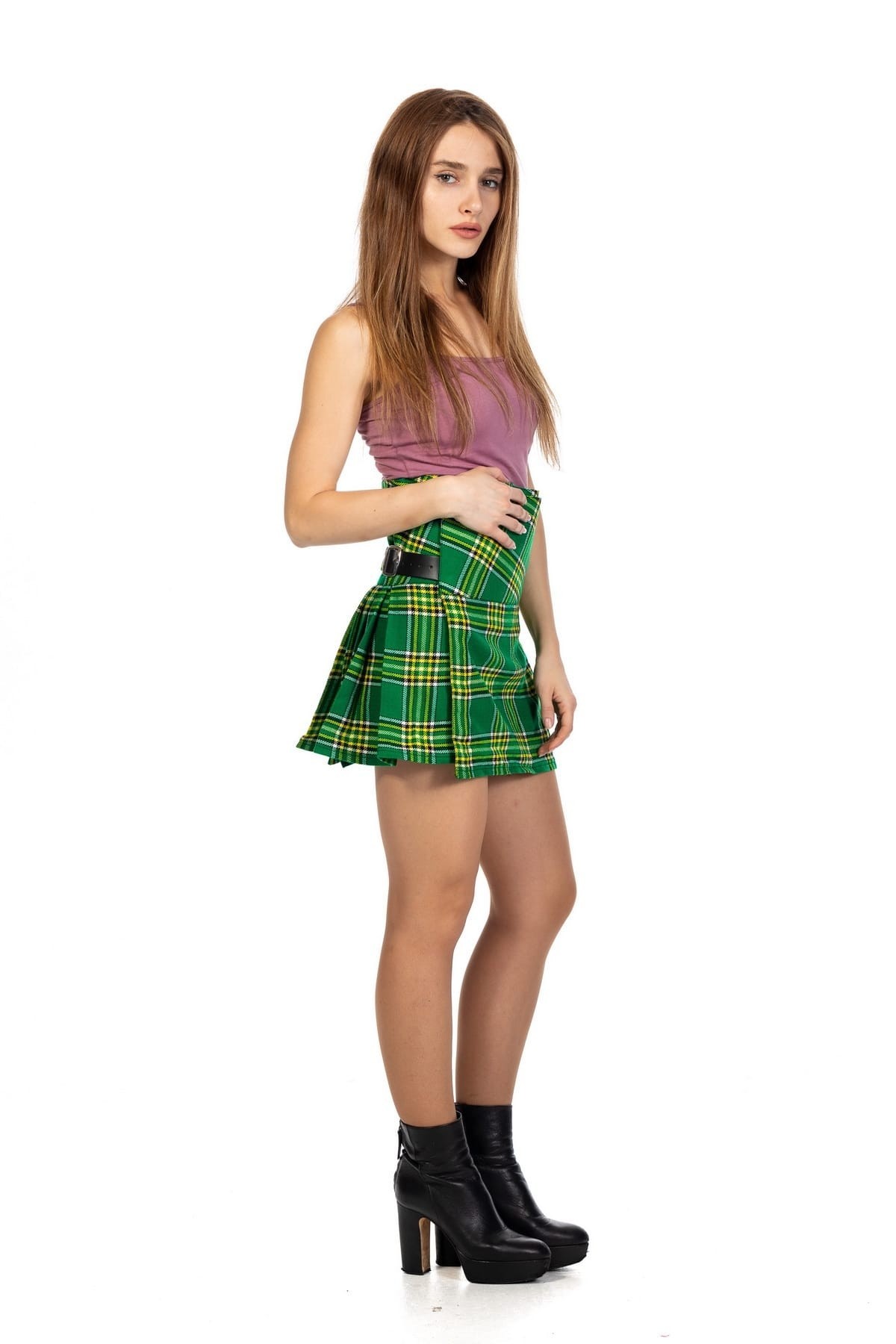 Question: How to make a High Waisted Skirt for beginners?
Answer: A High Waisted Tartan Mini Skirt is easy to make for beginners. You need Tartan Fabric with your desired style. The Kilt Length, Waist Size, Fell Measurement, and Hip size are important to make a skirt. Cut the fabric according to dimensions and make a wide belt about half-length of the skirt. The bottom side has pleats on it, so fold and pin the fabric and make knife pleats at the backside. Join both parts with the help of the sewing machine and remove the pins. Finally, attach belt loops, leather straps, and buckle to complete your skirt.
Question: What fashion trend now will return in 25 years with another generation?
Answer: A nice example is a High Waisted Tartan Mini Skirt. It was introduced in the 1960s and this fashion comes back cyclically. This is in trend and becoming popular again in the whole world.
Question: How many types of Accessories can I use with my skirt?
Answer: Women Skirt/Kilt is the evergreen fashion culture of ladies' wardrobe around the globe. It is a traditional feminine trend. Because this gives a sensation of freedom & attractive look. It also helps you to grab the attention of others in any gathering. To enhance your charm & fascination, you can use a stunning Tartan Scarf & Tartan Handbag. It adds an amazing touch to your attire that connects you with your heritage and makes your personality more distinguished & engaging. So, you can make your event more rememberable.