Question: What is a Utility Kilt For Decent Men?
Answer: Utility Kilt For Decent Men is a modern type of traditional kilt. It is a blend of Scottish heritage and advanced fashion. It has amazing styles with the finest stuff of the fabric. This Utility Kilts made with 100% cotton material. It has also beautiful buttons, deep pockets, leather straps, chains, and other things that make this category trendy.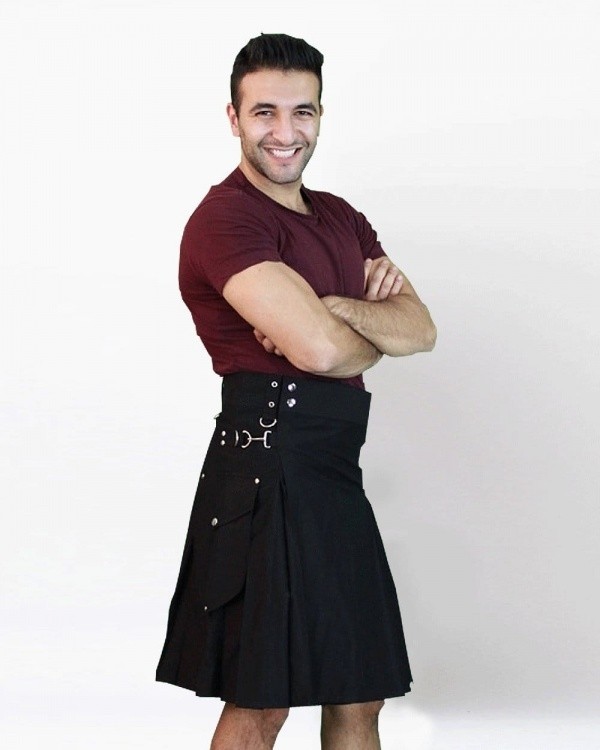 Scottish Kilt added a wide range of Mens utility kilts for the active men which are available at the lowest price possible.
Question: What Kilt hose/socks do you wear with Utility Kilt For Decent Men?
Answer: Kilt hose with thick fabric, normally wear with Utility Kilt For Decent Men. Utility kilts are modern kilts, so there is not a strict rule for this. With this kind of kilts, you can wear White Kilt Hose with formal or any other type of shoes. You can select Black Kilt Hose to match with your outfit.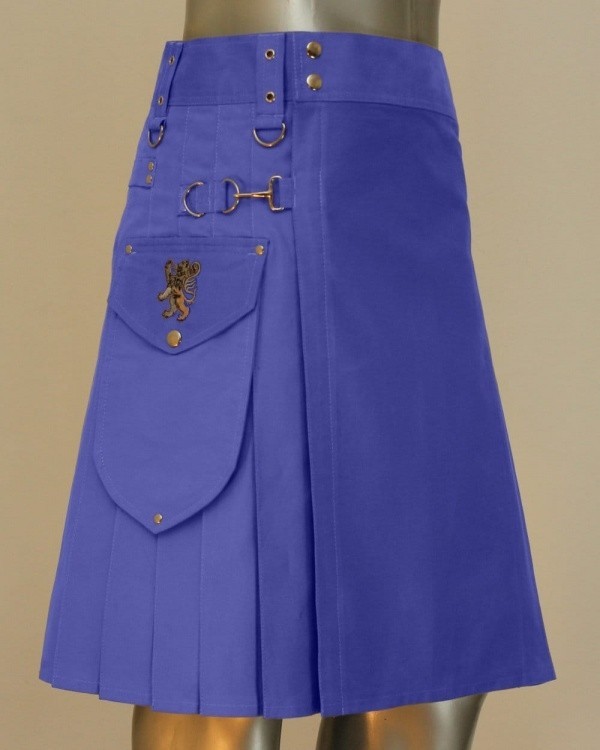 Question: What kind of shirt to wear with a kilt?
Answer: The Deluxe Ghillie Shirt is a perfect match with your kilt. It is made of polyester and cotton that gives you a comfortable feel. At the front of the shirt, there are pure leather laces available to be fastened or left to hang down as a style. The collar and shirt cuffs are made of tartan, to add a traditional look.
Question: When is it appropriate for a man to wear a Utility Kilt?
Answer: Men's Utility Kilts is trendy and specially designed for casual wear. These kilts are suitable to wear at tough jobs. These kilts gives you a comfortable and relaxed feeling during your workday. You can wear this at the gathering of your friends or other occasions. Wear this classy kilts to look fashionable and sexy.
Question: Should I wear a Kilt
belt & Buckle with my kilt if wearing a T-shirt?
Answer: Yes, you can wear a Kilt belt & Buckle with your T-shirt. Just tuck in your shirt to ensure the visibility of the belt buckle. You can wear a belt on casual occasions, and at your workday. It is not suggested to wear a belt with a vest, because it hides the belt.
Question: How to make a Utility Kilt?
Answer: Utility Kilts is our special product handcrafted by professionals. 100 Percent cotton is used to make this kilt. It is a non-traditional kilt with a lot of different accessories attached to it like cargo pockets, D-rings, and buckle straps.
Question: What footwear goes with Utility Kilt?
Answer: Normally Brown Ghillie Brogues are worn with utility kilts. The Genuine leather Ghillie Brogues are multi-purpose to wear on any occasion. You can select black color too. You can also wear moccasins, hiking boots or sneakers, depending on your taste.