Question: What is Roman Gladiator style Kilt?
Answer: The Roman Gladiator Warrior Leather Kilt is a handmade kilt. This modern kilt has a touch of combat kilts that were used in fights in the past. Its design gives you a strong and a gladiator feel. This kilt is made of lambskin and it has box pleats at the backside that makes you feel comfortable. Cargo dispatched pockets with two studs of silver has added to the waistband at the adjustment belts. Various colors are available for this kilt.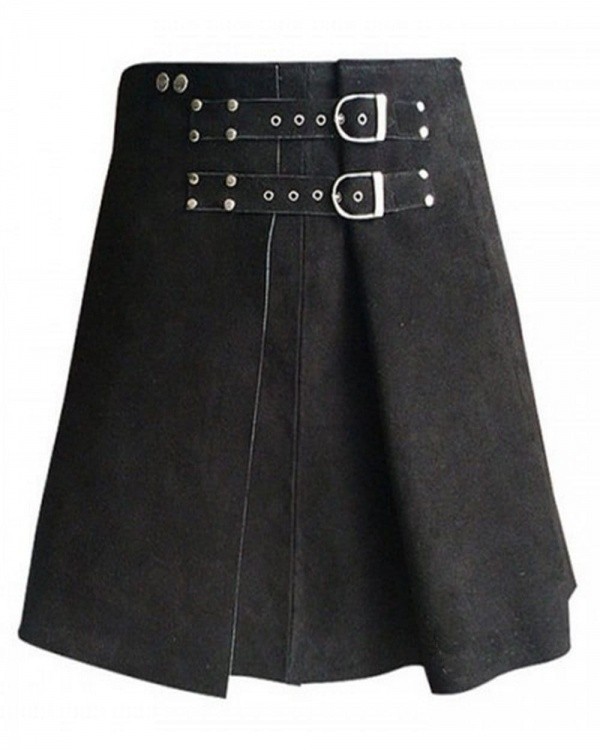 Question: How to live like a Roman Gladiator?
Answer: Roman Gladiator Warrior Leather Kilt may help you a lot for this purpose. It is made of pure leather material with two leather straps on the waist area. This special kilt will remind you of the Roman Gladiators in the past. You will feel strong and brave while wearing this kilt.
Question: How can I get Roman Gladiator Kilt?
Answer: We have specially design Roman Gladiator Warrior Leather Kilt for you. It is made with 100% pure leather material and makes you feel courageous and attractive. You can select the leather color and the measurements. We will provide you this custom made kilt according to your given dimensions.
Question: How many types of accessories make my Leather Kilt more stunning?
Answer: Leather Kilt always creates a class that never fades. But it's amazing Kilt Accessories make your wardrobe more striking & glorious. That gives you a superb look with impressive body language. You can use Leather Sporran, Leather Purse and Leather Kilt Belt to make your attire more amazing. You can decorate your upper wear with Fly Plaid with Brooch that'll help to tie your plaid. The Flashes adds a great effect to your kilt hose. Moreover, you can also order custom made Leather Skirt for your love. You can also use Scottish regal traditional wear like Tartan Tie, Trouser or Trew, and Scarf that strengthens your dignity and reputation in a traditional style.