Question: What to wear with a fashion Denim Kilt?
Answer: Fashion Denim Kilt is easy to match with other outfits. You can wear a simple shirt, Jacobite Shirt or a t-shirt. You can choose the color according to your personal preference. You can wear Leather Shoes, Long boots or sneakers with it.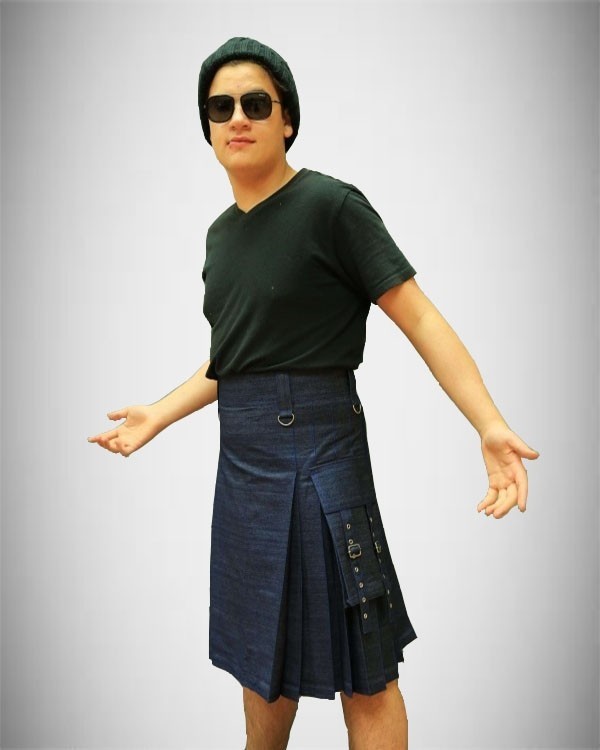 Question: Are Kilts in fashion?
Answer: Fashion Denim Kilt is a modern style outfit and famous all over the world. The Denim makes it classy and appealing that can not go out of fashion. It features flap Pockets at either side with fancy straps. The box pleats at the backside give a beautiful look and make you feel more attractive.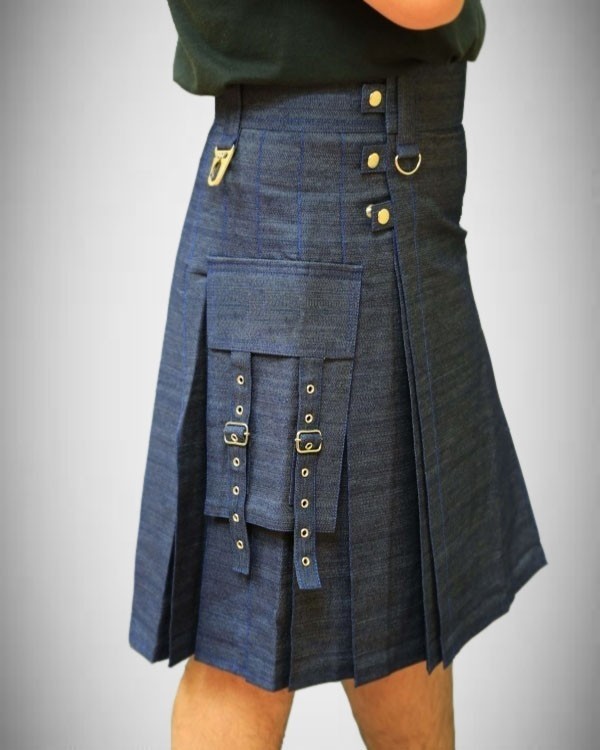 Question: Is Denim kilt is weather friendly?
Answer: The Fashion Denim Kilt is made with Cotton fabric. You feel airy in this kilt. The soft material makes you comfortable and maintain your temperature according to the weather conditions. At Scottish Kilt , we take the comfort and appeal of a denim kilt to the next level with our selection of Denim Kilt that come not only in a standard style but also in utility and hybrid varieties
Question: How Kilt Accessories add an incredible look to my Denim Kilt?
Answer: Denim Kilt add a fashion sense to your personality that lasts forever. Its unique Kilt Accessories make your accouter more stylish & dashing. That also supports your wardrobe in an elegant way. So, you can use:
Scottish Sporran
Kilt Sporran from Scottish Kilt provides you with an immense choice of style and occasion.
Kilt Belt
Create your look and complete your Kilt outfit with leather Kilt Belts, velcro adjustable belts, plain leather belt, and Celtic knot buckles, thistle buckles, and saltire buckles.
Jacobite Ghillie Shirt
You can enjoy all of the comfortable styles of a Jacobite Ghillie Shirt at a great price
Fly Plaid
The Fly Plaid was a large piece of cloth that goes over the left shoulder of the wearer. It is a simple square of cloth, typically 46" X 46", with fringed edges and a box pleat sewn in one corner.
Fly Plaid Brooch
Both stylish, beautifully crafted and totally functional, the Brooch found here will make your kilt stand out with a bit of unique, personalized flair.
Kilt Flashes
Flashes which are perfect for any size of kilt hose.
Kilt Hose
We offer a number of high quality Kilt Hose that promise to retain their color, even through several washes.
Denim Skirt
The Denim Skirt are designed to look similar to a pair of denim jeans, including not only the texture and the appeal of the fabric itself but also the details
Tartan Necktie & Bow tie
The Tartan Tie from Scottish Kilt provides a stylish addition to any outfit. Our ties are available in a variety of tartans designs, meaning you're sure to find the perfect one for you.
Tartan Trouser or Trew
Take everything you love about tartan kilts and transform them into a more familiar pants style with the Tartan Trouser or Trew. These tartan trews fit like a pair of pants and come in your choice of tartan colors and patterns.
Scarf
Scarf differs in weight and color from season to season but its prices remained in the normal range without compromising on class and quality that is the hallmark of purely Scottish traditional Tartan Scarfs.