Indeed, Scottish women have the option to wear kilts if they choose to embrace this iconic attire. Traditionally, women and girls often opt for ankle-length tartan skirts paired elegantly with a coordinated blouse and vest. To accentuate their attire, they might also adorn themselves with a sash, or a tonnag, which is a smaller shawl, typically fastened with a brooch – sometimes bearing a clan badge or other meaningful cultural symbol.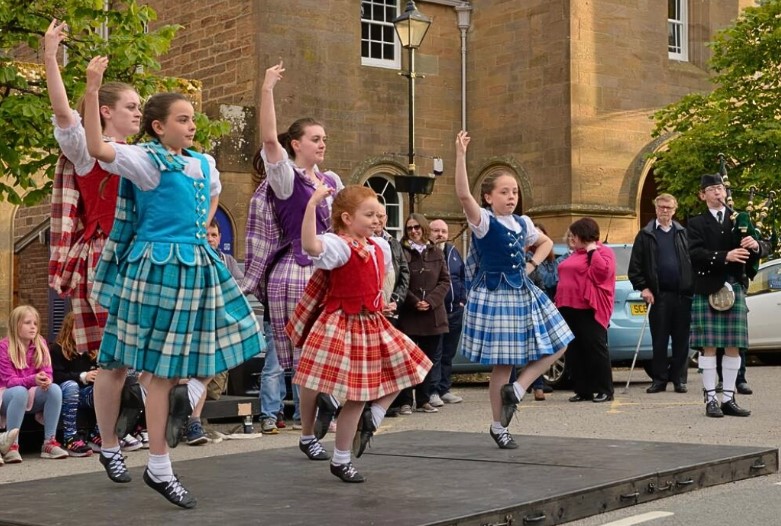 What is a Female Kilt called?
In ancient Celtic culture, women often donned a léine, resembling a long, flowing tunic, woven from wool or linen; there were also regional variations in female attire. In Ireland, for instance, women elegantly adorned themselves in a brat, a lengthy rectangular fabric piece gracefully enveloping their forms, cinched at the waist with a belt. Meanwhile, across the Celtic realm, the traditional Scottish female attire, known as the earasaid, distinguished itself with its draped elegance, occasionally featuring tartan patterns, though not exclusively. This captivating spectrum of clothing reflects the diverse and culturally rich heritage of Celtic women.
How can you tell if a Kilt is a man's or a woman's?
Distinguishing between a man's and a woman's kilt is a matter of subtle details. In a man's kilt, you'll typically find the seam on the right side of the apron, whereas in a woman's kilt, it's on the left. Scots often refer to women's kilts as "kilted skirts." However, it's essential to note that women can don men's kilts in specific situations, like when participating in a pipe band or highland dance. Moreover, women's kilts often tend to be shorter and more fitted in style. Ultimately, the choice of wearing a man's or woman's kilt is a matter of personal preference and style, transcending gender boundaries in this traditional Scottish garment.
What do ladies wear when men wear Kilts?
When men choose to don kilts, women have a spectrum of stylish options available to complement the occasion. While traditionally women and girls don't wear kilts, they can opt for ankle-length tartan skirts, impeccably matched with a coordinating blouse and vest. To further enhance the ensemble, consider adding a tartan earasaid, a graceful sash, or a dainty tonnag (a smaller shawl), often adorned with an exquisite brooch or even a clan badge or other culturally significant motif. For a modern twist, some women may choose to embrace the versatility of tartan pants, offering a chic and contemporary take on this timeless Scottish tradition.
What is the Difference between a Kilt and a Skirt?
A kilt and a skirt are distinct lower-body garments, each with its own unique characteristics. The kilt, a traditional male attire hailing from regions like Ireland and Scotland, is knee-length, non-bifurcated, typically crafted from tartan fabric, and adorned with pleats. It is fastened around the waist with a belt or pins and invariably accompanied by a sporran pouch. In contrast, a skirt is a versatile garment suitable for both genders. It varies in fabric, length, and attachment to a blouse or shirt, ranging from above the knee to ankle length. Unlike the kilt, it usually lacks pleats and secures at the waist through zippers, buttons, or elastic, offering a broader spectrum of styles and wearers.
How a woman should wear a Kilt?
A woman can confidently embrace the timeless elegance of a kilt, albeit with a contemporary twist. When considering how to don this iconic garment, selecting the perfect kilt is paramount; women's kilts, often shorter and available in diverse styles like A-line, pencil, or pleated, should be chosen to flatter one's body shape. Pairing it with a complementary top, be it a blouse, turtleneck, sweater or jacket, is essential for a harmonious ensemble.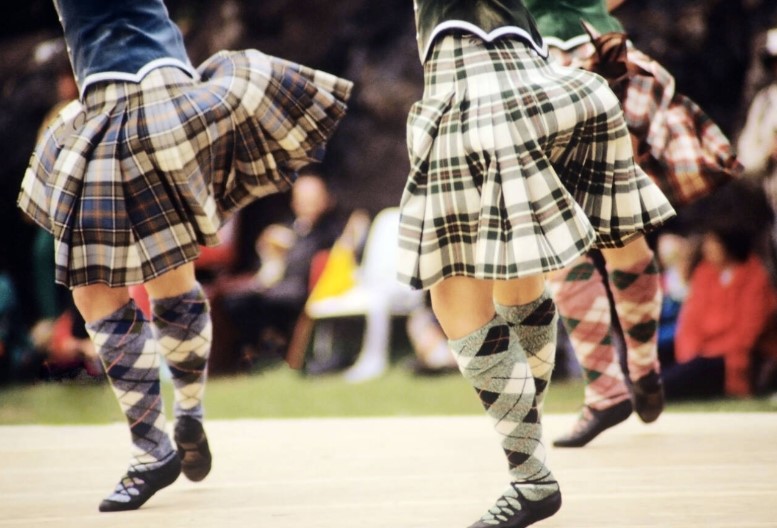 Elevate the look with carefully chosen accessories such as a belt, sporran, brooch or scarf, ensuring they align with both the kilt and the occasion. Lastly, the choice of footwear, whether boots, sneakers, or flats, should balance comfort and style. Ultimately, wearing a kilt as a woman is a personal choice, to be worn with unwavering confidence and pride, celebrating the fusion of tradition and modernity.
What side does a ladies' Kilt fasten?
Traditionally, the fastening of a ladies' kilt is on the left-hand side. This classic design choice is a common practice among most kilt makers, where the apron elegantly secures on the left. This time-honored tradition adds a touch of sophistication to the attire, making it a distinctive and stylish choice for women seeking to embrace Scottish heritage in their fashion.
Can a woman wear a Kilt to a Wedding?
While traditionally kilts have been associated with men, it's important to note that in modern times, women are also embracing this iconic garment. When considering wearing a kilt to a wedding, it's essential to gauge the formality of the event. For traditional and formal weddings, a kilt should harmonize with the customary eveningwear attire. However, if you're attending a wedding outside of Scotland where the groom is wearing a kilt and you're not Scottish yourself, it's perfectly acceptable for women to don a kilt, provided it aligns with the formality of the occasion. Kilts, once exclusive to men, now offer a stylish choice for all, allowing women to make a striking and culturally respectful statement at weddings.
Can a woman wear her husband's Tartan?
Absolutely, A woman can proudly don her husband's tartan. This tradition has endured for generations, allowing women to continue wearing their own tartan post-marriage as well. Even if a woman takes her husband's surname, she retains the privilege of wearing his tartan. Furthermore, the versatility of tartan attire extends to skirts of varying lengths and styles, or even the option of tartan pants. In essence, the choice of tartan is largely unrestricted, granting individuals the freedom to express their heritage and connection to a clan, with the exception of certain restricted tartans, such as corporate designs.
What to wear with a Kilt ladies?
When it comes to styling a kilt, ladies have a multitude of fashionable choices at their disposal. For tops, consider the timeless elegance of shirts or t-shirts, or opt for a touch of casual sophistication with a chambray or denim jacket. Complement your kilt with the right footwear, whether it's the rugged charm of combat boots or the allure of high-heeled shoes, especially when paired with high-knee women's socks.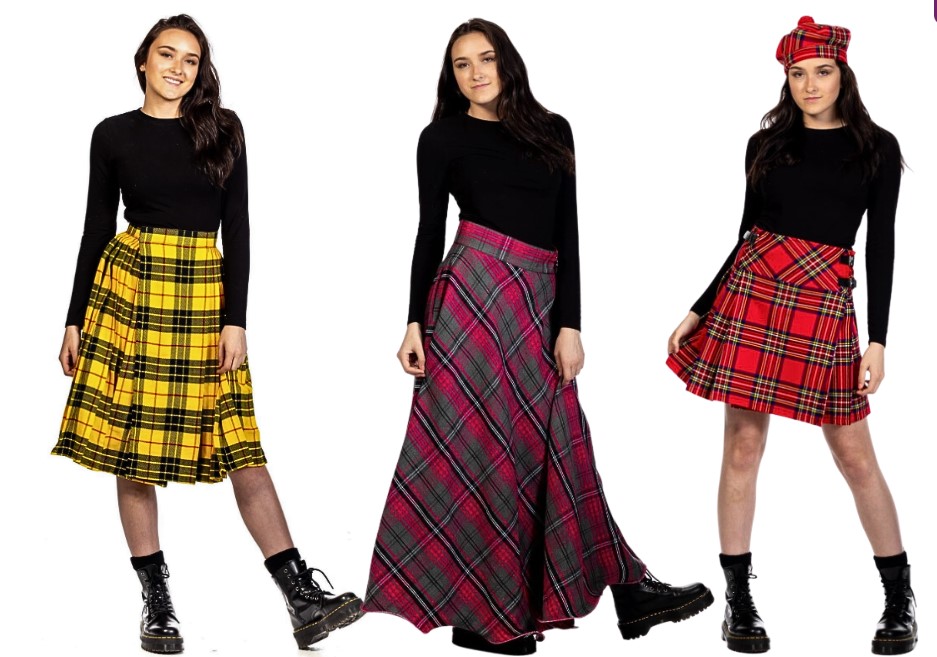 Elevate your look by incorporating sashes made from tartan, leather, cotton, or other fabrics – a harmonious blend of a black top, sash, and kilt can be truly captivating. Don't forget to explore jacket options, including denim, cotton, or even tartan jackets, all of which can enhance your kilt ensemble, particularly when paired with high-heeled shoes. For chic outfit combinations, consider wearing your kilt casually during the summer, embracing kilt skirts for the fall season, adding flair with outerwear, or exuding a preppy schoolgirl charm.
Where to get the Top Notch Female Tartan Kilts?
For the epitome of top-notch Female Tartan Kilts, look no further than Scottish Kilt. With an extensive selection of exquisite tartan options, they combine Scottish heritage with modern style. Their kilts boast impeccable quality at remarkably affordable prices, and the best part is, that they offer free customization to tailor your kilt to perfection. Whether you're in London or anywhere else in the world, Scottish Kilt ensures global delivery, making it the ultimate destination for those seeking not just kilts, but also stylish Tartan Skirts that celebrate Scottish culture in a multitude of captivating designs and styles.