Question: What is the Leather Mini Skirt with pleats?
Answer: Leather Mini Skirt with Pleats is our special article with a unique and modern design. It is made with Genuine Cowhide Leather with Double Pleats all around the Skirt. Wearing this dress makes you feel relaxed with high comfortability. There are three buttons that embellish the round stitching style at the apron.
We offer a huge selection of Tartan Skirt in different Tartans that will allow you to show off your Scottish heritage. So, you can enjoy your Skirt in beautiful designs & styles.
Question: What to wear with a black leather pleated skirt?
Answer: Wearing a Black Leather Mini Skirt with Pleats gives you a stylish and unique look. The double pleats of this skirt complement your appearance. You can wear a white button-down shirt with brown boots. Wear a graphic t-shirt to give a cool and casual fashion, add a denim jacket and pair black leather boots.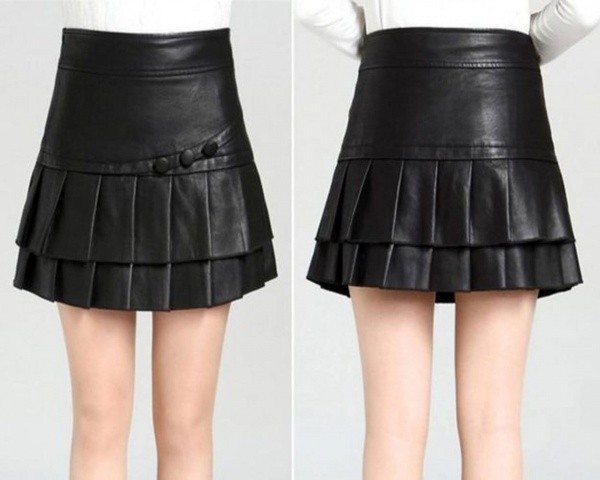 Question: How to make a pleated leather skirt?
Answer: A Leather Mini Skirt with Pleats is easy to make. You need leather material with the color of your choice. Measure your Waist Size, Length of skirt, and Hip size. Cut the leather according to the size and make marks at your desired sizes for pleats. Fold the fabric and make pleats in one direction. Make an extra pleated belt to get double pleats at the bottom. Stitch the pleated belt in the middle and stitch both pleated fabric to the waist belt. Add a zip at the side to easily wear and adjust at the waist.
Question: How can I get a double Pleated Skirt?
Answer: You can easily order a Leather Mini Skirt with Pleats. It has double pleats all around the skirt at the bottom area. You can choose from the given options for color and select your measurements. We give you free customization and make this kilt according to your given dimensions. Get this skirt within some days when you place your order.
Question: How many types of Accessories can I use with my skirt?
Answer: Women Skirt/Kilt is the evergreen fashion culture of ladies' wardrobe around the globe. It is a traditional feminine trend. Because this gives a sensation of freedom & attractive look. It also helps you to grab the attention of others in any gathering. To enhance your charm & fascination, you can use a stunning Tartan Scarf & Tartan Handbag. It adds an amazing touch to your attire that connects you with your heritage and makes your personality more distinguished & engaging. So, you can make your event more rememberable.