Question: Can women also have a Camo Kilt?
Answer: Yes, we offer you Women's Camo Kilt made with pure cotton material. This kilt gives you a comfortable feel and keeps your temperature normal. It has knife pleats at the backside. Cargo pockets at either side to provide you space for your essentials. Leather Straps provide you with ease to adjust the size easily. The Camo print gives you a fashionable look and you feel proud of wearing it.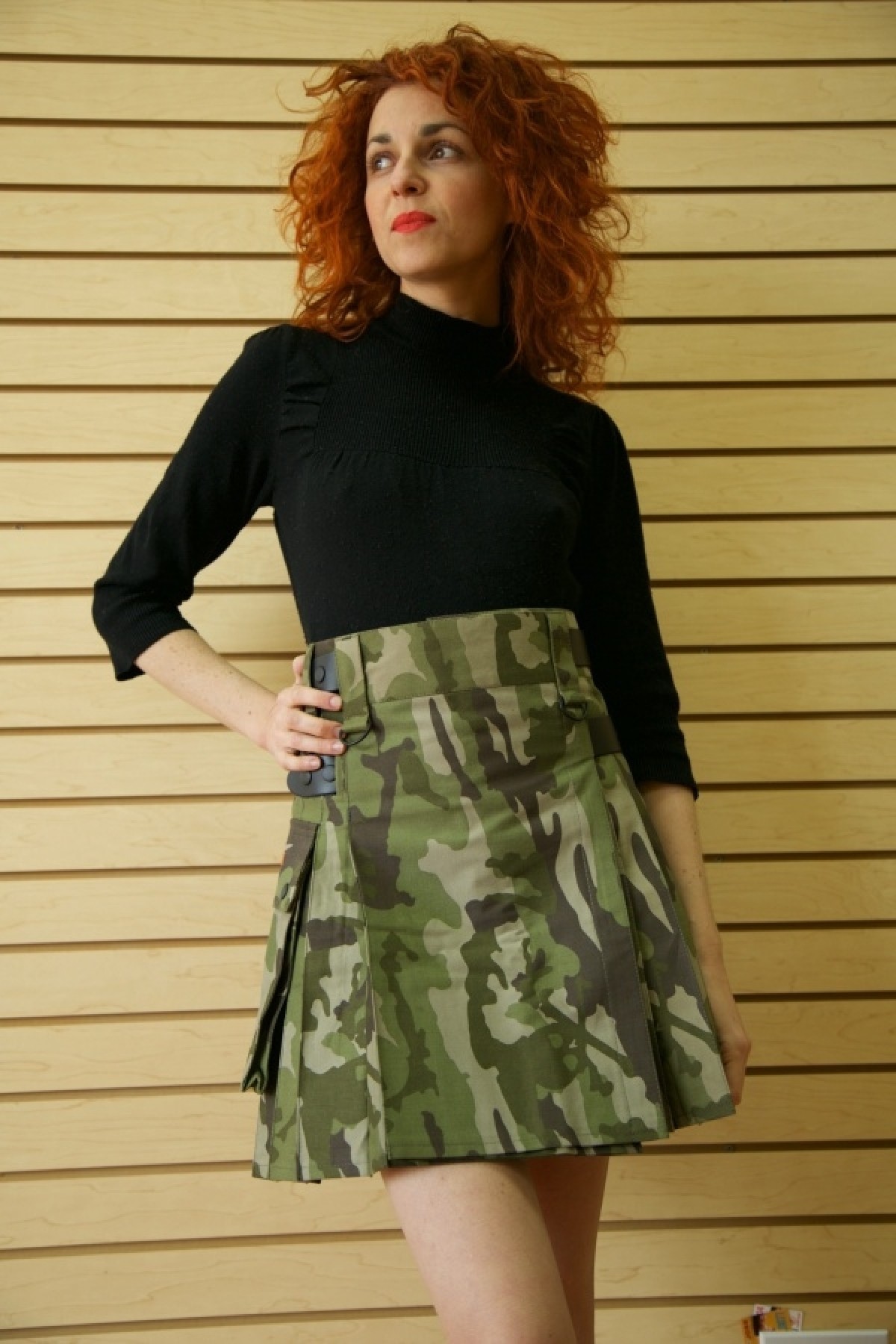 Question: What should women wear during an adventure?
Answer: Women's Camo Kilt is a breathable outfit made with pure cotton fabric. It has knife pleats at the backside to give you a stylish look and comfortable feel during Hiking or other adventure. You can carry your Compass, water bottle, and other essentials in the big cargo pockets. Leather straps and buckles hold your kilt and you can easily focus on your venture.
Question: Is Women's camo kilt available for sale?
Answer: Women's Camo Kilt is available for sale at Scottish kilt. You can buy it at a reasonable price. There are so many camo colors available, choose according to your personal preference. We provide you customization for free, as a gift.
Question: How to wear a camo kilt?
Answer: A Women's Camo Kilt is a modern outfit to make a lady more stylish. You can wear it for casual occasions, going for adventures or in friends gathering. It gives you comfort and you feel confident wearing it. Wear it with a t-shirt, blouse or a sweater, remember to tuck in your shirt to give a beautiful look. Pair long boots, heels, or sneakers.
Question: How to wrap a camo kilt?
Answer: It is easy to wear a Women's Camo Kilt. Place the kilt at your waist and wrap it around. Buckle up the kilt with the help of leather straps. It should be at the natural waist that you feel comfortable. And remember, the pleated side should be at the backside.
Question: How many types of Accessories can I use with my skirt?
Answer: Women Skirt/Kilt is evergreen fashion culture of ladies' wardrobe around the globe. It is a traditional feminine trend. Because this gives a sensation of freedom & attractive look. It also helps you to grab the attention of others in any gathering. To enhance your charm & fascination, you can use stunning Tartan Scarf & Tartan Handbag. It adds an amazing touch to your attire that connects you with your heritage and makes your personality more distinguished & engaging. So, you can make your event more rememberable.