Question: How do you wear Argyle Jacket?
Answer: The Argyll Jacket is custom made and is a perfect choice to wear with a light brown Utility Kilt. You can also wear a Tartan Kilt to give a cultural and stylish look. Pair Black or Brown Ghillie Brogues and a Sporran to complete your outfit.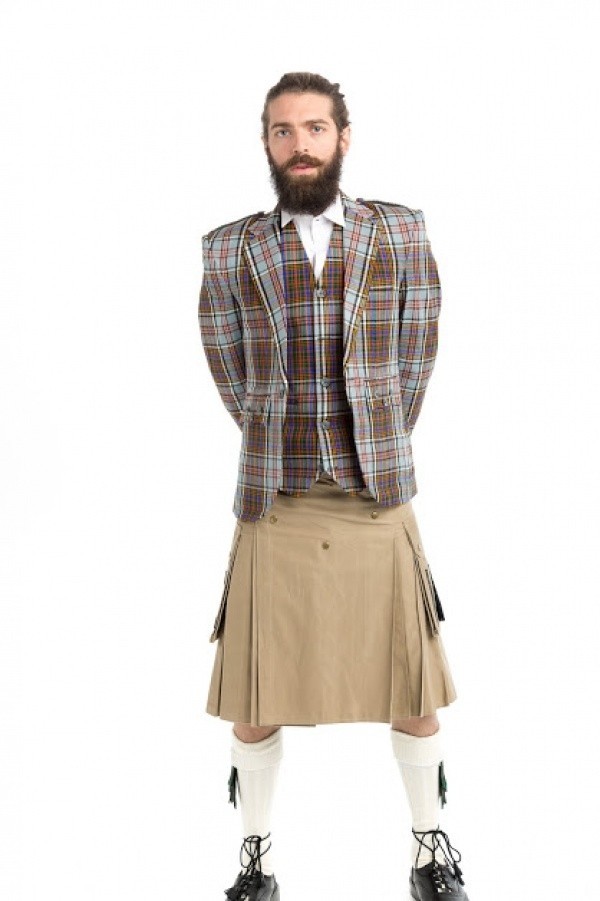 Question: Can you wear a Suit Jacket with a Kilt?
Answer: Most suit jackets are too long with a traditional kilt. A regular Suit Jacket is a bit longer that covers the sporran and the pleats, that's why it is not a good idea to wear it. Go for an Argyll Jacket, that gives you a stylish look with its perfect length. It is acceptable to wear an informal or casual outfit.
Question: Can you wear a bow tie with an Argyll jacket?
Answer: You can wear a Tartan Bowtie with a Tartan Argyll Jacket. It can be worn for a formal event with a Utility Kilt, White collar shirt, and Black Ghillie Brogues. A semi-dress sporran can be worn to give your outfit a complete traditional look.
Question: What kind of accessories makes my Jacket & Waistcoat more astounding?
Answer: Jackets & Waistcoat always gives a Gentleman Look. This amazing attire adds the legacy of Scottish heritage. That boosts confidence in your body language. There are a lot of accessories that make your wardrobe more attractive & distinguish. You can match up amazing Tartan Kilt with it that provides a magnificent appearance in every gathering. Moreover, you can order for Tartan Sporran, Tartan Purse, Tartan Tie, Tartan Trouser or Trew, Fly Plaid with Fly Plaid Brooch that'll help to tie your plaid, Kilt Flashes which is perfect for any size of Kilt Hose. This also helps you to get connected with highlander culture in a more elegant way by its noble style.