Question: Queen's Guard still wears a Military Drummer Jacket?
Answer: Yes, The Guards of Queen wears a Military Drummer Jacket till now.This is like a traditional uniform and a symbol of identity for them. They wear the same jackets to show the disciple and to tribute the royal guards in the past.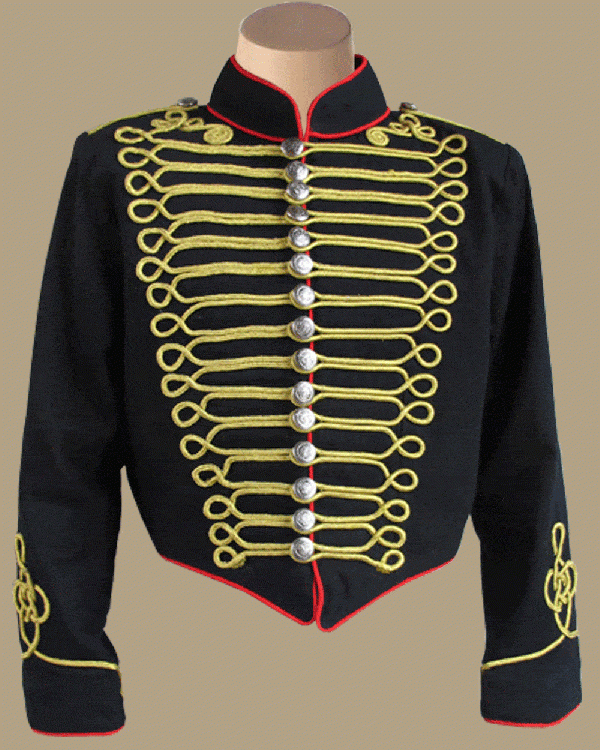 Question: How can I get a Military Drummer Jacket?
Answer: You can simply order us online for a Military Drummer Jacket. There are so many colours available as an option for you. Select your measurements of neck size and others, to make this jacket specifically according to your size. Receive at your doorstep within some days.
Question: Any Military Drummer Jacket with a ban?
Answer: Military Drummer Jacket is a special article with beautiful Bann. You can select your neck size and other measurements to ensure the best fit. We provide you with customization to give you a confident and attractive look.
Question: What kind of accessories makes my Jacket & Waistcoat more astounding?
Answer: Jackets & Waistcoat always gives a Gentleman Look. This amazing attire adds the legacy of Scottish heritage. That boosts confidence in your body language. There are a lot of accessories that make your wardrobe more attractive & distinguish. You can match up amazing Tartan Kilt with it that provides a magnificent appearance in every gathering. Moreover, you can order for Tartan Sporran, Tartan Purse, Tartan Tie, Tartan Trouser or Trew, Fly Plaid with Fly Plaid Brooch that'll help to tie your plaid, Kilt Flashes which is perfect for any size of Kilt Hose. This also helps you to get connected with highlander culture in a more elegant way by its noble style.