A kilt all alone is a wonder of master craftsmanship. Every little thing about it, the tartan pattern, the method involved in processing the texture, the impeccably collapsed creases, it's a genuinely breathtaking garment and the way that it's known all over the planet is a demonstration of that. Notwithstanding, a kilt without help from anyone else isn't finished and the different pleats that go with it are similarly essential to completely accomplish the highland wear look. The modern, custom-fitted Kilt which is pervasive at Highland games get-togethers all over the planet has related with it a developing style of wear. This style incorporates the different accessories which are formally worn with it for a complete kilted look.
Scottish Sporrans | The best add-on to your kilt accessory
Historically, the kilt was a single piece of cloth that did not have pockets. The Sporrans were worn at that time to serve the purpose of pockets or for carrying belongings. It is the Scots version of pocket. They are very practical yet symbolic. Accessorizing your kilt with sporran is the best way to show your prestigious heritage. The traditional sporran hangs below the belt buckle, and much effort is made to match their style and design. There are ranges of sporrans available but mainly they are classified into four different types.
Full Dress Sporran
Full Dress Sporrans which are the most ceremonial type of sporrans have 3 to 5 tassels hanging in the front. The top edge is of the silver pewter cantle and metal framing best for formal events like weddings.
Semi Dress Sporran
Additionally, we have Semi Dress Sporrans, best for semi-formal events but can be worn in formal events. They are made from pure leather but they are made decorative with hanging tassels. These sporrans are the versatile ones.
Horse Hair Sporrans
The next type is Horse Hair sporrans, which were introduced by army unit apparel. As the name suggests they are made with the help of horsehair and they are the most modish type of sporrans.
Hunting Sporran
Last but not least we have Hunting sporrans introduced in the 19th century as oval-shaped sporrans. They were made with the purpose of hunting but now in the fashion age, they are worn all over the world as a fashion statement.
Kilt Pins | Why wear a kilt pin?
Another way to accessorize your kilt is to decorate it with Kilt Pins. It is basically jewelry that is worn on the lower corner of the outer apron of a kilt. It performs the basic function of preventing the apron from falling.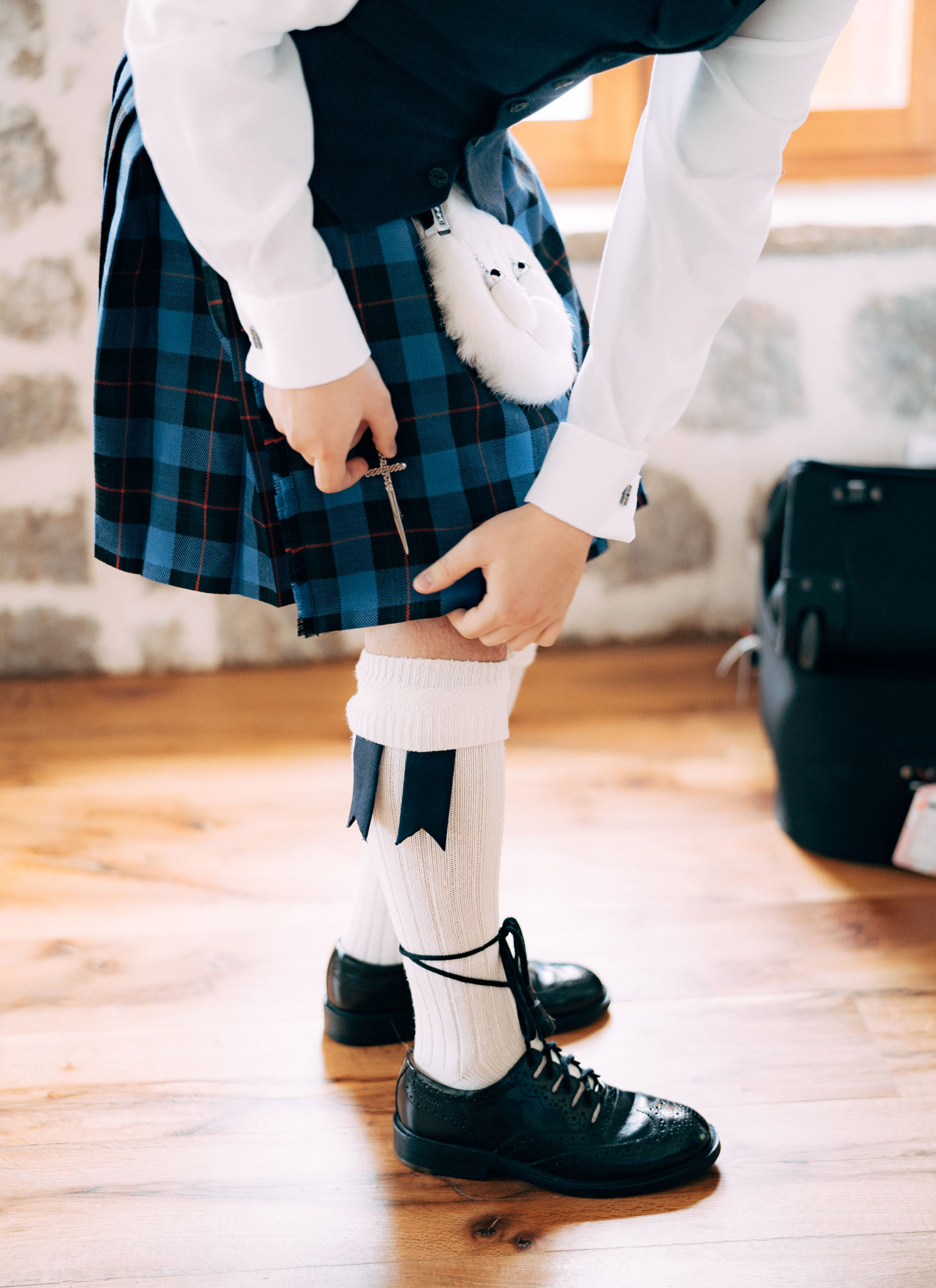 We provide huge options for you while choosing kilt pins. There are traditional options like Masonic Kilt Pins and Irish Harp Kilt Pins. Additionally, you can go contemporary with more options like Lion Rampant Kilt Pins, Scottish Thistle Kilt Pins, and Saint Andrew Silver kilt pins. You can check our best-reviewed pins such as Silver Chrome Celtic Cross Kilt Pins and Shamrock Silver kilt pins to rock your kilted look.
There are such countless choices to browse that you truly ought to invest some energy checking every one of your choices out. Simply attempt and match the kilt pin to your different accessories. In the event that you have a classical completion cantle on your sporran, attempt and pick a rarity finish kilt pin. Assuming that you are wearing earthy-colored calfskin brogues, perhaps pick a comparative shaded wooden kilt pin.
Brogues, Socks, and Flashes | Must-haves for the kilted look
A traditional Scottish outfit isn't finished without your legs being appropriately dressed. Working from the base up, your brogues need cautious thought as they assist with tieing the entire outfit together. Our Genuine Leather Ghillie Brogues are made from 100% leather which has the ability to complete any of your formal kilt looks. They have long ribbons which can be tied to the socks. These Brogues are incredible choices yet the Ghillie Brogues are viewed as more formal.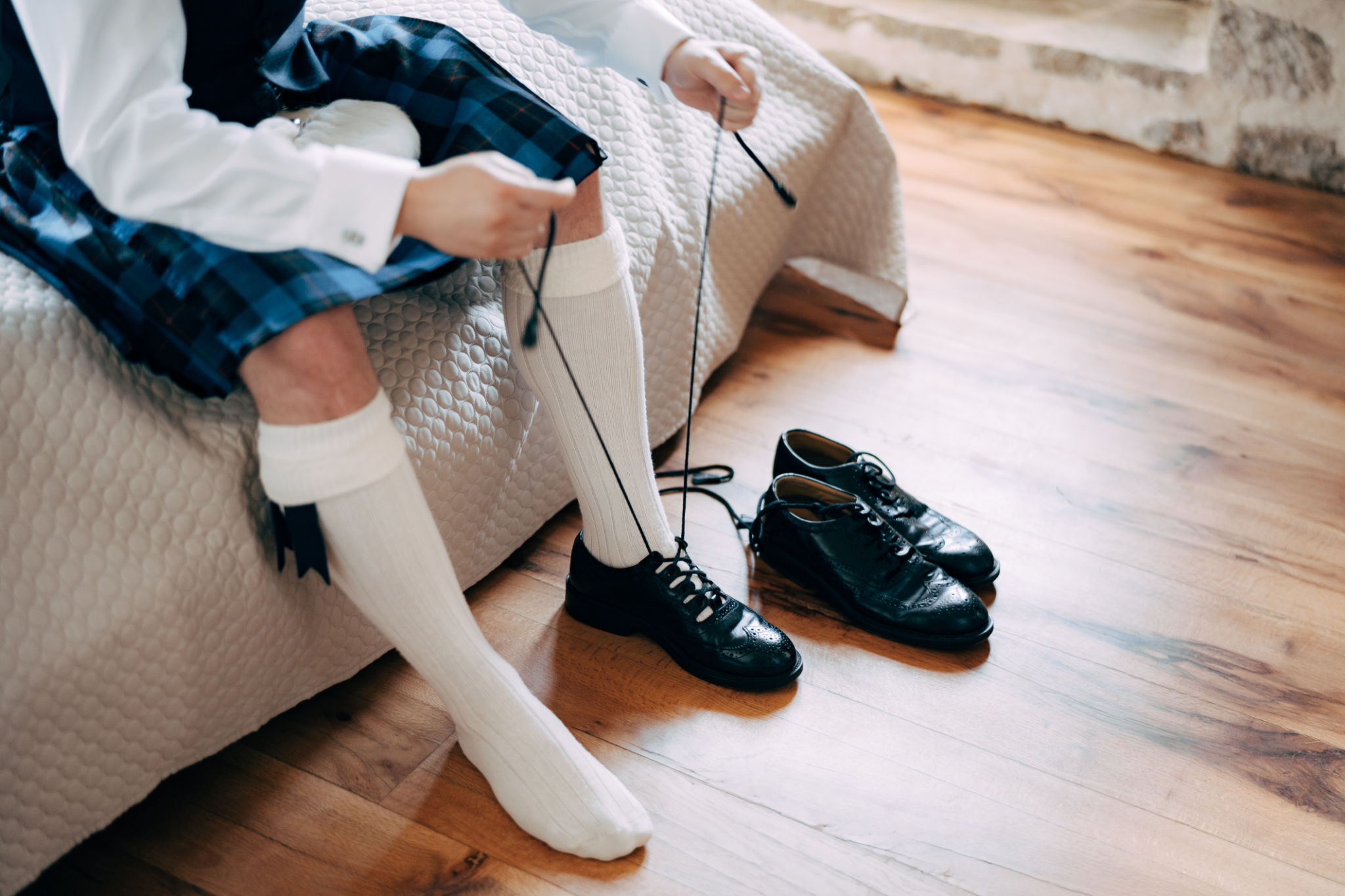 Additionally, you can match your Socks and Flashes with the tartan. Customarily, hose (socks) ought to be worn over the calf around 5-7 centimeters 2-3 inches beneath the lower knee. Kilt Hose is ordinarily worn in muffled shades of dim, naval force, dim green, and dark but on the other hand, are accessible in White kilt hose and Black Kilt Hose. Under the overlay of the hose, flashes are worn with the flexible tucked underneath the crease and the hued texture seen outwardly of the leg. On the feet, ghillie brogues are worn with long bands that tie around the lower legs.
Accessorizing Cufflinks in your Scottish Attire
The traditional yet classy add-on to your kilt look is Cufflinks. Adding tartan cufflinks to a kilt outfit is an incredible method for finishing the look. Adding cultural importance to the sleeve fasteners is an added bonus to your attire. Ghillie shirts, also known as Jacobean or Jacobite, are conventional shirts worn with kilts.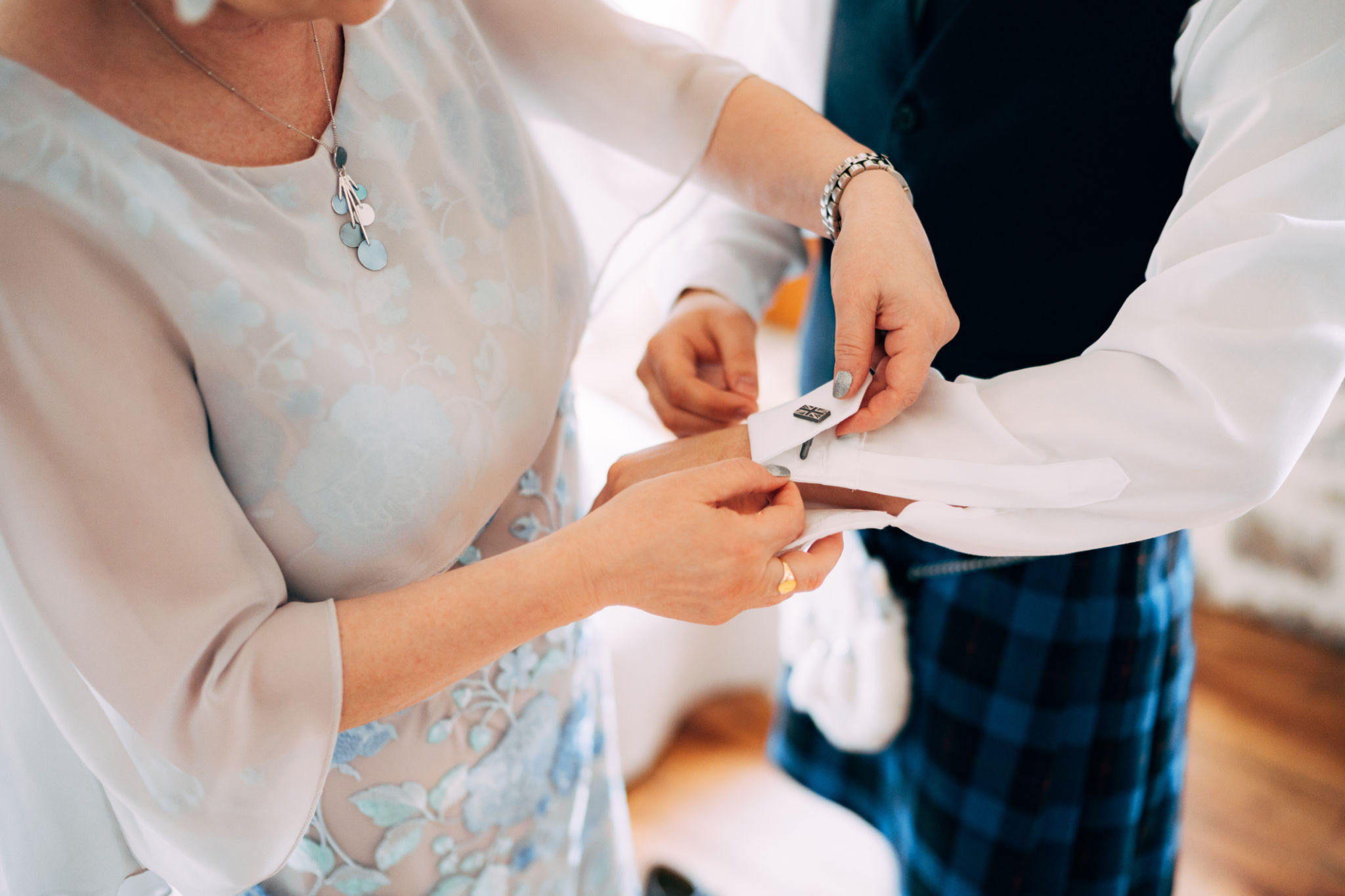 The term Ghillie alludes to the confounded binding style of cowhide that is additionally found on the Ghillie Brogue. Pairing the tartan cufflinks with this plain traditional shirt is the best way to enhance your traditional look. Additionally, our hot selling Victorian collar shirts are the most formal and plain shirts. Adding the best-made cufflinks to your plain shirt can bring up the whole vibe of tradition. You can also keep the rest of the outfit very simple and accessories it with our cufflinks in your desired tartan and pay homage to your tradition by looking classy in your attire.
Antique Belts and Buckles for your Scottish kilt
Every Scotsman needs to have a high-quality belt and buckles to keep his pants aligned all day long. The Kilt Belt is secured at the front simply over the sporran and is secured with the buckle in the middle. The belt on the kilt is usually worn in the absence of a waistcoat. A classic belt with a Celtic Oval Buckle or Highland Swirl Buckle can bring up your outfit together. A quality buckle can make a tremendous impact on your look. Make a stylish statement with our Highland lion Rampant buckle. Additionally, you can pair Celtic Knot Thistle Mount Buckles to style your kilt more traditionally. It is normal to see belts worn with a Prince Charlie jacket. We've got a huge assortment of Scottish belts and buckles to choose from so you wear the right colors and styles for every occasion.
How to wear Fly Plaid?
The fly plaid is the most traditional accessory for highland attire. Those who wear kilt outfits know that there are a number of different aspects to the kilts that tie them together and give them a complete look. One of those things is Fly Plaid. It reaches far past Scottish heritage, extending as far back as the Roman times, but they have become an integral part of the kilt-wearing culture. It is worn over the left shoulder and secured with a Kilt Brooch by hanging down at the back of the outfit.
The best opportunity to purchase a plaid is simultaneously purchasing the kilt. This is so both can be produced using a similar fabric. But if you already have a kilt and want matching fly plaid we are here to help you. Use our Tartan Finder to match the tartan with your kilt and then we can make it custom for you.
Neckwear for your Kilt outfit
While wearing a kilt, there are sure principles to wear one the correct way. Perhaps the earliest decision among them is that no more, a standard tie should be worn with a kilt group. Just short ties and neckties are supposed to be permitted and to put your best self forward in your kilt outfit, look no farther than the assortment of Tartan Ties at Scottish Kilt. If you want a cutting-edge focus on your outfit, wear a Victorian neckline shirt with a tie. A tie with a Victorian neckline shirt is conventional for formal events; on the off chance that you need the more traditional look, wearing a Tweed Jacket with a tartan tie is the best option. Additionally, you can go for the full classic Scottish look by pairing the Tartan Bow Tie with a Tartan Jacket. Add a touch of the tartan patterned bow tie to your simple outfit and make it look outstanding by paying homage to your tradition.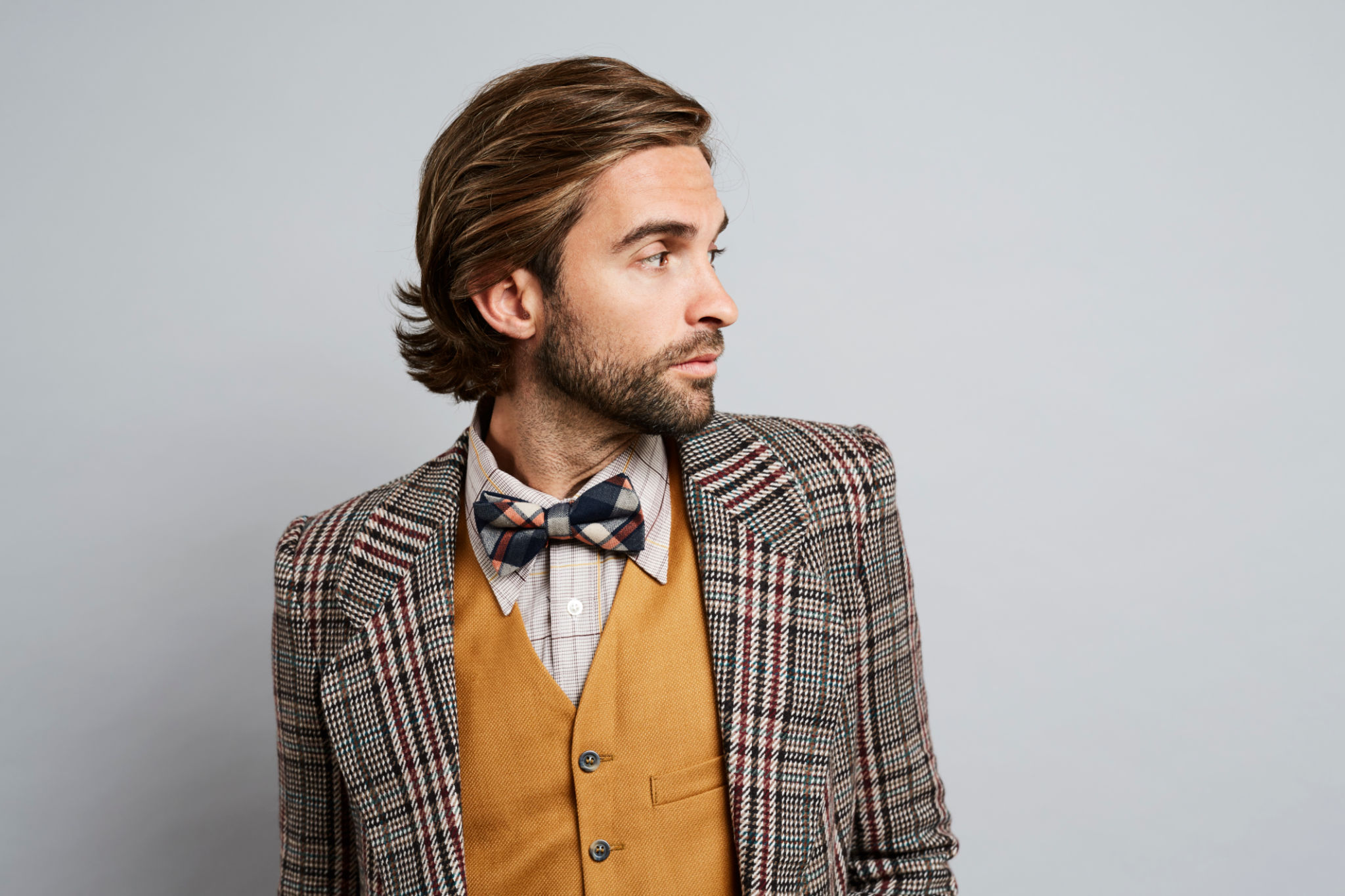 There are many Kilt Accessories that go into a highland wear outfit which makes getting one such a lot of entertainment. When every one of your decisions is made, your outfit will recount what your identity is, your inclinations, and your individual style. Assuming you'd like any assistance with our range of tartan accessories, go ahead and reach out to us whenever you need it.
"Have you any question about Kilts, Tartans, Accessories, Kilt Outfits - We will here to answer your queries."