Question: What clan does Erskine belong to?
Answer: Clan Erskine is a Scottish clan from the Lowlands.
Clan Motto: Je Pense Plus (I think more)
Crest Description: A hand holding up a skene in pale Argent, hilted and pommelled or, with a chapeau Gules furred Ermine.
Colour Pattern Of Erskine Tartan
The Erskine Tartan is 100% new wool predominantly black and white with black and white lines. Erskine is a suburb of Glasgow located 10 miles west of the River Clyde. The name is said to be an old British term meaning "green rising terrain." Kildrummy Castle remains in Aberdeenshire. It was formerly the Earls of Mar's residence and was in the hands of the Erskines until 1716.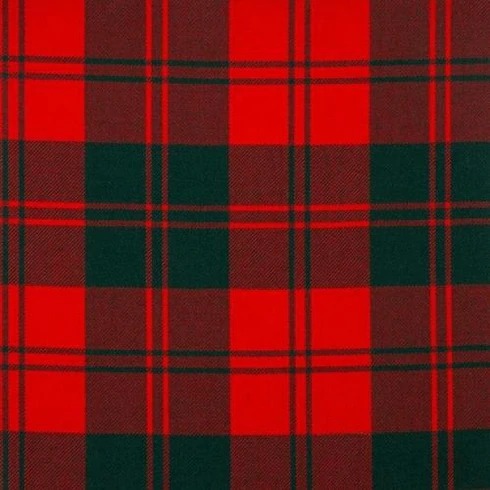 This tartan is not only a symbol of your Scottish heritage, but will make any outfit you put together more stylish and elegant! This page contains all of the garments manufactured from this unique pattern. You may view the available Kilt Suits, Embroidered Waistcoats, Women's Jackets, and much more by clicking on the above-mentioned link!
Question: Where does the surname Erskine originate from?
Answer: Erskine is a surname from Scotland. The name is taken from a place name (Erskine) on the southern bank of the River Clyde near Glasgow. Erskin was the name given to this location for the first time in 1225. Yrskin (1227), Ireskin (1262), Harskin (1300), and Irschen are all early spellings of the location (1300). He founded Erskine Clan Tartan. Arascain is the Scottish Gaelic version of the surname.
According to legend, King Malcolm II gave the name to a warrior who killed the Danish General Enrique in the Battle of Murthill. He is believed to have showed the king the bleeding knife and shouted eris-skyne, which means "upon the knife." In recognition of his valour, the King bestowed the surname Eriskine upon him.
This conventional mediaeval Scottish stronghold in Clackmannanshire dates back to the 14th century and was the ancestral residence of the Erskine family, Earls of Mar and Kellie. Mary Queen of Scots and her son, James VI, were both loyal followers of the Stuart rulers and were raised here by the Erkine family. The tower was strategically placed to guard the ferry crossing on the River Forth.
In 1702 John Erskine, 6th Earl of Mar, began converting the mediaeval walls into a sumptuous residence, but a fire destroyed the palace in 1800, leaving just the tower. The Tower is now administered by the National Trust for Scotland, and it houses a collection of Erskine family pictures.
Question: From where I can find Erskine Tartan Fabric?
Answer: When it comes to finding your own tartan to represent not only your Scottish heritage but also your personality. You can find Erskine Tartan Fabric by the yard at a very low price which has a very astonishing print, color or pattern, that you could prefer which allows you to create the perfect kilt and much more. These Tartan fabrics are made with the highest-quality acrylic wool and are about 54 inches wide in order to ensure that you are satisfied with the look and feel of each yard you purchase.
Question: What accessories should I get with Purple Tartan Kilt?
Answer: Carrying on the Scottish legacy of bravery, adventure, and pride, we offer a wide range of Scottish kilts, skirts, and other Kilt Accessories. Stitched with love and dedication, customized to your comfort and desire, Scottish Kilts gives you the freedom to be a true representative of your Clan and proud Scots man. With this mission, Scottish Kilt is striving to provide you with a huge range of accessories in all possible tartans, Now you may order/select perfect matching accessories with your desired tartan. Like you may have:
Matching Tartan Sporran
The Tartan Sporran from Scottish Kilt provides you with an immense choice of style and occasion.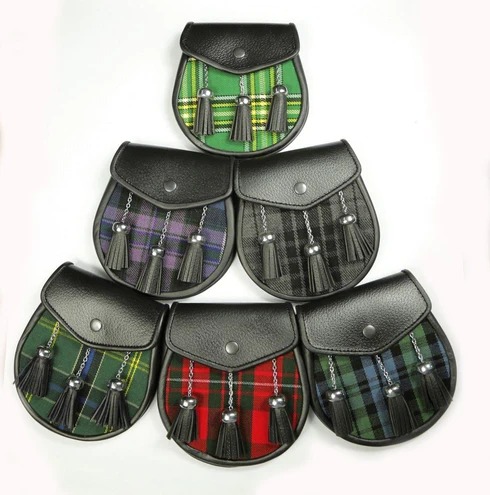 Matching Tartan Purse, Wallet & HandBags
The Tartan Purse from Scottish Kilt is designed to hold all of your important financial necessities with plenty of space inside for credit cards, debit cards, identification cards, and more.
Matching Tartan Neck Tie & Bow Tie
The Tartan Tie from Scottish Kilt provides a stylish addition to any outfit. Our ties are available in a variety of tartans designs, meaning you're sure to find the perfect one for you.
Matching Tartan Fly Plaid
The Tartan Fly Plaid was a large piece of cloth that goes over the left shoulder of the wearer. It is a simple square of cloth, typically 46" X 46", with fringed edges, and a box pleat is sewn in one corner.
Fly Plaid Brooch
Both stylish, beautifully crafted, and totally functional, the Fly Plaid Brooch found here will make your kilt stand out with a bit of unique, personalized flair.
Matching Tartan Flashes
Tartan Flashes is perfect for any size of kilt hose.
Matching Tartan Scarf
Tartan Scarf differs in weight and color from season to season but its prices remained in the normal range without compromising on class and quality that is the hallmark of purely Scottish traditional Tartan Scarfs.