Indeed, Paterson boasts a distinguished tartan of its own, intricately intertwined with the rich heritage of the Paterson clan. This tartan embodies a centuries-old legacy, complete with a unique crest and an array of plaid products that pay homage to the clan's storied history. It's worth noting that the illustrious Scottish surname Paterson also holds the distinction of being a sept of not one, but two esteemed clans: the Clan MacLaren and the Clan Farquharson. In sum, the Paterson tartan serves as a vibrant thread in the tapestry of Scottish heritage, weaving together a fascinating narrative of tradition and identity.
Is Paterson a Scottish name?
Absolutely, Paterson indeed hails from Scotland. Rooted in rich Scottish heritage, this surname bears a profound meaning, signifying "Father' son" or "son of Patrick." It elegantly embodies the patronymic tradition, originating from the esteemed male given names Pat(t) and Patrick. While primarily a surname, Paterson occasionally emerges as a distinctive given name, though it remains a rarity in usage. Its Scottish origins add a touch of history and tradition to this unique name.
What is Paterson in Gaelic?
In Gaelic, the name Paterson takes on intriguing origins. In Scottish Gaelic, it is known as MacPhadraig, possibly derived from MacGille Phadraig, signifying "son of the devotee of Saint Patrick." Meanwhile, in Irish, Paterson can be traced back to the surname Ó Casáin, at times anglicized as Kissane. It's important to note that Paterson is seldom encountered as a given name, with alternate spellings like Patterson also in use. This rich heritage lends a distinct and captivating dimension to the name Paterson in Gaelic.
What is the History of Paterson Tartan?
The Paterson tartan boasts a rich history intertwined with the venerable Paterson clan, hailing from the Lowland regions of Scotland. This clan derives its name, MacPhadraig, from the Gaelic "son of the devotee of Saint Patrick," hinting at clerical or ecclesiastical origins. By the late 13th century, the Patersons had firmly established themselves along the picturesque shores of Loch Fyne, their name echoing throughout the Scottish Lowlands. This esteemed tartan, predominantly adorned in soothing blues and vibrant greens, accented by striking black and white, traces its roots to these resilient settlers. Originating from the northern expanse of Loch Fyne, it endures today as a cherished emblem among Paterson clan members and those proudly tracing their Paterson lineage, an enduring testament to their heritage.
What does the Crest on the Paterson Tartan Symbolize?
The crest on the Paterson Tartan embodies profound symbolism. It showcases a dexter hand emerging from a celestial cloud, firmly grasping laurel leaves, encapsulating the clan's unwavering pursuit of greatness and excellence. This emblem reflects the Paterson clan's deep-rooted values of victory and honor, as laurel is a timeless symbol of triumph. While not directly linked to the crest, the clan's motto, "Huc Tendimus Omnes," meaning "We all strive for this," further underscores their enduring commitment to their legacy, making this crest a powerful emblem of heritage and aspiration.
Is the Paterson Clan still Active Today?
While the Paterson clan has a storied history and once held significant estates and titles, it is currently considered armigerous, lacking a designated chief. Despite this, the Paterson name remains prevalent and ranks among the top twenty common surnames in the Scottish Lowlands, particularly around Loch Fyne where they settled in the late thirteenth century. The clan is officially recognized as armigerous by the Lord Lyon King of Arms, but whether it is actively organized today remains uncertain.
Can you Describe the Design of the Paterson Tartan?
The Paterson Tartan is a masterpiece of design, proudly displaying slender crimson and ivory stripes atop a deep navy backdrop, accentuated by bold emerald and ebony bands that pay homage to the rugged beauty of Loch Fyne's landscapes. Its intricate sett pattern weaves a captivating tale of the Paterson legacy. Conceived in 1993 by Lowell W. Patterson of Rogersville, Tennessee, this tartan strikes a harmonious balance between subtlety and allure, suitable for both casual and formal occasions. Its composition comprises graceful green, rich blue, and commanding black stripes, interspersed with delicate white lines, all meticulously woven with a thread count ranging from 2,500 to 6,000 to ensure unparalleled clarity. The Paterson Tartan stands as a symbol of heritage and sophistication, embodying a rich history and profound cultural significance.
From Where I can find Paterson Tartan Fabric?
You can unearth the exquisite Paterson Tartan Fabric at the prestigious Scottish Kilt emporium. Their specialization lies in curating a diverse array of traditional Scottish fabrics, including the distinguished Paterson Tartan. Renowned for their unwavering dedication to authenticity and craftsmanship, Scottish Kilt ensures you access the most splendid materials to meet your discerning needs. The Paterson Tartan Fabric not only exudes fashionable allure but also carries profound historical significance, steeped in tradition and heritage, making it the preferred choice for a myriad of distinguished projects.
What Clothing Accessories Should we get in Paterson Tartan?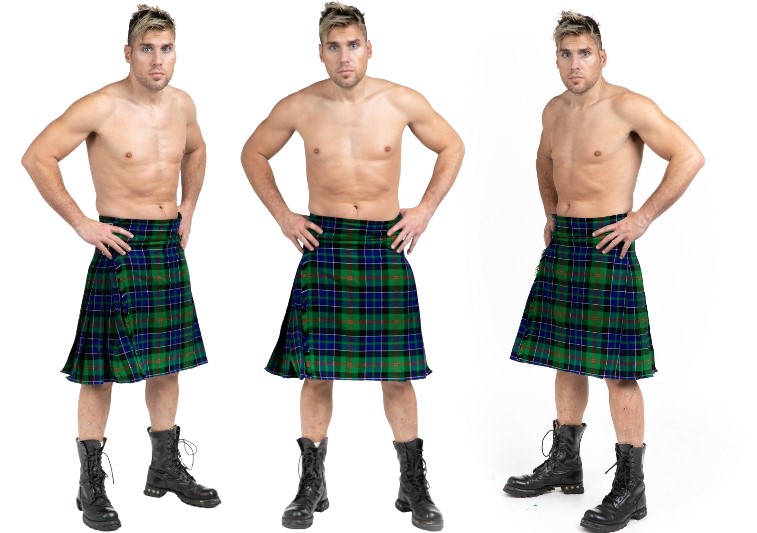 For a distinctive touch to your Paterson Tartan attire, explore a diverse array of clothing accessories. Scottish Kilt offers an extensive collection, encompassing sporrans, belts, kilt pins, and more to complete your kilt ensemble. Elevate your style with Paterson Tartan scarves, stoles, and shawls, or exude clan pride with authentic Paterson clan crest and plaid products, such as ties and cufflinks. If you're feeling crafty, scottish kilt also provides Paterson Tartan fabric by the meter for your creative projects. For a comprehensive Paterson Tartan kilt outfit, check out our site where we offers kilt, trews, ghillie shirts, sporran, and fly plaid. Your choice of accessories should align with your unique style and the occasion, ensuring a perfectly coordinated Paterson Tartan look.