Question: What clan and History of Paterson Tartan?
Answer: The origins of Paterson's surname, in all its rich forms of spelling, go back in time to the mist of no less than St. John's. Patrick is the patron saint of Ireland. The origin of the famous saint himself is still hidden in history, but it is believed that he was born about 389A.D. in Britain or Gaul. It is also believed that he was a native of the kingdom, which explains why 'Patrick' means 'the son of a noble family.' Captive as a youth, he lived on the continent for a while before embarking on his apostolic career in Ireland. died about 461A.D.One of the first saints of the Church, St. Patrick gained devotees not only in Ireland, but also throughout Christian Europe, and Patrick became a famous surname. In Scotland, and for some strange reason now lost, Patrick was also regarded as a type of Peter, another popular surname derived from St. Petersburg. Peter, and for centuries these names were the same. Like many names, a surname, or Christian name, Patrick gradually changed to a surname, taking forms that included Paterson ('Patrick's son'), Patterson, Patrickson, Paterson, Pattison, Peterson, and Pattison. Patterson (with the word 't') is the most common form of the word found in Scotland, while Patterson (with two 't') dominates the north of England. The name also contains a number of Gaelic varieties found throughout the length and breadth of the Highlands and Islands. The most common of these forms were MacPatrick ('Patrick's son'), while others included MacPhedran, MacFetridge, MacFater, MacPhater, and MacFeat. Paterson's other Gaelic translations were 'Pheadirean', and Clan Pheadirean, believed to have ancestral sites north of Loch Fyne, is believed to have been a sept, or branch, of Clan MacAulay. Relationships with MacAulay remain unclear, but the strongest links can be seen between MacPatricks / Patersons and the proud Highland families of MacLaren and Lamont. Any modern-day followers who could trace the ancestry of these two families would have the privilege of sharing in their rich heritage and culture. Along with Clan MacLaren, his residences were around Balquhidder and Strathearn, in Perthshire, where Paterson's bond was very strong. A crowned lion adorned with laurel are elaborate, and 'swine rock', the motto of the Lorn family, the son of Irish royal hero Fergus Erc, who lived in modern-day Argyll, on the west coast of Scotland, in the first century. sixth.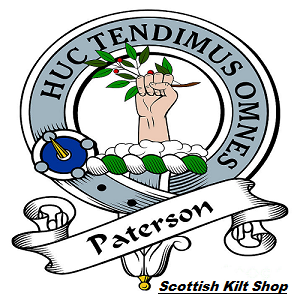 Question: What is the Colour of Paterson Tartan?
Answer: This Paterson Tartan features Green & Blue colors. In between these colors, there are thinner White & Red lines that run both horizontally and vertically to separate the colors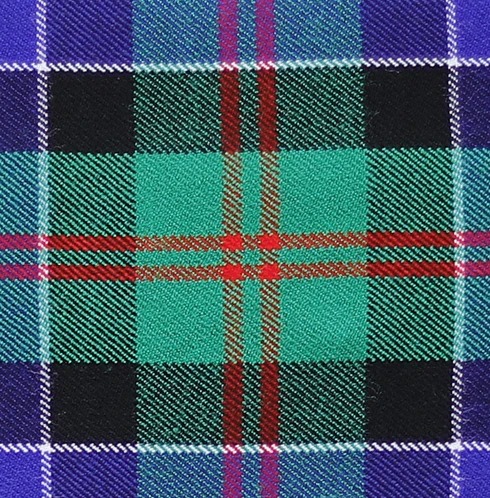 Question: From where I can find Paterson Tartan Fabric?
Answer: When it comes to finding your own tartan to represent not only your Scottish heritage but also your personality. You can find Paterson Tartan Fabric by the yard at a very low price which has a very astonishing print, color, or pattern, that you could prefer which allows you to create the perfect kilt and much more. These Tartan fabrics are made with the highest-quality acrylic wool and are about 54 inches wide in order to ensure that you are satisfied with the look and feel of each yard you purchase.
Question: What accessories should I get with Paterson Tartan Kilt?
Answer: Carrying on the Scottish legacy of bravery, adventure, and pride, we offer a wide range of Scottish kilts, skirts, and other Kilt Accessories. Stitched with love and dedication, customized to your comfort and desire, Scottish Kilts gives you the freedom to be a true representative of your Clan and proud Scots man. With this mission, Scottish Kilt is striving to provide you with a huge range of accessories in all possible tartans, Now you may order/select perfect matching accessories with your desired tartan. Like you may have:
Matching Tartan Sporran
The Tartan Sporran from Scottish Kilt provides you with an immense choice of style and occasion.
Matching Tartan Purse, Wallet & HandBags
The Tartan Purse from Scottish Kilt is designed to hold all of your important financial necessities with plenty of space inside for credit cards, debit cards, identification cards, and more.
Matching Tartan Neck Tie & Bow Tie
The Tartan Tie from Scottish Kilt provides a stylish addition to any outfit. Our ties are available in a variety of tartans designs, meaning you're sure to find the perfect one for you.
Matching Tartan Fly Plaid
The Tartan Fly Plaid was a large piece of cloth that goes over the left shoulder of the wearer. It is a simple square of cloth, typically 46" X 46", with fringed edges, and a box pleat is sewn in one corner.
Fly Plaid Brooch
Both stylish, beautifully crafted, and totally functional, the Fly Plaid Brooch found here will make your kilt stand out with a bit of unique, personalized flair.
Matching Tartan Flashes
Tartan Flashes is perfect for any size of kilt hose.
Matching Tartan Scarf
Tartan Scarf differs in weight and color from season to season but their prices remained in the normal range without compromising on class and quality which is the hallmark of purely Scottish traditional Tartan Scarfs.