Question: what is the History And Clan Behind the Cumming Tartan?
Answer: Clan Cumming was originally from the French city of Comines. Tradition has it that the family descended from Roman Emperor Charlemagne. The first descendants of the Cumming family - now known as Comyn - came to Britain with William the Conqueror, and later defended the settlements of Buchan, Angus, Atholl, and Menteith. By marriage, the family had once again claimed the Scottish throne, and the two Comynas who were part of the Guardians after the death of King Alexander III died in 1286. Although John Balliol was elected king, a battle between the two candidates reached a climax. in the deadly stabbing of John "The Red" Comyn by Robert Bruce, grandfather of the future king. Comyn's power finally falls with the death of Red Comyn's son fighting on the British side in the Battle of Bannockburn. After this point, the spelling often changed to Cumming, when the Cummings of Altyre took the royal line.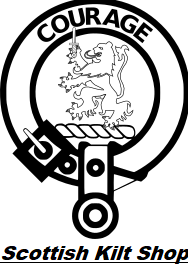 The Cummings family is claiming the mythical genealogy - directly from the Holy Roman Emperor Charlemagne himself. The name comes from the Comines near Lisle in northern France on the border of Flanders and Belgium and is derived from the Comyn family, one of the strongest teams in medieval Scotland before they were buried by rivals in the Bruce camp. Robert de Comyn, a Flemish expedition, set foot on the southern coast of Britain while sailing with the invading Norman forces of William the Conqueror in 1066, he eventually acquired extensive territory in Northumberland, the most important area of ​​the Continental conquistadores among them. their outlying northern areas. However, some family historians object to this type of event, claiming that the family name comes from the cumin plant (wheat revolution). Others, who only want Scottish heritage, say they are connected to two abbots of Iona named Comyn who held the reins in the years 597 and 657. Another family background is narrated by Wyntoun in his book Cronykil of Scotland. According to the medieval writer, there was in the court of King Malcolm III a distinguished foreign official who was Usher of the Royal Apartments (a type of glorified gatekeeper), and to begin with only two Scottish words he knew he had "entered". So he is known by that name. He eventually married the only daughter of the king's brother by one parent Donald Bane and his descendants represented the official list of ancient Celtic kings. But in order to get back to Robert Comyn, a historic and more probable figure, who came with William the Conqueror and who is probably the ancestor of that family, his grip on his Northumberland empire seemed strong and his subordinates quickly burned down the house. Durham where they lived - with their king locked inside.
Question: How many colors are present in Cumming Tartan?
Answer: The Cumming Tartan colors are Green, Red, and White. This tartan pattern will make your clothes more stylish and elegant. We have a wide selection of quality kilts. jackets, skirts, and other clothes made of this gorgeous Cumming Tartan. To make your experience more elegant, we take care of the most intricate details that make this Tartan a stylish piece that reflects the refined style of the family.
Question: Is Cummings Scottish or Irish?
Answer: The most common variant in the UK is CUMMING, which is strongly connected to Scotland and appears to be a Scottish surname, located in the northeast Scottish areas of Aberdeenshire, Moray, Banff, Nairn, and Inverness-shire.
Question: From where I can find Cumming Tartan Fabric?
Answer: When it comes to finding your own tartan to represent not only your Scottish heritage but also your personality. You can find Cumming Tartan Fabric by the yard at a very low price which has a very astonishing print, color, or pattern, that you could prefer which allows you to create the perfect kilt and much more. These Tartan fabrics are made with the highest-quality acrylic wool and are about 54 inches wide in order to ensure that you are satisfied with the look and feel of each yard you purchase.
Question: What accessories should I get with Cumming Tartan?
Answer: Carrying on the Scottish legacy of bravery, adventure, and pride, we offer a wide range of Scottish kilts, skirts, and other Kilt Accessories. Stitched with love and dedication, customized to your comfort and desire, Scottish Kilts gives you the freedom to be a true representative of your Clan and proud Scots man. With this mission, Scottish Kilt is striving to provide you with a huge range of accessories in all possible tartans, Now you may order/select perfect matching accessories with your desired tartan. Like you may have:
Matching Tartan Sporran
The Tartan Sporran from Scottish Kilt provides you with an immense choice of style and occasion.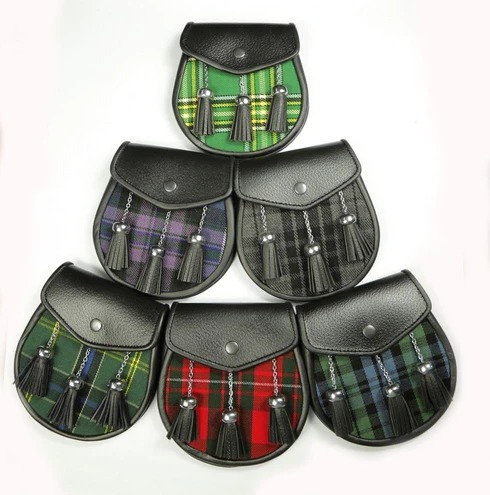 Matching Tartan Purse, Wallet & HandBags
The Tartan Purse from Scottish Kilt is designed to hold all of your important financial necessities with plenty of space inside for credit cards, debit cards, identification cards, and more.
Matching Tartan Neck Tie & Bow Tie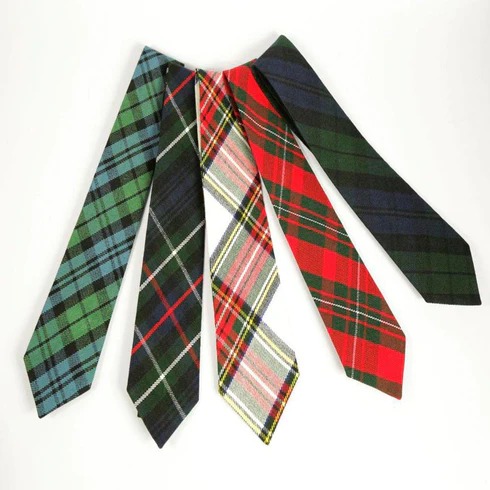 The Tartan Tie from Scottish Kilt provides a stylish addition to any outfit. Our ties are available in a variety of tartans designs, meaning you're sure to find the perfect one for you.
Matching Tartan Fly Plaid
The Tartan Fly Plaid was a large piece of cloth that goes over the left shoulder of the wearer. It is a simple square of cloth, typically 46" X 46", with fringed edges, and a box pleat is sewn in one corner.
Fly Plaid Brooch
Both stylish, beautifully crafted, and totally functional, the Fly Plaid Brooch found here will make your kilt stand out with a bit of unique, personalized flair.
Matching Tartan Flashes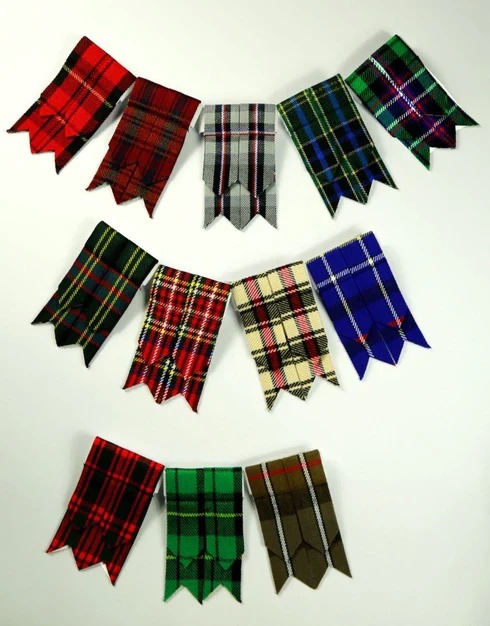 Tartan Flashes is perfect for any size of kilt hose.
Matching Tartan Scarf
Tartan Scarf differs in weight and color from season to season but its prices remained in the normal range without compromising on class and quality that is the hallmark of purely Scottish traditional Tartan Scarfs.