The Glasgow Tartan, known as 'MADDER or GLASGOW ROCK and WHEEL', is a historic fabric embodying Scotland's heritage. It represents tradition, pride, and history with its red, blue, and green design. Not a clan tartan, it's linked to Glasgow, not a specific clan. Originating in 1819, it vividly reflects the city's essence – a blend of vibrant contrasts. This district tartan narrates Glasgow's story through colors and patterns, encapsulating its enduring spirit and cultural significance.

Is Glasgow Scottish or Irish?
The Glasgow tartan is Scottish. It is a district tartan, which means that it is associated with a particular area or region, rather than a clan or family. The Glasgow tartan is made up of the colors red, green and blue, and it is said to represent the city's history and culture. it was first recorded in the 1819 Key Pattern Book by Wilsons of Bannockburn. It has been used by the city of Glasgow and its organizations ever since. The Glasgow Clan ice hockey team, for example, wears the Glasgow tartan on their uniforms. So, while the Glasgow tartan is not associated with a particular clan, it is still very much a Scottish tartan. It is a symbol of the city's history and culture, and it is worn by people all over the world who are proud to be Glaswegians.
Why is Glasgow so-called?
Glasgow is called so because its name is thought to originate from the Brythonic Celtic term "Cleschi," which means "Dear Green Place." This name reflects the city's lush green hills, valleys, and natural surroundings. The term evolved to "Glasgu" and is also associated with the Gaelic word "glaschu," meaning "green hollow," potentially referencing a ravine near Glasgow Cathedral. This deep connection to nature earned Glasgow the nickname "The Dear Green Place." The city's abundant parks, gardens & encompassing hills align with this identity.
What is the significance of the name "Glasgow" in the tartan's context?
The name "Glasgow" holds significance as it originates from 'Glaschu,' Celtic for 'beloved green place.' This aligns with the city's emblem and St. Mungo's legacy, reflected in its tartan. The tartan embodies Glasgow's history, spirituality, and natural beauty, much like threads woven into a pattern, showcasing the city's essence.
What are some famous people who have worn Glasgow tartan?
Glasgow tartan is a popular choice for both men and women, and it is often seen at Scottish cultural events and sporting events. Some of the many famous people who have worn Glasgow tartan include:
David Bowie, the Scottish singer and actor, was often seen wearing Glasgow tartan, including at his 1971 concert at the Glasgow Apollo.
Sir Sean Connery, the Scottish actor best known for playing James Bond, was also a fan of Glasgow tartan. He was often seen wearing it at public events.
Amy Macdonald, the Scottish singer-songwriter, has often worn Glasgow tartan in her music videos and live performances.
Andy Murray, the Scottish tennis player, has been seen wearing Glasgow tartan kilts on several occasions.
Susan Boyle, the Scottish singer, was seen wearing a Glasgow tartan dress at the 2009 Britain's Got Talent final.
Gerard Butler, the Scottish actor, has been seen wearing Glasgow tartan on several occasions, including at the 2012 London Olympics.
Jonny Wilkinson, the English rugby player, has also been seen wearing Glasgow tartan, as he is a fan of Scottish culture.
The Corrs, the Irish pop band, have also worn Glasgow tartan, as they have a strong connection to Scotland.
The Proclaimers, the Scottish rock band known for their love of Scotland, have often been seen wearing Glasgow tartan.
These are just a few of the many famous people who have worn Glasgow tartan.
Why is Glasgow tartan so popular?
The popularity of Glasgow tartan is rooted in its historical significance, cultural identity representation, and appeal as a fashion statement. As a symbol of Scottish heritage, it connects wearers to Glasgow's rich history and cultural identity. Tourists often embrace it as a souvenir of their visit, while locals use it to express community pride. The tartan's presence in local events, marketing efforts, and special occasions further boosts its popularity. Its revival aligns with the renewed interest in traditional cultures. Ultimately, the Glasgow tartan's popularity can be attributed to its ability to encapsulate history, culture, and a sense of belonging in a distinctive and fashionable manner.
Can I wear Glasgow tartan if I'm not from Glasgow?
Yes, you can wear Glasgow tartan if you're not from Glasgow. Tartan is not considered cultural appropriation, and anyone can wear it, regardless of their nationality or ethnicity. In fact, many people who are not Scottish choose to wear kilts because they appreciate its beauty and symbolism. However, there are a few things to keep in mind when wearing scottish tartan fabric. First, it is important to be respectful of the cultural significance of tartan. Tartan is a symbol of Scottish heritage and identity, so it is important to wear it in a way that is respectful of that. Second, it is important to choose a tartan that is appropriate for the occasion. Overall, there is no reason why you cannot wear Glasgow tartan if you're not from Glasgow. Just be respectful of the cultural significance of tartan and choose a tartan that is appropriate for the occasion.
From Where I Can Find Glasgow Tartan Fabric?
If you're looking for Glasgow Tartan Fabric, your ultimate destination has to be the prestigious Scottish Kilt shop. As we take immense pride in presenting a delightful collection of top-tier tartan fabrics, including the enchanting Glasgow Tartan. With our deep-rooted expertise in traditional Scottish textiles and unwavering dedication to upholding authenticity and craftsmanship, you will undoubtedly encounter the finest materials that perfectly align with your needs. The Glasgow tartan fabric holds not only historical significance but also a captivating charm, often intertwined with a sense of heritage and timeless tradition. Because of these qualities, it remains a favored choice for a diverse range of projects.
What Clothing Accessories Should We Get in Glasgow Tartan?
When looking to enhance the sophistication of the Glasgow Tartan, you'll discover a wide array of clothing accessories to choose from. These accessories have been meticulously designed to perfectly match the timeless patterns of the Tartan, ensuring a harmonious and stylish ensemble.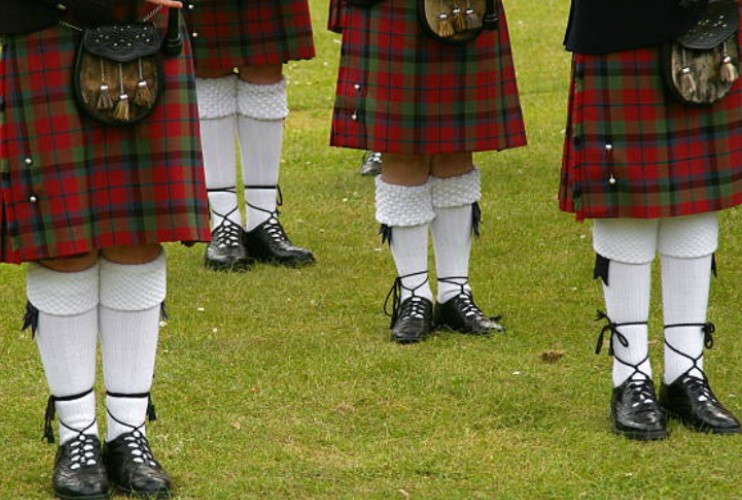 Options range from traditional tartan trews and complete kilt outfit to contemporary Tartan jackets and vests, providing an abundance of choices. Additionally, incorporating tartan masks and ties offers a subtle yet elegant way to integrate this iconic design into your daily wardrobe. For those seeking to imbue special occasions with a touch of tartan charm, a variety of supplementary selections are available. Sporrans and fly plaids are excellent for adding a hint of heritage to formal ensembles. Tartan shorts present a playful and distinctive appearance while handfasting ribbons can gracefully symbolize significant milestones in life.