Question: Is There A MacLaren Ancient Tartan?
Answer:
The colours of the Ancient Maclaren Tartan are dark green, navy blue, yellow, red, and black. The MacLaren family of Argyll is supposed to be derived from Fergus MacErc, the founder of the kingdom of Dál Riata. Clann Labhruinn is the clan name in Scottish Gaelic. Laurence, Abbot of Achtow in Balquhidder, who lived in the thirteenth century, is commonly regarded as the MacLarens' progenitor.
This tartan pattern will bring beauty and refinement to your wardrobe. We provide a wide selection of high-quality kilts. Jackets, skirts, and other garments in this magnificent MacLaren Ancient Tartan. We pay attention to the slightest details that make this Tartan a trendy item that complements the family's sophisticated aesthetic. You may order any of the following goods.
Question:
Where Is The MacLaren Clan From In Scotland?
Answer:
Clan MacLaren (Cinneadh MacLabhrainn in Scottish Gaelic) is a Highland Scottish Clan. Traditional clan lands include the former parish of Balquhidder, which contains the settlements of Lochearnhead and Strathyre and spans 54,675 acres (22,126 hectares) and has long been known as "Maclaren Country."
Motto: Creag an Tuirc (The boar's rock)
Region: Highland & Tiree
District: Perthshire
Clan Chief: Donald MacLaren of MacLaren & Achleskine. The 25th Chief of the Name and Arms of MacLaren
Gaelic Name: Cinneadh MacLabhrainn
Clan Crest Description: A lion's head erased Sable crowned with an antique crown of six (four visible) points Or, between two branches of laurel issuing from the Wreath at either side of the head both Proper.
Clan MacLaren is one of the oldest Scottish Clans, stretching back over a thousand years. Members from all over the world may trace their ancestors back to the ancient territories of Scotland, which stretch from the Braes of Balquhidder to Loch Earn.
Clan Chiefs were cadets of the Earls of Strathearn's Celtic dynastic dynasty. The Clan MacLaren was named after Abbot Labhran (Laurence) of Achtow in the early 1200s. The Clan was powerful until the 16th century, when, under pressure from the Campbells, the Clan MacGregor carried out a raid on eighteen residences, killing Clan families and the Chief.
This allowed the MacGregors to take control, and the Clan MacLaren was unable to prove a formal title to their original homelands because they lacked a Chief and lands. The Clan MacLaren had officially become 'chiefless and landless.' From the Battle of Bannockburn to the catastrophic Battle of Culloden, the Clan fought for the Scottish throne and backed the Jacobites. The Clan's fortunes were varied until the twentieth century, when its standing was securely restored.
When Donald MacLaren of MacLaren and Achleskine successfully matriculated his Arms at the Lyon Court and acquired property in Balquhidder in 1957, the Clan's status of "chiefless and landless" was lifted. The traditional MacLaren gathering point, Creag a Tuirc, or 'The Boar's Rock,' was part of that territory and is still a prominent landmark today. A few years later, the Society was formed to promote the Clan's interests and to bring members from all over the world together.
Donald MacLaren's son, Donald MacLaren, succeeded him after his death in 1966. As a member of the Diplomatic Service, the current Clan Chief has served in Berlin, Moscow, Havana, and Caracas, and was the British Ambassador to the Republic of Georgia from 2004 to 2007. The Chief now resides in Balquhidder with his wife, Maida, and their children, Donald Og, Florian, Louis, Iona, and Marina, after retiring from the Diplomatic Service.
Question:
Did The MacLaren Clan Fight At Culloden?
Answer: Yes, During the Jacobite rising of 1745, the Clan MacLaren fought in support of the Jacobite cause at the Battle of Prestonpans and the Battle of Falkirk Muir, both of which they won. They were there, however, in the Battle of Culloden in 1746, when they were beaten.
Question:
What Nationality Is The Last Name Mclaren?
Answer: MacLaren or Maclaren is a Scottish and Northern Irish surname. The name is an anagram of the Gaelic Mac Labhrainn, which means "son of Labhrann." Lawrence is a Gaelicised version of the Gaelic given name Labhrann.
Question: From where I can find Ancient Maclaren Tartan Fabric?
Answer:
When it comes to finding your own tartan to represent not only your Scottish heritage but also your personality. You can find Ancient Maclaren Tartan Fabric by the yard at a very low price which has a very astonishing print, color or pattern, that you could prefer which allows you to create the perfect kilt and much more. These Tartan fabrics are made with the highest-quality acrylic wool and are about 54 inches wide in order to ensure that you are satisfied with the look and feel of each yard you purchase.
Question: What accessories should I get with Ancient Maclaren Tartan?
Answer:
Carrying on the Scottish legacy of bravery, adventure, and pride, we offer a wide range of Scottish kilts, skirts, and other Kilt Accessories. Stitched with love and dedication, customized to your comfort and desire, Scottish Kilts gives you the freedom to be a true representative of your Clan and proud Scots man. With this mission, Scottish Kilt is striving to provide you with a huge range of accessories in all possible tartans, Now you may order/select perfect matching accessories with your desired tartan. Like you may have:
Matching Tartan Sporran
The Tartan Sporran from Scottish Kilt provides you with an immense choice of style and occasion.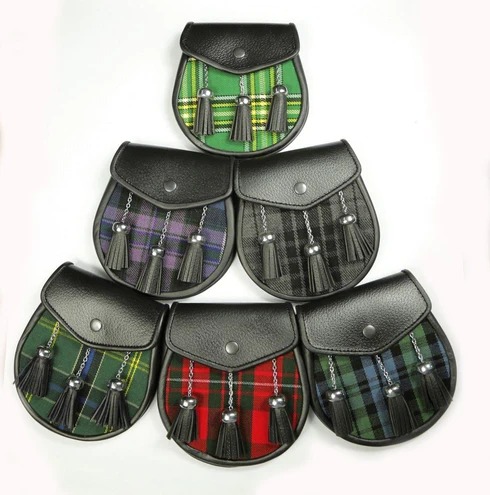 Matching Tartan Purse, Wallet & HandBags
The Tartan Purse from Scottish Kilt is designed to hold all of your important financial necessities with plenty of space inside for credit cards, debit cards, identification cards, and more.
Matching Tartan Neck Tie & Bow Tie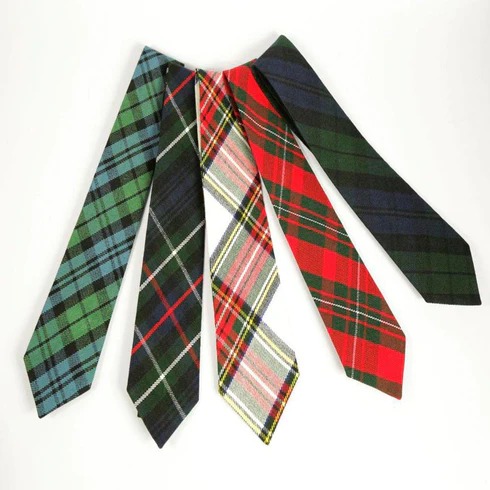 The Tartan Tie from Scottish Kilt provides a stylish addition to any outfit. Our ties are available in a variety of tartans designs, meaning you're sure to find the perfect one for you.
Matching Tartan Fly Plaid
The Tartan Fly Plaid was a large piece of cloth that goes over the left shoulder of the wearer. It is a simple square of cloth, typically 46" X 46", with fringed edges, and a box pleat is sewn in one corner.
Fly Plaid Brooch
Both stylish, beautifully crafted, and totally functional, the Fly Plaid Brooch found here will make your kilt stand out with a bit of unique, personalized flair.
Matching Tartan Flashes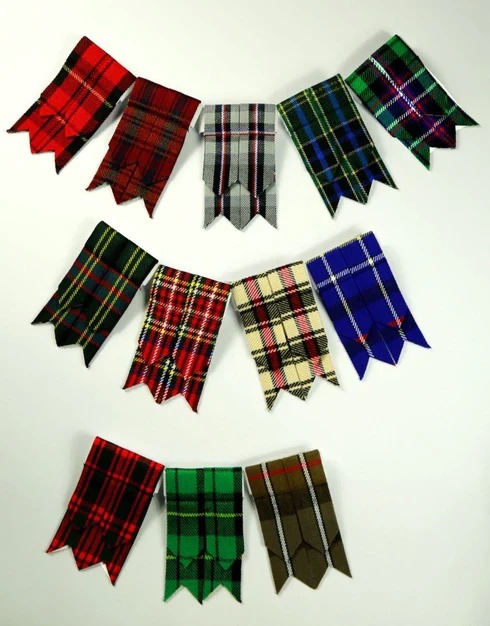 Tartan Flashes is perfect for any size of kilt hose.
Matching Tartan Scarf
Tartan Scarf differs in weight and color from season to season but its prices remained in the normal range without compromising on class and quality that is the hallmark of purely Scottish traditional Tartan Scarfs.