What is a clan of Macthomos Tartan?
The progenitor of the Clan MacThomas was Thomas, who was a Scottish Gaelic-speaking Highlander. He was known as Tomaidh Mòr and it is from him that the clan takes its name. He was a grandson of William Mackintosh, the 7th chief of Clan Mackintosh, and the 8th chief of the Chattan Confederation. Thomas lived in the fifteenth century when the Clan Chattan had become so large that it was unmanageable, so Thomas took his clan from Badenoch, across the Grampian Mountains to Glen Shee where they re-settled. Here they flourished and became known as McComie, McColm, and McComas which are phonetic forms of the Gaelic. The Clan MacThomas was described in a roll of the clans, in the Acts of Parliament of 1587 and 1595, and they were known to the government in Edinburgh as Macthomas.
History Behind Macthomos Tartan :
The clan originated in the 15th century when Thomas, a descendant of the Chattan Macintoshes, grandson of William, 8th Chief of Clan Chattan. The clan became too large to handle, so Thomas took his relatives across the Grampians from Badenoch to settle in Glenshee. They were known as McCommie, McColm, and McComas. Clan MacThomas takes its name from Thomas, which is Tomaidh Mor (Big Tommy) in Gaelic. The government in Edinburgh assigned them the name MacThomas, which is evidenced in the list of clans in Acts of the Scottish Parliament in 1587 and 1592. MacThomas remains the official clan name to this day. At the beginning of the clan, the first chiefs settled at a place called Thom on the east bank of the Shee Water opposite the Glenshee spit. There are stories that the tomb of the legendary tomb of Diarmid from the Fingal saga, has many links with the Glenshee area. Clan MacThomas grew in size and wealth, owning rich estates and lands in Kerrow and Benzian with shields against Glen Baeg. The clan was successful in raising cattle, often having to fight against livestock pests. In 1606 there was a skirmish that was remembered as the Battle of Cairnwell. Around 1600 the 4th Chief Robert MacThomaidh of Thom was murdered and the leadership of the clan passed to his brother John MacCornie of Finegand. There are many legends about John MacConie in Perthshire and Angus is remembered as a Highland hero, known for many heroic deeds. The name Finegand is of Gaelic origin and means "Feith nen Ceann" meaning "to burn the heads", referring to cases where some tax collectors were attacked by some clansmen who cut off their heads and threw them into the nearest burn. Stories abound about John McCornie (aka Iain Mor), from one describing how he defeated some tax collectors who were defending a poor widow without help, to another that he kills the master swordsman the Earl of Atholl, to killing a man who offends his wife. Others include testing his son's mettle by disguising himself and challenging him to a fight, defeating a bull with his bare hands. Memories of mountain hero John McCorie can be seen today; a large stone known as McComie Mor's Putting Stone stands at the head of Glen Prosen, near a spring called McComie Mor's Well, and at the top of Glen Beannie is a seat-shaped rock called McComie Mor's Chair. John McComie fought for the king's cause in 1644 and captured Sir William Forbes of Craigivar. After the defeat at Philiphaugh, he abandoned his life as a soldier and settled down to a quiet life as a cattle rancher. The clan extended its lands and influence to Glen Prosen and Strathardle. John MacComie bought the Barony of Forter in Glenisla from Lord Airlie. He made Crandart his home two miles north of Forter Castle. The MacThomas clan fell on hard times when Broughdearg, a cousin of John MacComie, was in a heated dispute over land, a dispute ensued and Broughdearg was killed on 28 January 1673. The subsequent fine, dispute, and trial destroyed the MacThomas and the subsequent Iain More feud. death, his remaining sons were forced to sell their lands. The clan split off, some going to the Tay Valley and some to Angus and Fife where they took the names Thomas, Thom, or Thoms. Others moved to Aberdeenshire where the name was corrupted to McCombie of Tillyfour. In 1954 the Clan MacThomas Society was founded. The Clan is unusual in that most of its members do not have the name MacThomas. But name one of her septs. They are Comb, Combien, McColm, McComas, McComb, McCombie, McComie, McComish, Macomie, Macomish, Macthomas, Tam, Thom, Thomas, Thoms, and Thomson. The current boss is Andrew MacThomas of Finland. During his lifetime the ancient meeting place of the clan "The Cockstane" was purchased and a new bridge over the River Shee was also named after the family. Historic links with the Glenshee family have been re-established. The current boss has one son, Thomas, born in the late 1980s.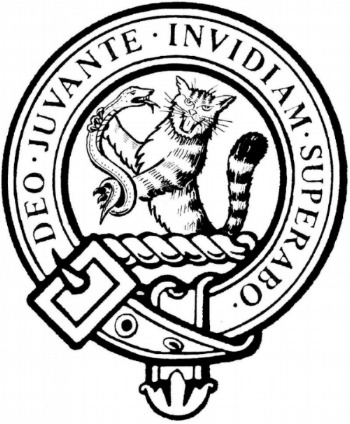 What Colour is the Macthomas Tartan?
Macthomas Tartan is composed of blue and green divided by narrower bands of black; two adjacent lines of magenta cross over the blue squares and two lines of lilac over the green.
This tartan pattern will make your clothes more stylish and elegant. We have a wide selection of quality kilts. jackets, skirts, and other clothes made of this gorgeous Macthomas Tartan.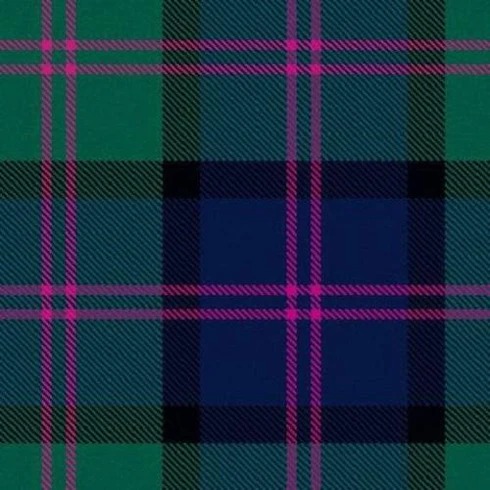 From where can I find Macthomas Tartan Fabric?
When it comes to finding your own tartan to represent not only your Scottish heritage but also your personality. You can find Macthomas Tartan Fabric by the yard at a very low price which has a very astonishing print, color, or pattern, that you could prefer which allows you to create the perfect kilt and much more. These Tartan fabrics are made with the highest-quality acrylic wool and are about 54 inches wide in order to ensure that you are satisfied with the look and feel of each yard you purchase.
What accessories should I get with Macthomas Tartan?
Carrying on the Scottish legacy of bravery, adventure, and pride, we offer a wide range of Scottish kilts, skirts, and other Kilt Accessories. Stitched with love and dedication, customized to your comfort and desire, Scottish Kilts gives you the freedom to be a true representative of your Clan and proud Scots man. With this mission, Scottish Kilt is striving to provide you with a huge range of accessories in all possible tartans, Now you may order/select perfect matching accessories with your desired tartan. Like you may have:
Matching Tartan Sporran
The Tartan Sporran from Scottish Kilt provides you with an immense choice of style and occasion.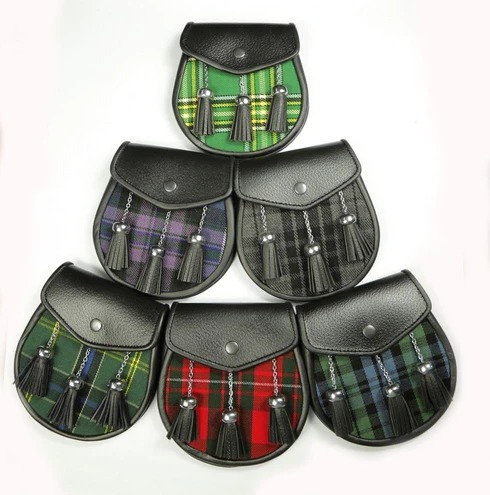 Matching Tartan Purse, Wallet & HandBags
The Tartan Purse from Scottish Kilt is designed to hold all of your important financial necessities with plenty of space inside for credit cards, debit cards, identification cards, and more.
Matching Tartan Neck Tie & Bow Tie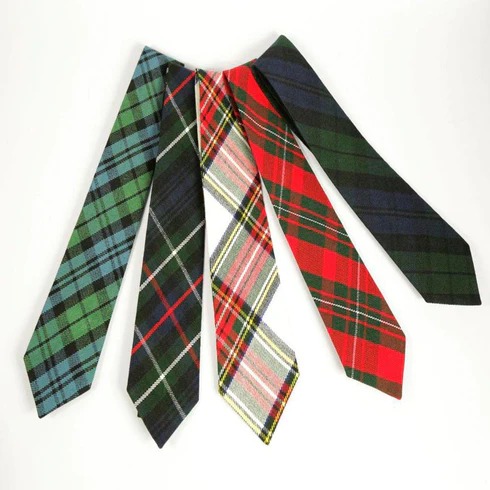 The Tartan Tie from Scottish Kilt provides a stylish addition to any outfit. Our ties are available in a variety of tartans designs, meaning you're sure to find the perfect one for you.
Matching Tartan Fly Plaid
The Tartan Fly Plaid was a large piece of cloth that goes over the left shoulder of the wearer. It is a simple square of cloth, typically 46" X 46", with fringed edges, and a box pleat is sewn in one corner.
Fly Plaid Brooch
Both stylish, beautifully crafted, and totally functional, the Fly Plaid Brooch found here will make your kilt stand out with a bit of unique, personalized flair.
Matching Tartan Flashes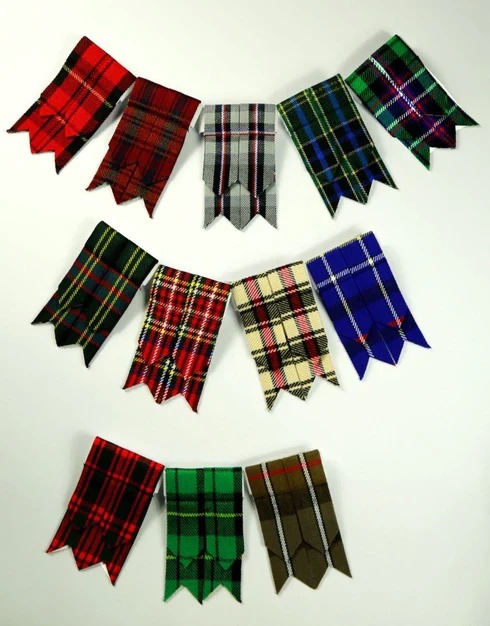 Tartan Flashes is perfect for any size of kilt hose.
Matching Tartan Scarf
Tartan Scarf differs in weight and color from season to season but their prices remained in the normal range without compromising on class and quality which is the hallmark of purely Scottish traditional Tartan Scarfs.
Question: Looking to buy tartan fabric or kilt?
Answer: Struggling to find the perfect tartan for your kilt, just head over to Scottish kilt to get your ideal tartan fabric for any special corporate event or family gathering. All our tartan kilts are handmade and made to measure so actually, you can order any size and length. Our wide range of fabrics consists of over 1400+ authentic tartans.