What is the Clan & History of Elliot Modern Tartan?
Although the Elliots originates from the Scottish Borders, many members of the clan are believed to have taken their name from the village of Elliot near Forfar. A fire in the 18th century is thought to have destroyed many of the early records, so the exact origins of the family are unknown. They are first documented as a clan with a chief in the 15th century. Like many other clans in the area, the Elliots were Border reivers and shared the Liddesdale territory with the Armstrong clan. The main branch of the family, the Elliots of Redheugh, were feared in the border region and, along with the Armstrongs, considered the most troublesome of the reiver clans. Clan Elliot's motto is "Fortiter et recte" (Strength and right) and the clan emblem is a raised fist holding a sword.
Clan Elliot People
Jean Elliot (1727-1805):
Writer of the poem "The Flowers of the Forest" and thought to be the last owner of a sedan chair in Edinburgh. When her most famous poem was published, she declined to have her name given to it. Both Robert Burns and Sir Walter Scott made its author's name clear, however.
Sir Gilbert Elliot, 1st Earl of Minto (1751-1814)
Born in Edinburgh and educated there as well as at Oxford and abroad, Sir Gilbert Elliot became an English Barrister and MP in his twenties. He was Viceroy of Corsica in the 1790s before returning to his passion for Indian affairs, and by 1806 he was made Governor-General of the country.
While showing caution within his policy-making within India, elsewhere he was making dramatic maneuvers, supporting missions to Afghanistan and Persia, and asserting the British Empire's claim to Mauritius and the Spice Islands.
He was made Earl of Minto in 1813, dying soon afterward.
Gilbert John Elliot, 4th Earl of Minto (1847-1914)
Gilbert John Elliot was born in Edinburgh and educated in Cambridge and Eton before entering the army in 1867. In Britain's greatest horse race, the Grand National, he was a rider four times, coming fourth in 1847. He became military secretary to the Governor General of Canada in 1883. Fifteen years later he was Governor General himself, a post he held until 1904.
Following great success and prosperity with Canada, Elliot moved to India to become its Viceroy for six years. It was the Morley-Minto reforms that allowed Indians to have a say in the governing of their own country for the first time since the Empire arrived.
Walter Elliot (1888-1958)
Scottish Secretary of State Walter Elliot was born in Lanark and graduated in medicine and science from Glasgow University and Glasgow Academy. He fought with distinction in the First World War before entering politics as Conservative MP for Lanark.
Whilst Minister of Agriculture from 1932 he helped introduce agriculture boards. His role as Secretary of State for Scotland began in 1936 and in his two years, he oversaw the Scottish Office's move to Edinburgh. Later he was twice Lord High Commissioner to the General Assembly of the Church of Scotland and was the holder of honorary degrees from all of Scotland's universities.
He died at home in Hawick.
Clan Elliot Places
The following places are connected to Clan Elliot either historically, or currently:
Redheugh Tower was the historic seat of the chiefs of Clan Elliot, the Elliots of Redheugh.
Minto House (main image) was the seat of Elliot Earls of Minto. However, it was demolished in 1992.
The Tower of Stobs was the seat of the Eliots of Stobs.
What Colour is the Elliot Modern Tartan?
The Elliot Modern Tartan is royal blue with red, brown, and brown colors. The contemporary, as shown below, represents the principal and, by far, the most well-known tartan of the entire family.
This tartan pattern will make your clothes more stylish and elegant. We have a wide selection of quality kilts, jackets, skirts, and other clothes made of this gorgeous Elliot Modern Tartan.
From where can I find Elliot Modern Tartan Fabric?
When it comes to finding your own tartan to represent not only your Scottish heritage but also your personality. You can find Elliot Modern Tartan Fabric by the yard at a very low price which has a very astonishing print, color, or pattern, that you could prefer which allows you to create the perfect kilt and much more. These Tartan fabrics are made with the highest-quality acrylic wool and are about 54 inches wide in order to ensure that you are satisfied with the look and feel of each yard you purchase.
What accessories should I get with Elliot Modern Tartan?
Carrying on the Scottish legacy of bravery, adventure, and pride, we offer a wide range of Scottish kilts, skirts, and other Kilt Accessories. Stitched with love and dedication, customized to your comfort and desire, Scottish Kilts gives you the freedom to be a true representative of your Clan and proud Scots man. With this mission, Scottish Kilt is striving to provide you with a huge range of accessories in all possible tartans, Now you may order/select perfect matching accessories with your desired tartan. Like you may have:
Matching Tartan Sporran
The Tartan Sporran from Scottish Kilt provides you with an immense choice of style and occasion.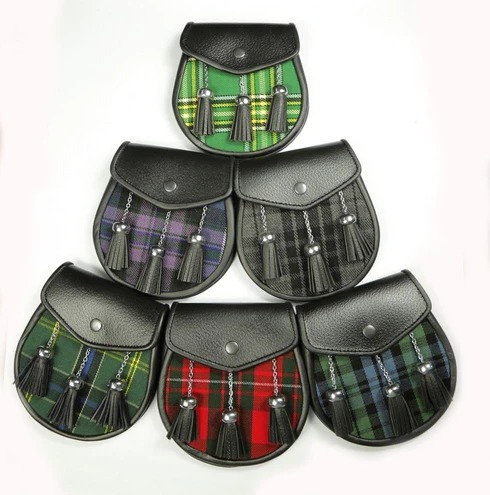 Matching Tartan Purse, Wallet & HandBags
The Tartan Purse from Scottish Kilt is designed to hold all of your important financial necessities with plenty of space inside for credit cards, debit cards, identification cards, and more.
Matching Tartan Neck Tie & Bow Tie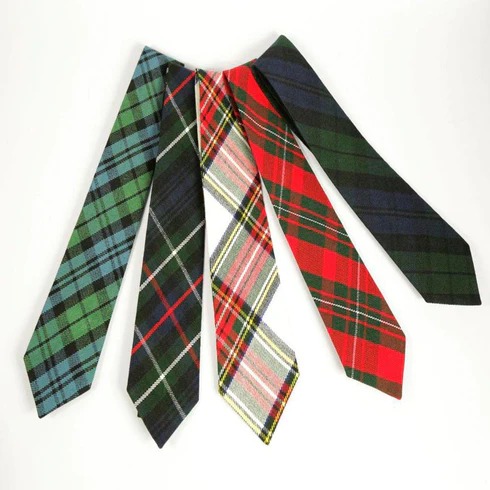 The Tartan Tie from Scottish Kilt provides a stylish addition to any outfit. Our ties are available in a variety of tartans designs, meaning you're sure to find the perfect one for you.
Matching Tartan Fly Plaid
The Tartan Fly Plaid was a large piece of cloth that goes over the left shoulder of the wearer. It is a simple square of cloth, typically 46" X 46", with fringed edges, and a box pleat is sewn in one corner.
Fly Plaid Brooch
Both stylish, beautifully crafted, and totally functional, the Fly Plaid Brooch found here will make your kilt stand out with a bit of unique, personalized flair.
Matching Tartan Flashes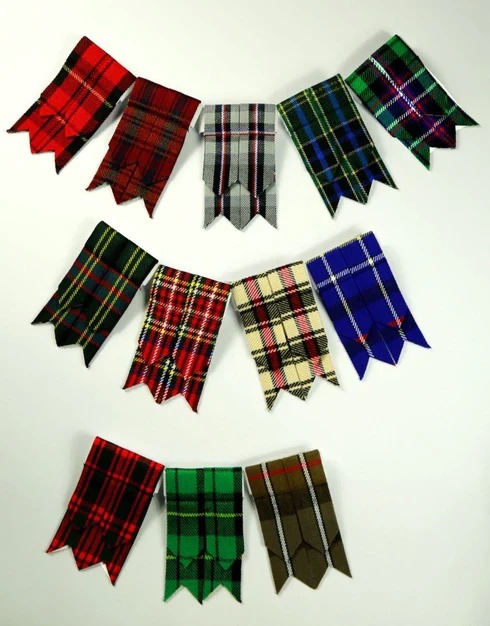 Tartan Flashes is perfect for any size of kilt hose.
Matching Tartan Scarf
Tartan Scarf differs in weight and color from season to season but their prices remained in the normal range without compromising on class and quality which is the hallmark of purely Scottish traditional Tartan Scarfs.
Question: Looking to buy tartan fabric or kilt?
Answer: Struggling to find the perfect tartan for your kilt, just head over to Scottish kilt to get your ideal tartan fabric for any special corporate event or family gathering. All our tartan kilts are handmade and made to measure so actually, you can order any size and length. Our wide range of fabrics consists of over 1400+ authentic tartans.